Back in May 2022, I traveled in Switzerland for a good 3 months. In the last 2 months, I did many hikes in Alpstein, near the Appenzell area. Perhaps you've heard of it? With so many trails and mountains and highlights, which one is the best Appenzell/Alpstein hike; the most worthwhile?
Here I list out 4 of the best hikes I've been to in Alpstein, their rating, altitude, highlights, and how to get there.
---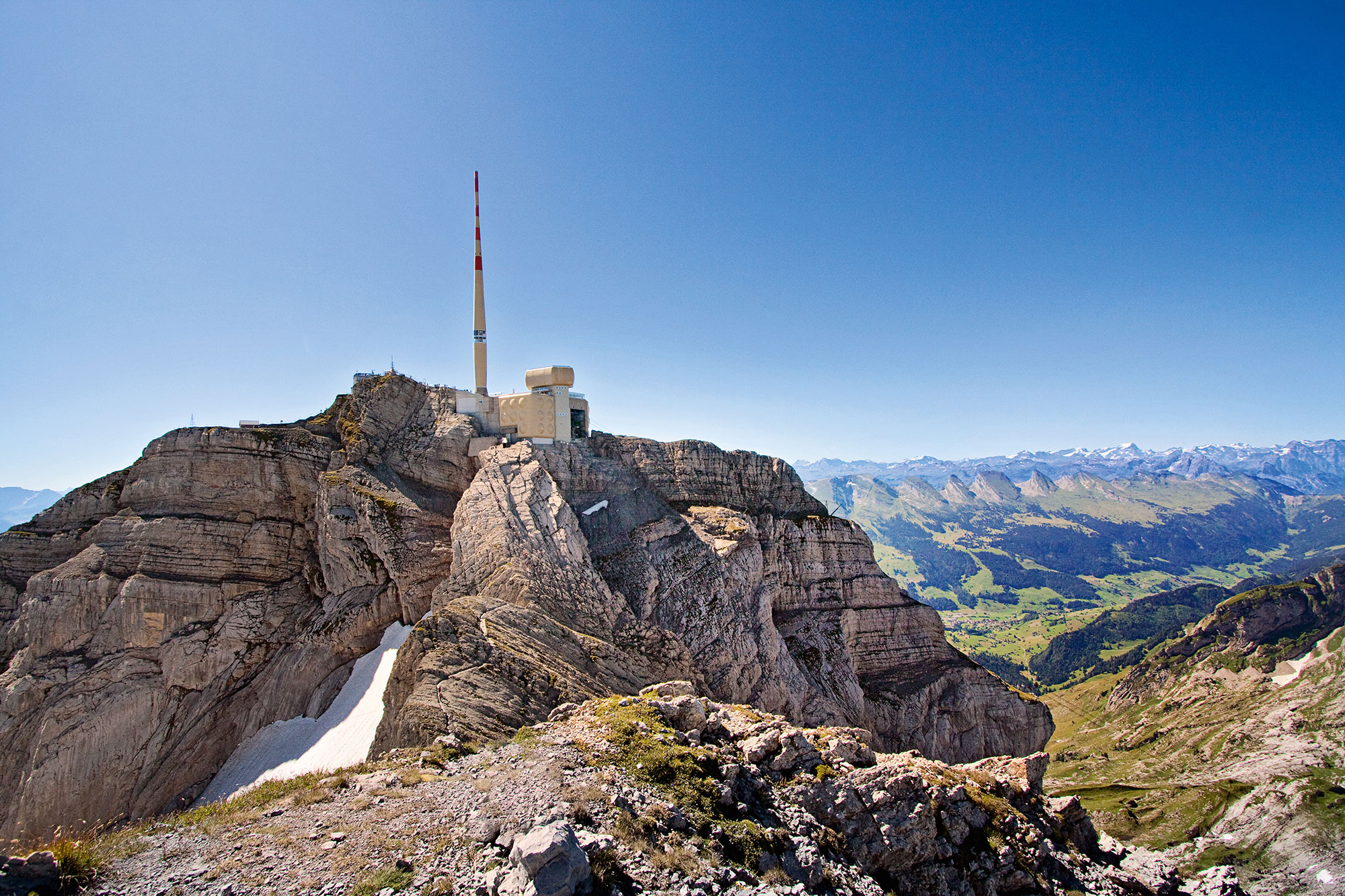 Altitude: 2502m
Overall Rating: 8.5/10
An, the Santis is the highest mountain in Alpstein! It's famous and gorgeous at the peak. There are so many beautiful paths all around, and from what I know, a few ways to climb all the way to the top if you'd like, too! It is roughly 4km from Schwagalp (one of the places at the bottom of the mountain; you take the train to Urnasch and then take the bus that comes once every hour to the very last stop) to the top and takes nearly 3.5 hours to climb; definitely do this on a dry (not wet) day and wear a men's or women's hiking boots; it would be dangerous, otherwise.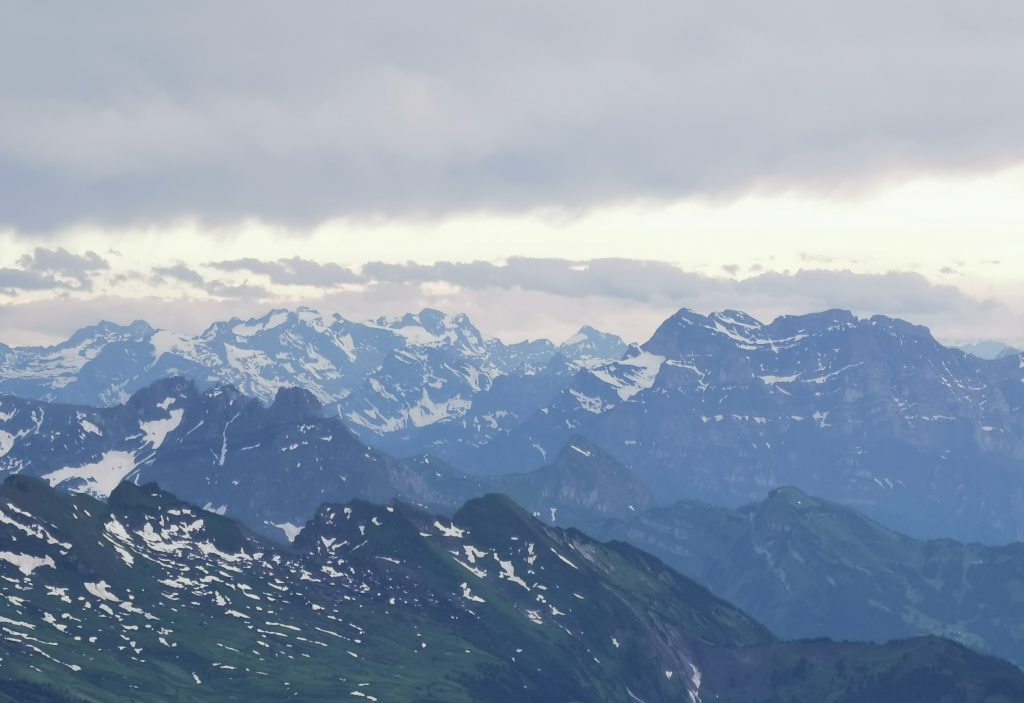 You could also simply take the cable car up; one goes up and down every 30 minutes and if you have a Swiss Travel Pass or the Half Fare Card, you get 50% off the ride. From there, you can decide which route you'd like to take to walk around the top. One time, I climbed to the top from Schwagalp–like, hands and feet.
This was the hardest hike I've ever done in my life. It is THE HIKE of all hikes in alpstein. You need to be fit to climb this. By Swiss standards, this is probably nothing, but I come from Canada and I'm not used to this!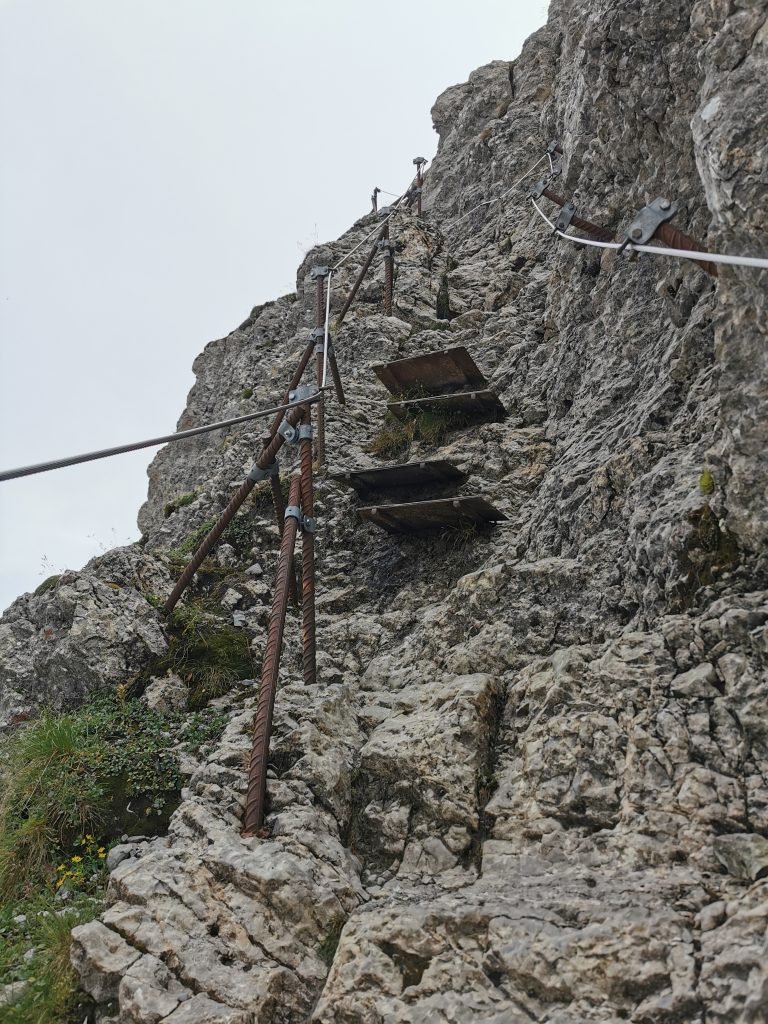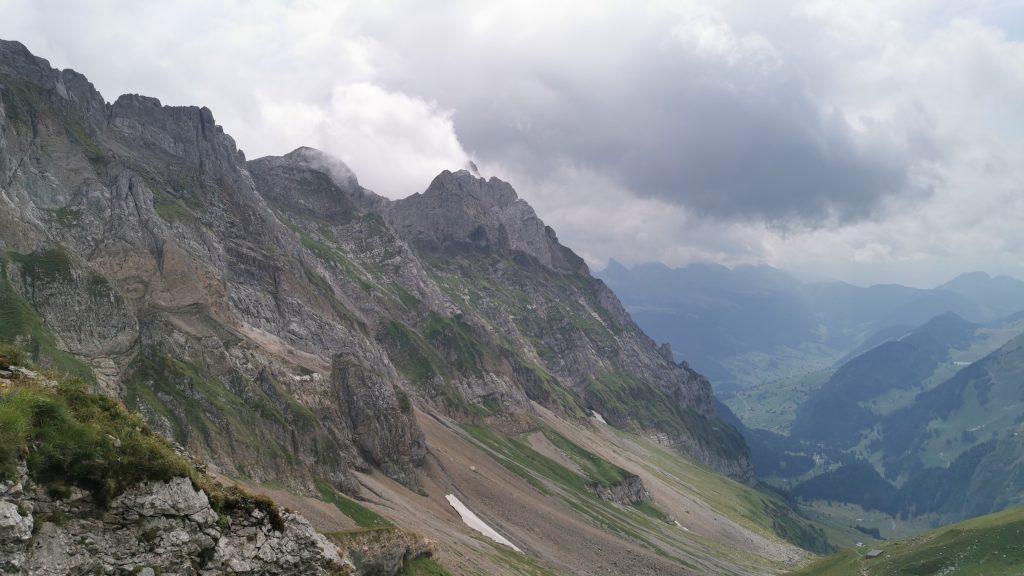 Another time, I took the cable car up and walked along the rocky Lisengrat towards Rotsteinpass. If I continued further I would have hiked Altman mountain, but we didn't have time for that. If you don't feel like hiking around, enjoy the view outside and explore the museum they have inside (free entry); it talks of the geography of the alps and is quite fascinating!
You've gotta visit the TOP OF ALPSTEIN if you're going to visit Alpstein.
---
Ebenalp
Altitude: 1640m
Overall Rating: 7.5/10
What I love about Ebenalp is that if you hike from Wasserauren (the nearest train station), you pass the most famous lake of Alpstein…
Seealpsee
Numerous tourists come here not only because it is WALLPAPER-GORGEOUS, but it's also the most accessible lake in all of Alpstein; it takes 50 minutes of walking up a steeeeeeep hill (as opposed to some other lakes that is further to get to) but the pathway is paved.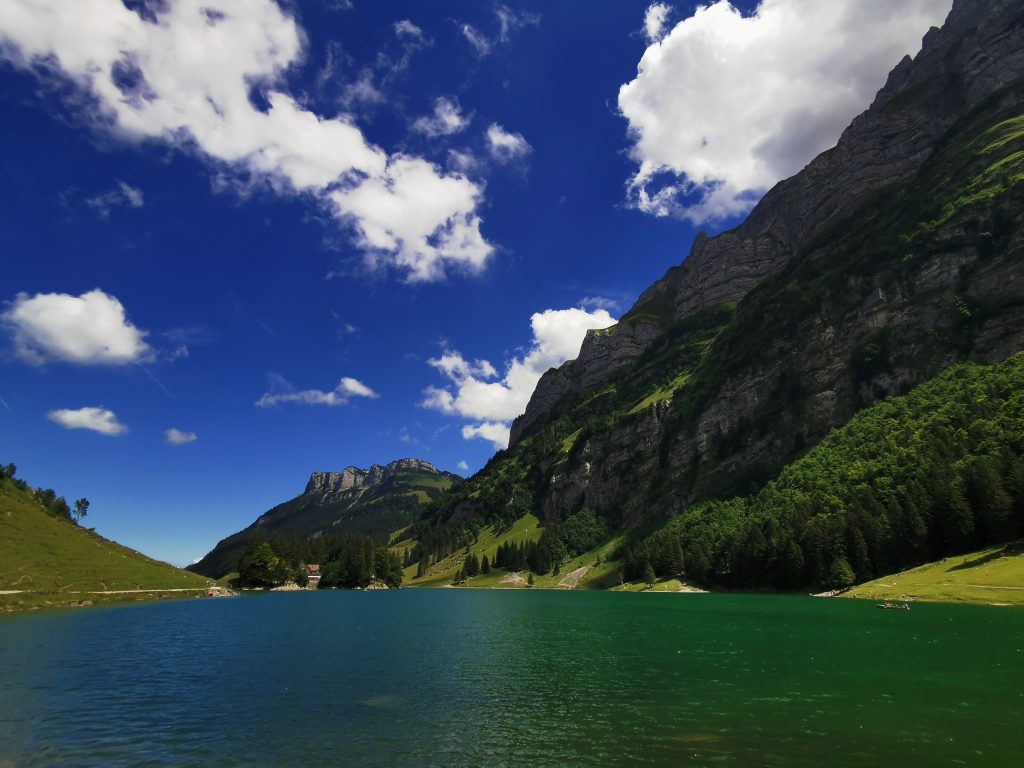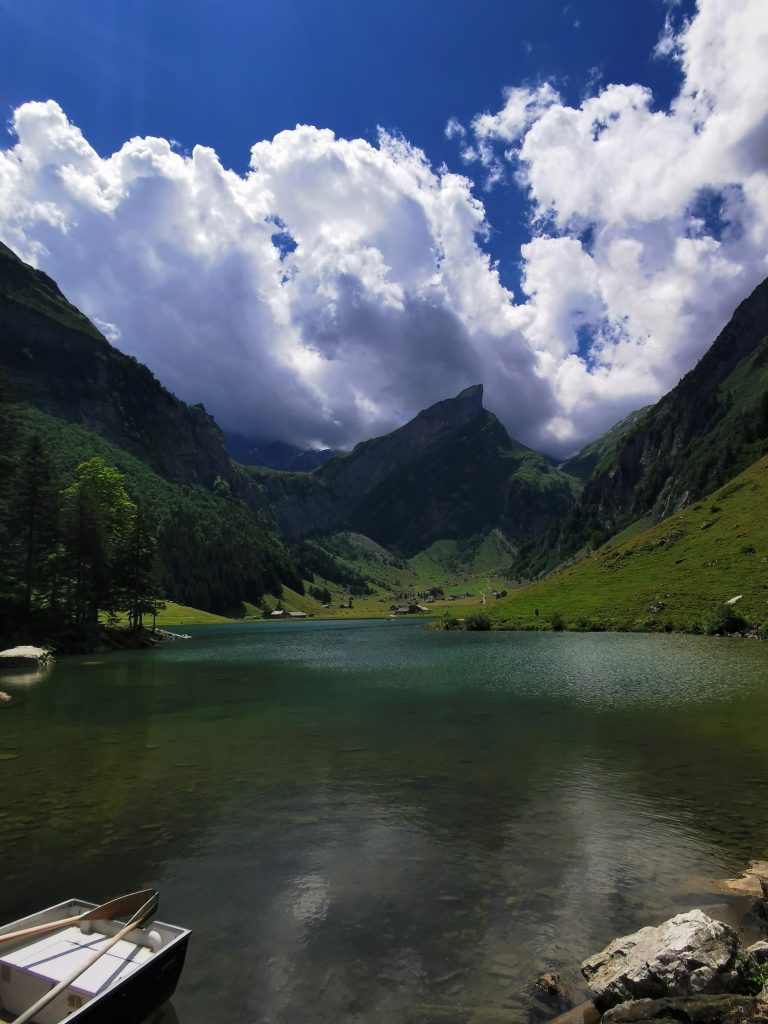 Another option if you're not visiting Seealpsee is to look at it from above, and you can do so by taking the Ebenalp cable car up from Wasserauren. It's literally right outside the train station. Again, you get 50% off with a Swiss Travel Pass or the Half Fare Card, another reason to get those passes!
Once you're at the top of Ebenalp, you can walk around to Schafler, about 40 minutes uphill to a restaurant and rest there, and/or walk towards one of the most iconic places in Switzerland; Aescher. A tiny restaurant built on the side of the mountains (part of it is rock, most of it constructed of wood). Right beside this place is a tiny chapel! Like, tinnnnyyyy! And a cave where you can cool off and walk through. Apparently, they still host Sunday service there. Talk about preaching at an altitude! There are numerous unique hikes in Alpstein; Ebenalp is a must-visit.
I'm getting chills just viewing some of these photos again. If you like lakes, there is also other ones I really enjoyed (comment below / send me a message if you'd like a post on that too!). I've so many more photos from this place I compiled them into a slideshow at the very end of this post.
---
Altitude: 1791m
Overall Rating: 7/10
I wish I had spent more time here, because from Hoher Kasten there are numerous paths to take (hiking trails are also called "Wanderweg!" which translates to "Wander Way" :). To get here, take the train to Weisbad station, then the bus to Burlisau. You can either hike from Brulisau to Hoher Kasten, but I think it's a lot more fun to take the cable car up and then start your hike at an altitude. The views are amazing and much greenery everywhere.
I would definitely go back and explore this particular hike in alpstein some more. You could also hike down to Fahlensee, another GORGEOUS lake, from here. I would definitely go back to this lake (I hiked from Burlisau to here without passing Hoher Kasten, though)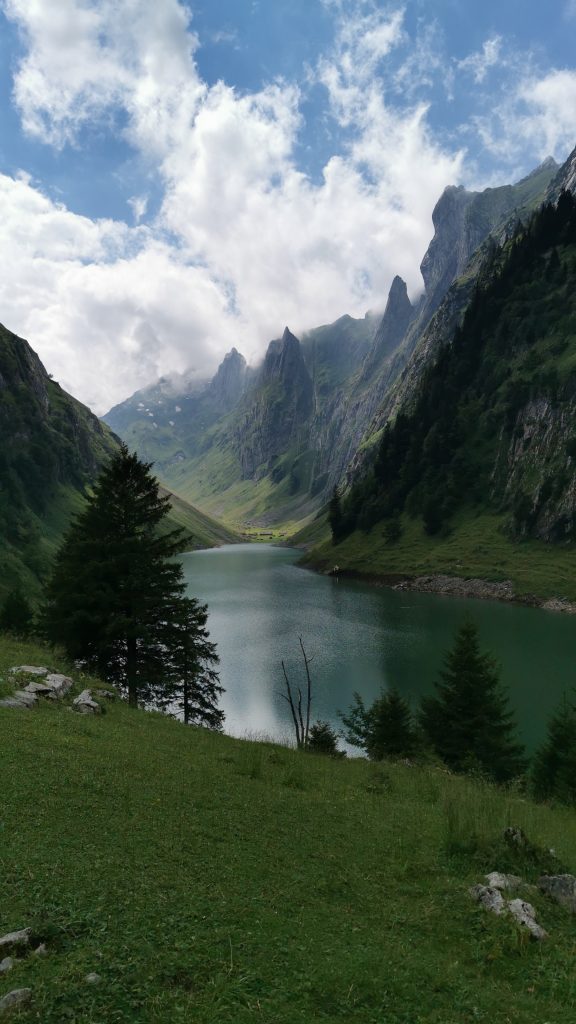 With the Swiss Travel Pass or the Half Fare Card, you get 50% off the ride in the cable car for this Alpstein hike.
---
Altitude: 1663m
Overall rating: 6/10
To get here, take the train to Jakobsbad station, right outside where you see the treetop trekking park (ya can't miss it!), which is popular among the kids! It's fun for the adults too; I did treetop trekking for the first time since grade 3 and and then the bobsled, then went up to Kronberg.
I didn't spend a lot of time here, but from what I remember, there weren't as many wanderweg options as the other mountains. There's the option of walking from Jakobsbad to the top of Kronberg, but I took the cable car up and walked around the top. What I liked best about this trip is that I had the chance to go on the "Adult playground" with the ropes and obstacles, and then head for the hike which is refreshing. As for the hike itself; it wasn't as impressive as the others. I would say if you make the trip here, the highlight would be its unique park below full of activities to do.
You can get 50% off the ride up/down with Swiss Travel Pass or the Half Fare Card.
---
I think those are all the mountains with cable cars in Alpstein except for Alp Sigel, in Brulisau. I'm sorry that I don't have anything to report on that–I didn't visit! It's one of the underdog mountains, I take it. Not many people talk about it, so maybe it's not so grand.
And there you have it! The top 4 hikes to visit in Alpstein. If you're short on time, I definitely say visit Seealpsee/Ebanalp—>Santis—>Hoher Kasten.
You can check out other ways to save money in Switzerland here.
Here are some other shots I took at my Seealpsee alpstein hike: