I'm verrrrrrry selective with the content I consume.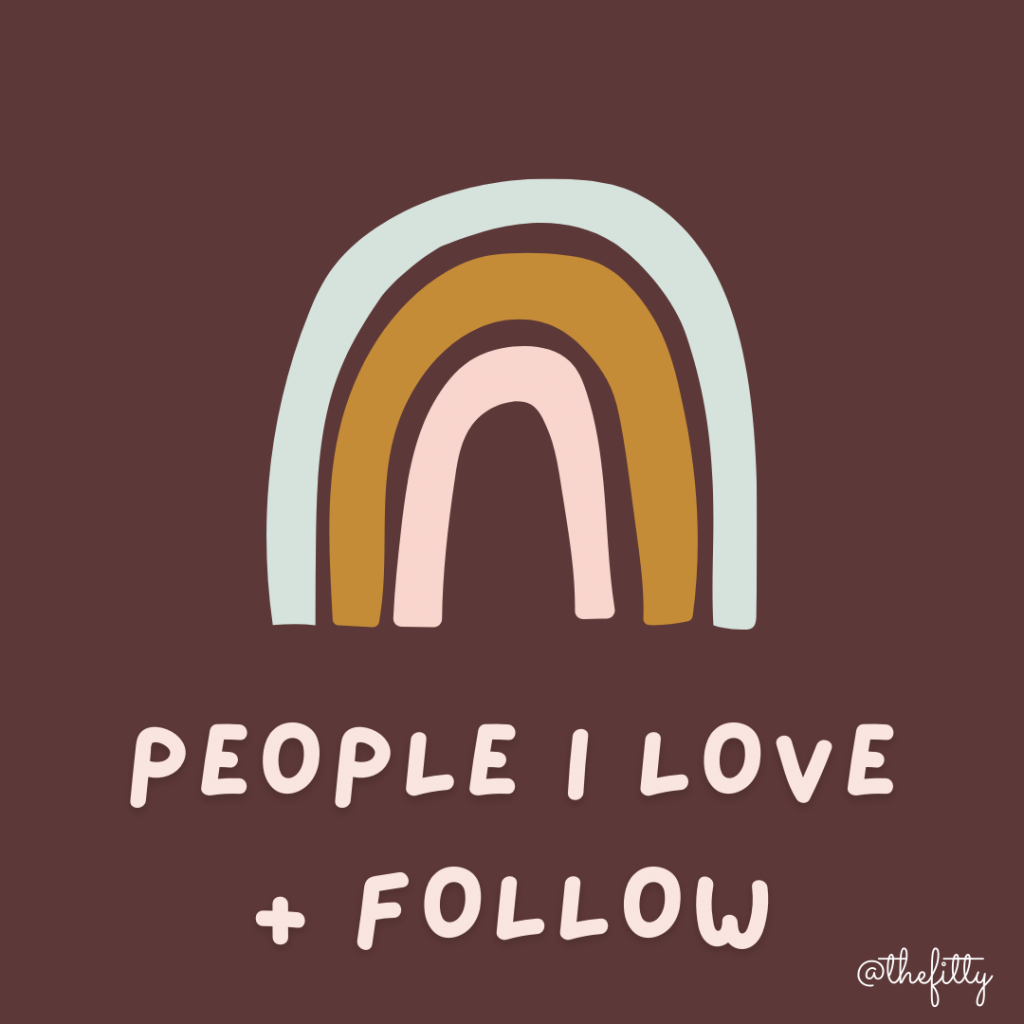 I don't watch TV. I don't like going to the movies because I'd rather be doing something active than sitting on my butt with blue light pumping at me. I don't even follow some of my friends on social media because I'm very particular with the vibe I have on my dashboard. I don't have anything against them; I just don't want anything that isn't relevant on my dashboard.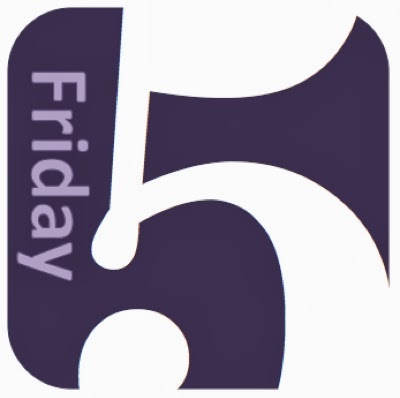 .
Here are some people that I DO follow; I love them all for different reasons.
---
These guys win the couple of the YEAR AWARD. They bring me so much happiness when I can't travel; their videos bring a sense of travel into my home-bound life. I find their content entertaining, light-hearted and amazingly breathtaking (depends on where they go) at times. I watch every one of their youtube videos. They're also one of the most free-spirited, optimistic, and gracious couples out there; I hope I find a soulmate like that, a travel buddy like that. They remind me that being an adult also also about having fun. Growing up doesn't mean having to grow old. Their instagram stories is full of adventure that makes it to the webs before their actual YouTube video does, and I love following their adventures.
You'll like them if: you love watching travel experiences that are fun and exciting (they make even the boring super entertaining)
---
What I love about him: His videos are straight to the point, no BS, you-fully-get-what-you-came-here-for, no click-bait or sponsored ads kind of content. He is a solopreneur; does everything from answering his emails, replying to youtube comments, creating courses, etc etc. He doesn't scale his business; it's all him. I once reached out to him to volunteer doing admin for him because I respected his work and was looking for someone to serve, and he very kindly replied how his work ethic is to do everything by himself. George is humble and authentic, down to earth and doesn't pitch himself above you. He is someone I think of when I think, "Generous, feel-good about contributing to, and modest." He is the epitome of what good, non-salesy business is.
Even though he's an business coach, his content in productivity and approach to work can be applied to all (such as his energy reboot system, for example) I have huge respect for George and hope to enroll in his mentorship in the future, when my business is at an advanced stage.
You'll like him if: you embrace authenticity and an attitude of zen in your work/business.
---
I found Tarah through a creative social app and somehow, we connected over instagram. She's been to a few Soul Circles and I simply ADORE her kind presence. It's kind, grounding, and intentional. She puts thought and care into her words and actions. She devotes time and doesn't do things half-absentedly. I love her emails; which go out maybe once biweekly, or weekly. She has a gift with words and her stories are so relatable and human; I look forward to reading every. one. You can check out her email + community here.
She's a mother of one and embraces a slower, unhurried way of living.
You'll like her if: you embrace an energy of slow, intentional living.
I originally started following Amanda on YouTube but she took a long break from that, and I wanted to keep up with her life so I followed her on instagram. What I love about her is her wholesome attitude towards yoga, wellness, and work. She seems to have a steady take on the ebbs and flows of her life and secure in who she is. I love that. She is a RDN and vegan advocate. We have differing nutritional views(me being carnivore; she being vegan. She being intuitive-eating + moderation approach, myself being structure = freedom approach), but I respect her. One of my favourite IG Q&A's replies was this: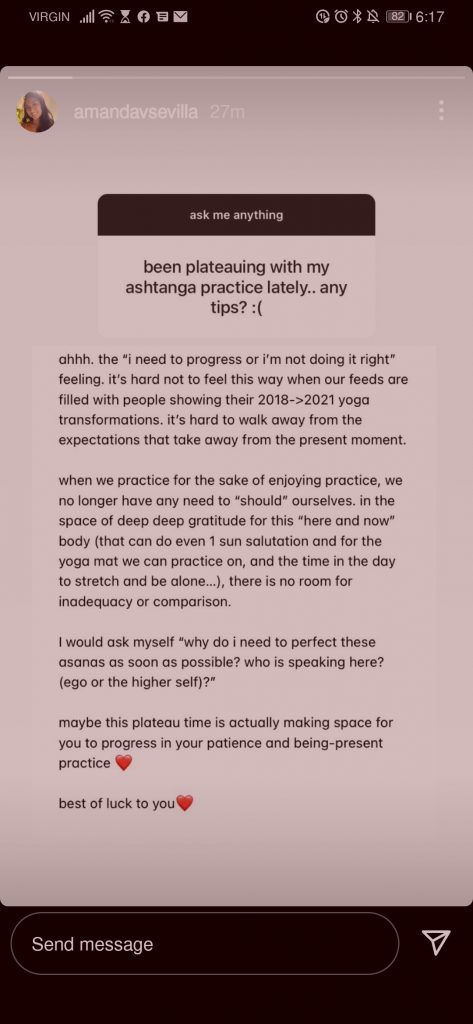 Wow, reading that was like a fresh breath of air. <3 You bet your ass I've saved this in a special place on my phone!
You'll like her if: you like yoga, veganism, and dietetics and embrace an attitude of grace in all situations.
---
Maria and I have both struggled with food; that's why I follow her content. It creates a bit of ease around the thinking that I get caught up in (around food or anything, really) and take a step back, zoom out and see how pressed up against the glass of this one very particular instance I am, instead of allowing the energy of this moment to live through and flow through me. I am reminded through her content that all moments pass. All thoughts pass. Every Monday she goes live on instagram to answer a few questions and I always tune in later on that week to hear what she has to say; it marks as a reminder for me to step back and allow space between and my perceived problem. You know how sometimes, you're already familiar with a concept but you like hearing it through the different phrasing and tone of voice from someone else? Yeah, it's like that. Her content nudges me to zoom out consider what the bigger picture of whatever anxieties I'm facing.
You'll like her if: you struggle with thinking too much, especially around food.
---
Well, that just about rounds it out! I definitely follow more people than this, but I wanted to feature them specifically for the value they're adding to my life in the recently months.
I ought to do another post featuring others–like the top podcasts I listen to, or youtubers, etc! Which (or what) would you like to see?