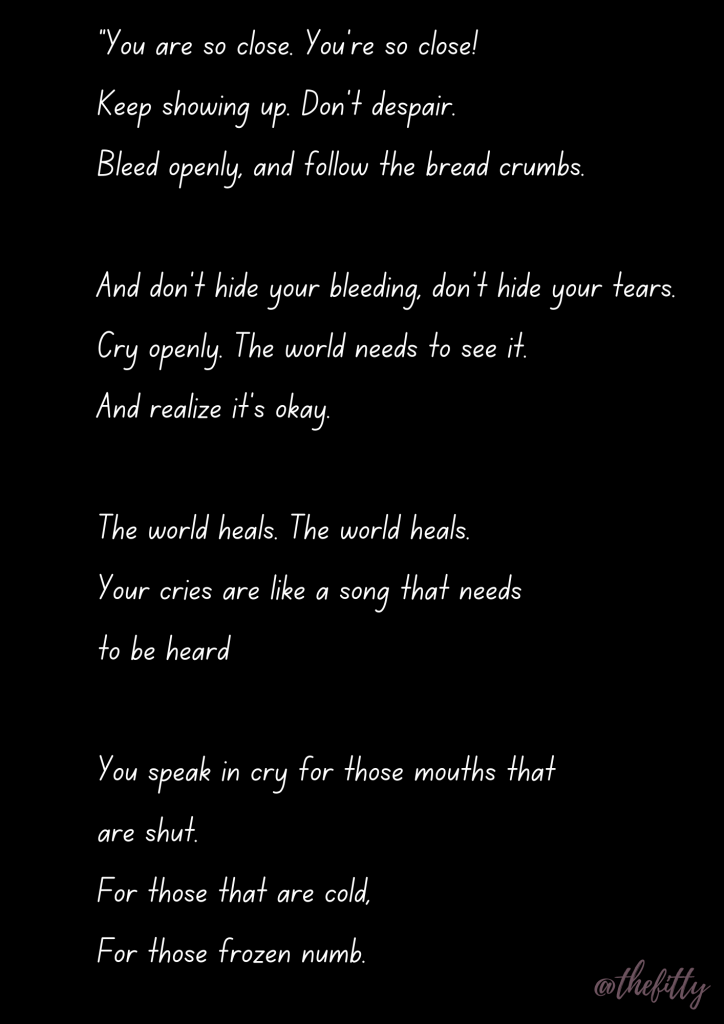 I've never considered myself a poet, but when I channel messages and when I speak on stages, poetry flows through me from the heavens.
(
Skip to
1:32:30
if you want to direct prayer poem
)
On a new moon, these words spilled from my lips:
⭐⭐⭐
"You are so close. You are so close!
Keep showing up. You are so beautiful, Don't despair.
Bleed openly, and follow the breadcrumbs.
And don't hide your bleeding; don't hide your tears.
Cry openly.
The world needs to see it.
And realize it's okay.
The world heals. The world heals.
Your cries are like a song that needs to be heard.
You speak and cry for those mouths that are shut.
For those hearts that are cold,
For those frozen and numb.
You cry for those who cannot.
For those who do not have the words.
You cry for those; you must cry out loud. You must bleed, you must bleed out loud.
Show your skin.
And show your skin without armor.
Show your scars and show your bleeding. And show your ugly and show your darkness.
There's so much Beauty in them.
There's so much healing there.
Show them. For those that are silent.
Free yourself!
Free yourself, and free them."
⭐⭐⭐
I remember bursting into tears after.
Wow, that was profound. I'll be revisiting this is text anytime I'm feeling despair of pain.
May this message heal you. <3
Namaste,
Linda.