Hello, m'fitties!
I've taken on hiking the last year of 2020 and fell in love. Throughout many of my adventures, I came across sections of Bruce trail.
The Bruce Trail is a hiking trail in southern Ontario, Canada, from the Niagara River to the tip of Tobermory, Ontario. The main trail is more than 890 km long and there are over 400 km of associated side trails.
I recently came across a fellow hiker's post on Facebook saying she hiked the ENTIRE TRAIL! Immediately, I knew I wanted to chat with her. I'd love to introduce you to Kendra Slagter! She's an amazing human being who's so kindly agreed to be featured in an interview…enjoy!
---
Describe the day you got the crazy idea to do the entire Bruce trail.
My dad and I were sitting at the kitchen table discussing how covid-19 interrupted our plans for the year. I was originally sponsored to hike the Pacific Crest Trail, while my dad was meant to jet off to Europe to run an ultra-marathon in the Alps. Of course, neither of those events happened because of covid, so naturally we were pretty bummed out. I turned to him and just on a whim said, "Hey, what about the Bruce Trail? Why don't we hike the entire thing?" I'm a pretty spontaneous person, and my dad is to an extent. I could see the idea lighting up inside of his mind. He told me he was super excited about the idea, but just needed to make sure he could put his business on hold for a month to jump at this chance with me. And he did! Within a few weeks, we had all our gear packed up and ready to go!
How long was your trip? When did you start and end?
We hiked the entire length of the Bruce Trail. Adding up all of our daily mileage, we hiked 944km in 29 days. We took one day off in Collingwood to celebrate being halfway done the trail and one day off due to injury. We started our hike at the Tobermory terminus on October 7 And made it to the Niagara terminus on November 4.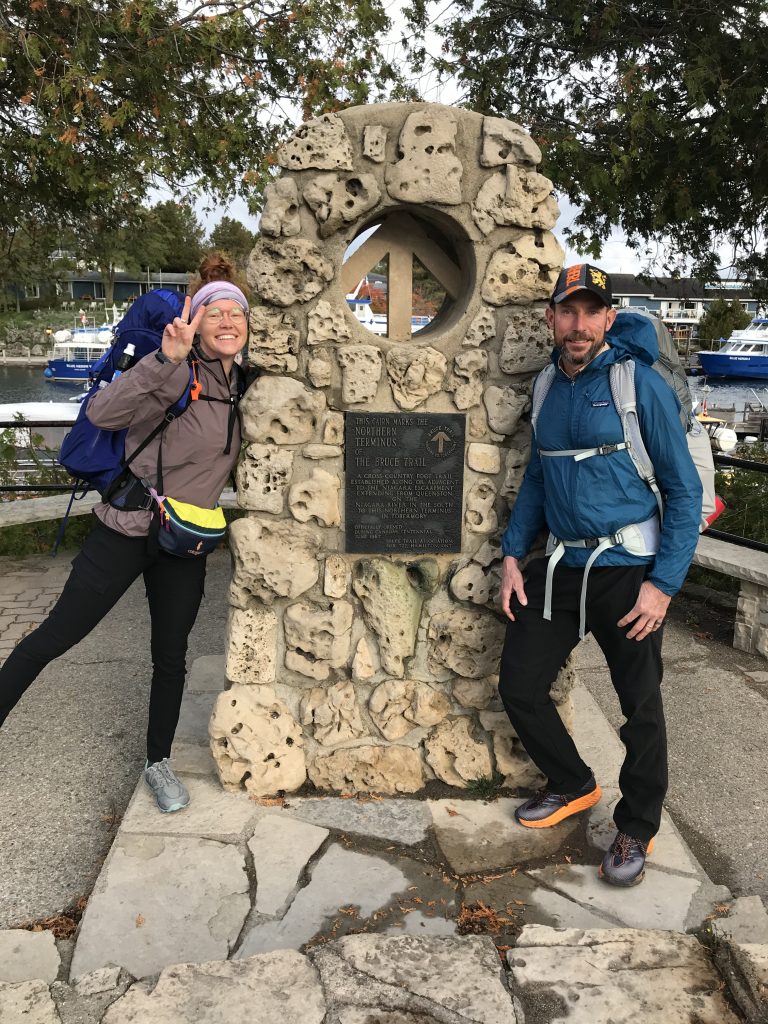 What was a typical day in the life like during your hike, from the time you got up to the time you went to sleep?
Honestly, we just hiked and hiked and hiked and hiked and hiked until it got too dark to keep going! If we were sleeping in tents, we'd get up around 6am and cook some oatmeal and soon after pack up all our gear to hit the trail again. We usually started hiking around 6:45am. I packed my gear up way faster than my dad normally, which meant I usually got an extra 15 minutes of sleep. Once we hit the trail, we'd just hike! We'd stop to take pictures of beautiful scenery, pause a few minutes to sit on a log for a snack, take a 15-20 minute lunch break and look over our maps to see where we'd stop at the end of the day, etc. At the end of the day, we'd usually set up camp around 5:30pm before it got dark. We'd slip into our tents, fire up our cook stoves and prepare ourselves a meal. After dinner, we'd wash our bowls/utensils, set out the things we needed for the morning, and head off to sleep. We'd fall asleep around 8pm considering it was already pitch dark and we'd be exhausted from hiking 35-45km a day. If we were staying in a motel or at a trail angel's house, we'd usually get some laundry done and spend more time relaxing in the evening.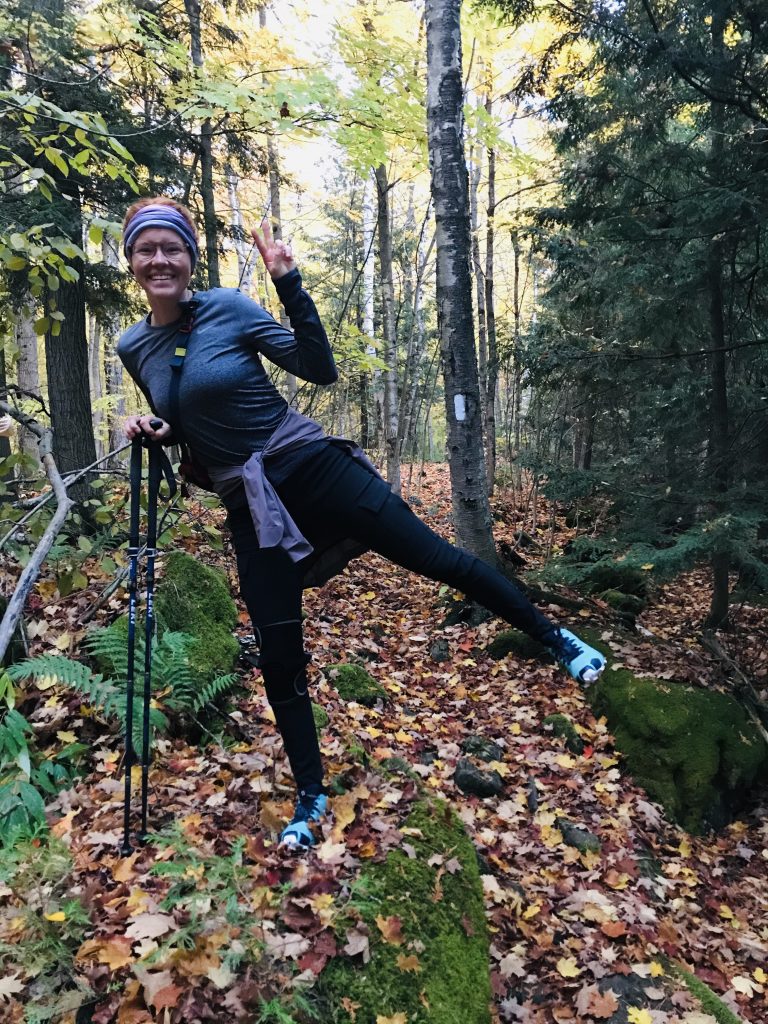 What do you do nowadays?
This is always such a hard question for me to answer because my life is always so up in the air! I have a degree in social work and having been working at several non-profits both locally and internationally over the past few years. I took some time off from the "professional" world and took on a tree planting job for a few months in the summers of 2018 and 2020. I'm mostly likely going to plant trees again this summer, considering how covid seems to be progressing. As of right now, I'm trying to find a job to get me by until then, and if not, I'll be spending more time outside running and hiking, and spending time with family. It's such a strange time we're living in, but I'm doing the best I can within the situation I'm finding ourselves in.
What did you bring to eat?
A thru-hiker has the biggest appetite! If we could eat all day, we would! Each day, we would burn around 3000-4000 calories, and definitely didn't eat enough to replenish what we were burning (it's just not realistic to carry several pounds of food. It gets way too heavy!). In the morning we'd cook up oatmeal and add chia seeds, peanut butter, and dried blueberries. Sometimes we'd have fresh bananas that we picked up at a store along the trail and add that into the oatmeal too. Throughout the day we'd be snacking as we hiked. Our favourite snacks included granola bars, chocolate covered almonds, fruit leather, mini chocolate bars, and sometimes we even had fresh apples. There were also tons of apple trees along the trail, which was always such a treat! For lunch we always had tortillas with peanut butter, and some other snacks like plantain chips, chickpea chips, chocolates, and more granola bars. For dinner we liked to keep it easy, so we packed dehydrated food pouches. We tried a few different kinds from Mountain House, Happy Yak, and Backpacker's Pantry. Our personal favourite was the chili! Mmmmmmm!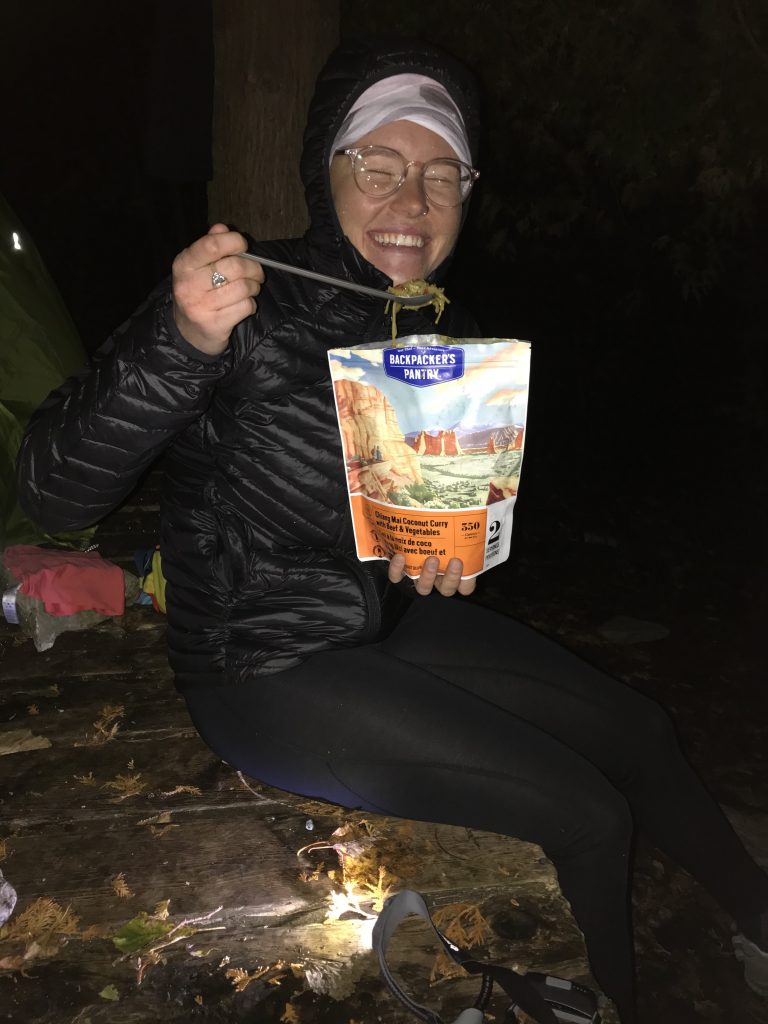 What was it like, not knowing where you'd sleep and where you'd end up each day?
I loved the ambiguity of the experience! Not knowing where we would end up at night excited me right from the start! My dad was a little apprehensive at first. As a business owner and someone who has a fairly structured life, he was a little stressed about not knowing where we'd sleep at night, if there'd be enough water sources throughout the day, etc. After the first week, all of his fears left and he completely embraced the ambiguities of the trail: something that makes thru-hiking so special! We took each day as they came and planned as much as we could. We could sometimes plan a few days ahead based on which towns the trail was passing through/the conditions of the trail, but for the most part we had to plan on the fly. It's rather exciting!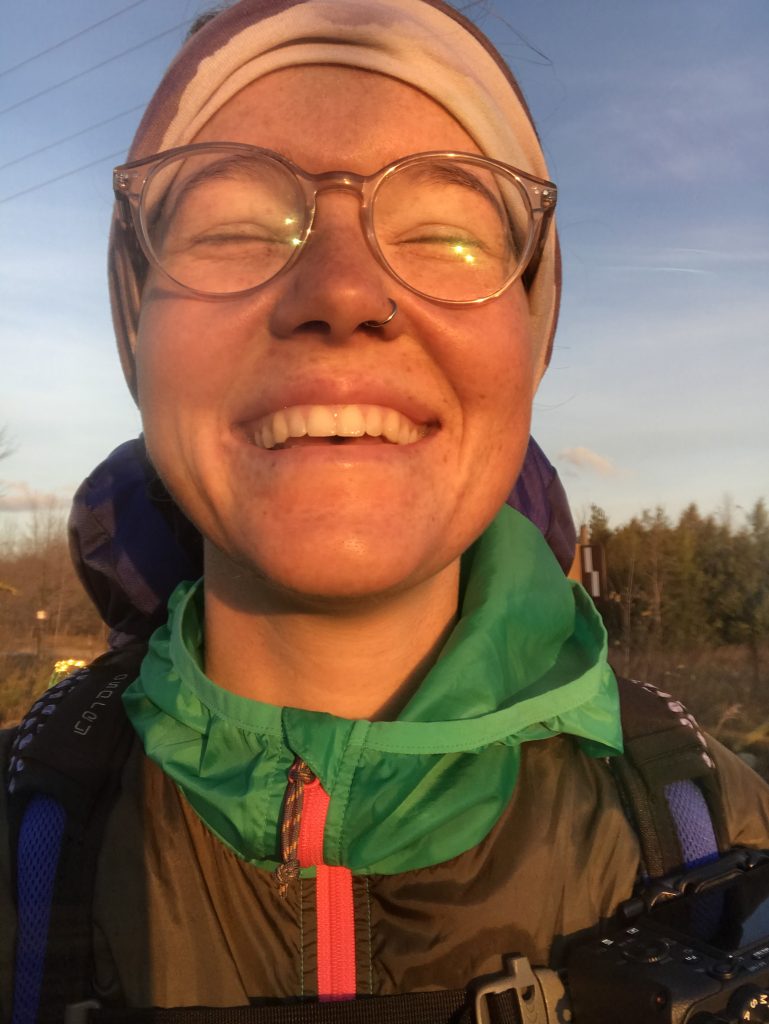 What did you do about clothes, electronics, and the travel essentials?
I can't stress enough how important it is to pack as light as possible on a thru-hike/long-distance backpacking trip! The phrase "ounces lead to pounds" rings true! Do not bring anything that isn't "essential" because you will be surprised how hard it is to hike with 35+ pounds strapped to your back. When we first started the hike, I wore my MEC hiking pants, sports bra, synthetic underwear, Darn Tough hiking socks, a button-up flannel from Value Village, buff, and Altra Lone Peak shoes. I had an extra pair of underwear, thermal top/bottoms and thick wool socks to sleep in, a pair of Patagonia baggie shorts, Cotopaxi windbreaker, On Running raincoat, and a MEC puffy jacket. My dad and I both agree that the puffy jacket was the most essential piece of gear we had! After a few weeks, I switched up some of my clothing. My knees and Achilles were in terrible shape because the shoes I chose didn't support me how I wanted, so I swapped out my Altras for Salomon Speedcross 4s and they were AMAZING! I also swapped out my flannel for a long-sleeve running shirt, ditched my shorts, and traded my Darn Tough socks for double-layered Wright Socks to prevent blisters from forming due to breaking in new shoes.
Have you ever gotten lost?
We got lost once during our entire time on the trail. We ended up taking a wrong turn and started to follow blazes for a different trail. Though in our defense, we started hiking at 5:30am that morning, so it was still very dark out and we were focusing on the ground so we wouldn't trip. We ended up taking a turn and started following the blazes of a completely different trail. Though the blazes were the exact same as the ones the Bruce Trail uses! We walked about 7km in the wrong direction… Thankfully my dad had a friend in the area who lived close by, so he was able to pick us up and bring us back to the point where we made a wrong turn. Other than that, the trail is incredibly marked and the Bruce Trail maps are very descriptive. It's hard to get lost on the Bruce Trail!
Can you tell us about a memorable moment on your hike?
We had camped along a cliff's edge sometime on our first week. It was a cold and windy night, though when we woke up in the morning, it was absolutely calm. I remember unzipping my tent zipper and stepping outside to stand right on the cliff's edge. I was overlooking the water and watched the sunrise appear, painting the sky with all sorts of oranges and blues. My dad came to join me standing on the rock, and I remember just smiling and thinking how lucky I was to be on this adventure. We cooked up some oatmeal and coffee and soaked in the sunrise before packing up and heading out for the day. Little did I know that each day was going to get better, brighter, and more exciting!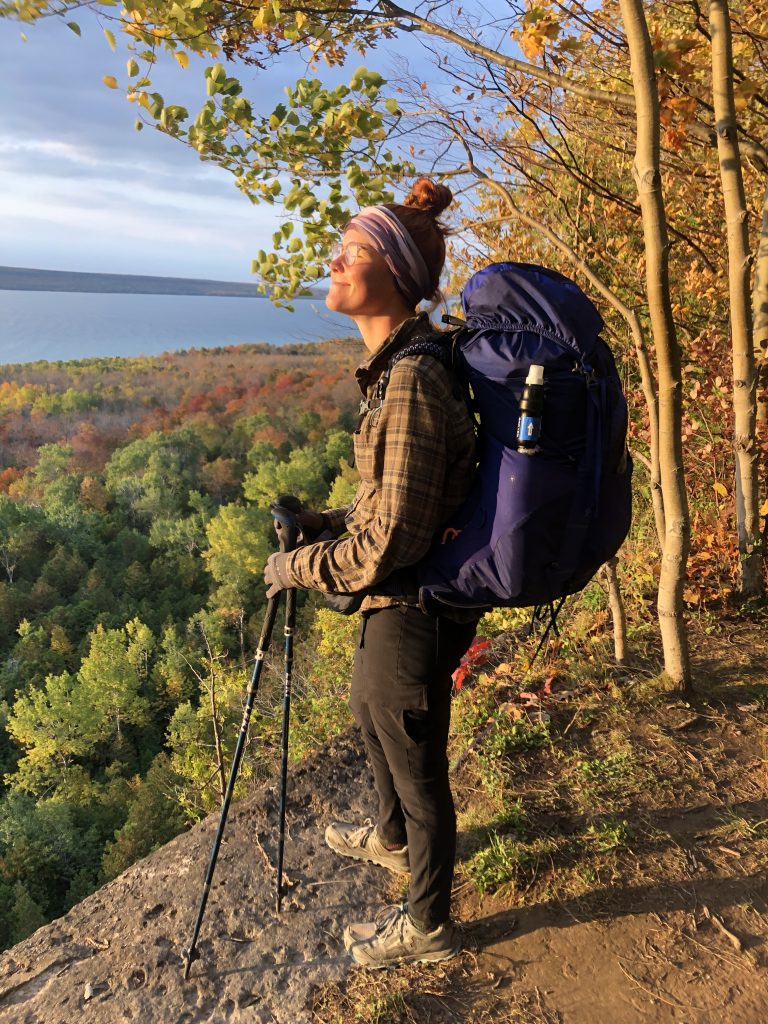 Typically, who lead the way?
We both took turns leading the way. Some days we'd chat for hours hiking very closely to each other, whereas other days we'd let some space grow between us and take some time to hike alone. It was nice to have a mix!
How do you know if you're following the right path? Did you use any devices?
The Bruce Trail is marked very well! It's hard to get lost on the trail. All you have to do is follow the white, rectangular blazes. We also carried the official Bruce Trail maps with us, which helped us gauge how far we'd like to hike that day and where we could camp at night. I've heard that a lot of people use the Bruce Trail app; however, my dad and I both like to use the paper maps. That way we don't have to worry about our phones dying or the app malfunctioning.
What did you do about clothes, electronics, and the travel essentials?
In regards to electronics, my dad and I both carried our cellphones (great for taking pictures on the fly!). My dad wore his Coros watch, which tracked where we walked each day. I carried a Sony Alpha camera which I clipped to my left backpack strap. I also carried an Osmo gimbal camera, used to take really cool action/motion shots. I carried 2 power banks and my dad carried one. I ended up ditching one of my power banks because I didn't need both.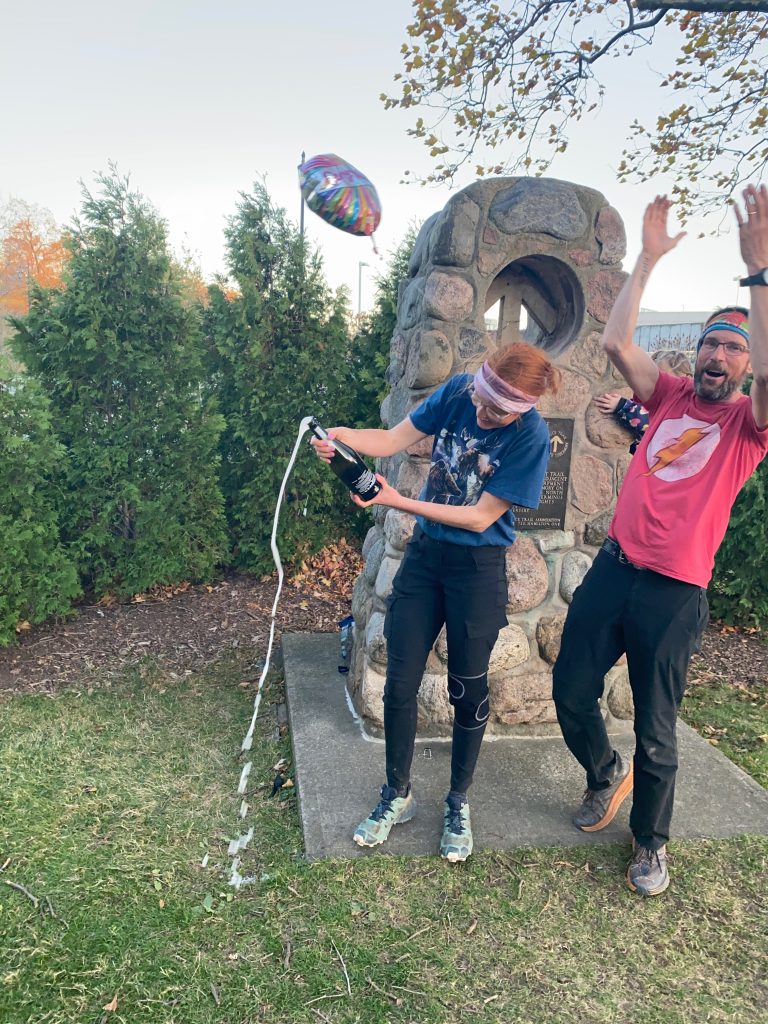 You mention being sponsored to go travel. How does that work, the sponsorship?
I applied to the Thru-Hike Syndicate. They're a collection of brands that completely outfit a group of hikers who are taking on some of America's longest trails. Each year they put out an application and encourage people of all different backgrounds to apply. It's been a phenomenal experience being a part of the THS community!
Where would you travel to, if the pandemic wasn't a thing?
If the pandemic wasn't a thing, I would definitely try to hike the Pacific Crest Trail like I had intended for 2020. I would also 100% make my way back to Kenya and Uganda, where I lived/worked in 2016 and 2019. I miss my friends and the community I built there so badly, and I know that I'll be on the first plane there once it is completely safe to do so.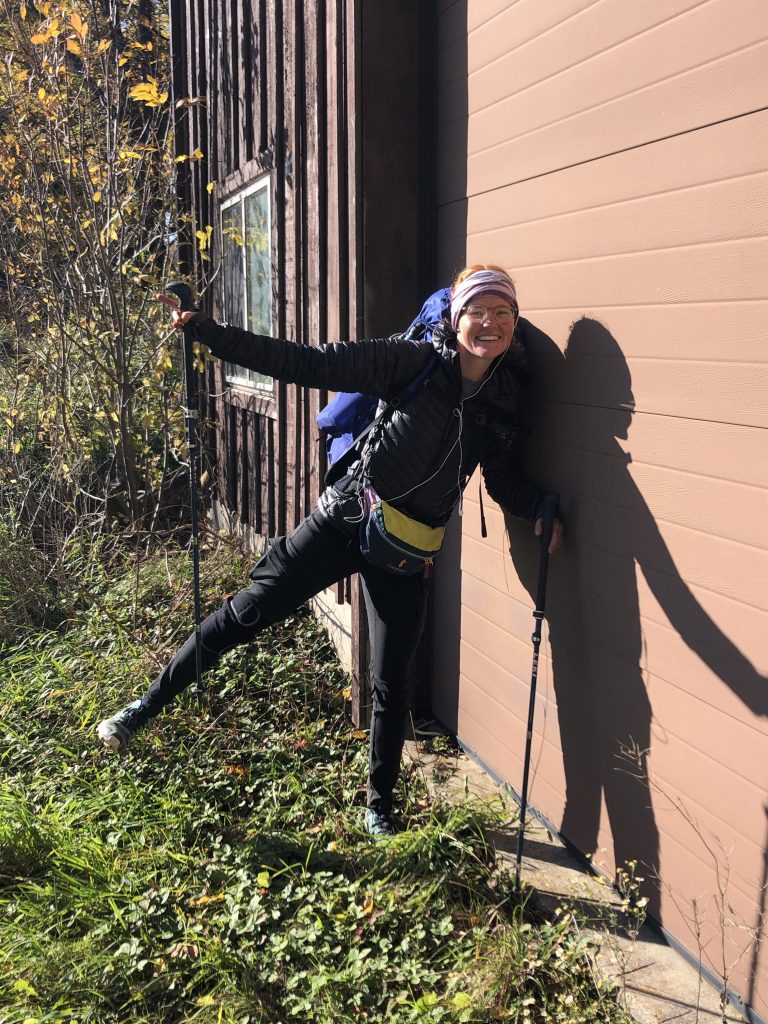 Can you tell us about the people you met on your hike?
We met so many incredible people on the trail! Many people would recognize us on trail and ask to take pictures with us because they were following our journey on social media. We received so much support from the Bruce Trail/hiking community, which gave us so much motivation to push forward on the hard days! We would bump into people on trail and they would sometimes hike a few kilometres with us, or share some of their food with us and swap stories about our hiking adventures. What an incredible community!
Can you tell us one of the instances you impromptu stayed at someone's house for the night?
We experienced so much "trail magic" while we were on trail! The first time we encountered trail magic was on our second day of the hike. It was raining and my dad and I were completely soaked. I remember that if we stopped for more than a few minutes, we would both start to shake from being so cold. We had walked about 28km that day when we bumped into a lovely couple who were walking their dogs. They noticed how cold I was an offered us to stay at a cottage they had rented for the week. I didn't want to accept their help because I was determined to push through a few more kilometres that day. We parted ways and kept hiking along the trail. The next portion of the trail took us along a road, where the couple had actually passed us in their truck. They rolled down their windows and said, "Last chance! There's a nice fire on at the house and a couple of beers waiting for you both." That's all I needed to hear to change my mind! We hopping the the back of their truck and spent a lovely evening at their cottage in Lion's Head. It was right on the water. My dad and I got to enjoy a few drinks, and amazing meal, and sat next to the cozy fire while watching the sunset over the water. What a magical experience! And that was only our first trail magic experience! There were several people we met that welcomed us into their homes and provided us a warm meal, a shower, and a bed for an evening. It was definitely appreciated, as most of our hike was rainy and cold – the occasional evening in a home was very special for us!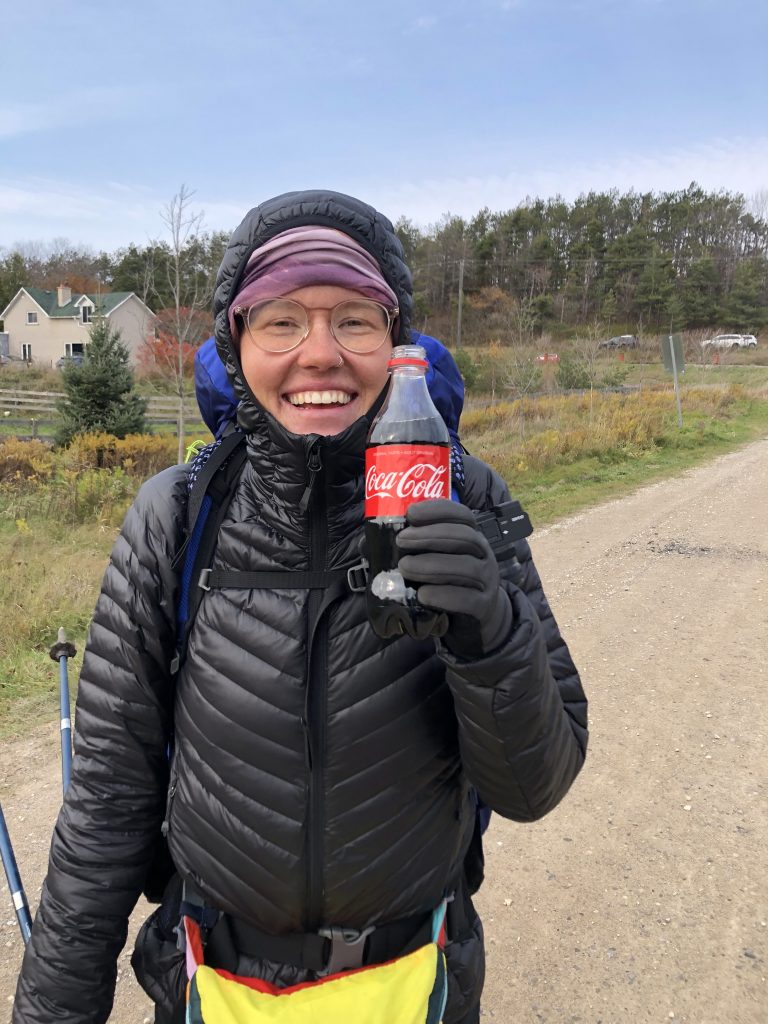 What was the best thing about this endeavor? What was the most challenging?
The best part about this whole experience was getting to spend 29 uninterrupted days with my dad! That's never happened before. Getting to spend time with him in this kind of capacity was unreal. We learned so much about one other over the month we hiked together. You truly get to learn about each other in such a unique way through this kind of experience. We collectively experienced the highs and lows of life on trail, and it's something we battled and took on together. Not many people can bond with each other over an experience like this!
The most challenging part of the hike was experiencing the cold, rainy days. Honestly, we both didn't complain too much about the cold and rain because we learned how to deal with it and still managed to have a fun time. However, I'd be lying if I said there weren't a handful of days when I was sad and down because of the lack of sunshine.
What has this journey taught you?
Oh man, we both learned so much on our hike! For me, I learned to focus on the things that make me feel most alive and to chase after those things. Life is too short to get caught up in the "regular" rhythms of life. Find what you love and chase after it!
Would you ever do it again?
100%! My dad and I have talked about hiking the entire Bruce Trail again in the other direction (starting from Niagara and ending in Tobermory). We'll see if we can make it happen!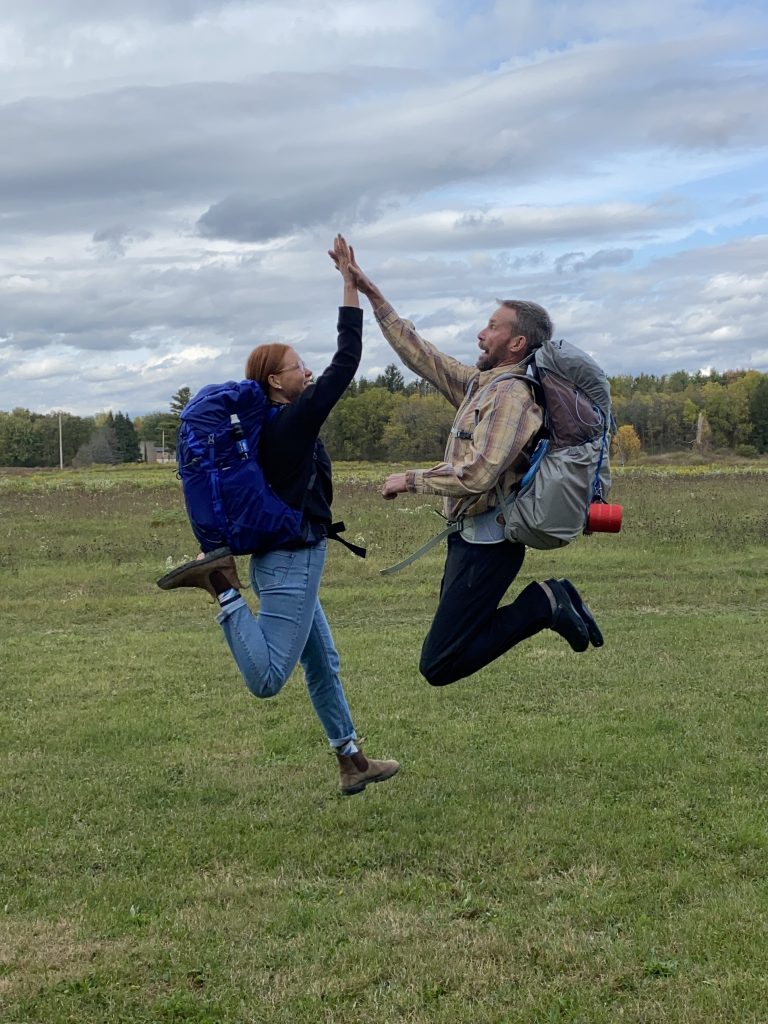 What's next for you? What're you looking to do?
To be honest, I'm not entirely sure! I've applied to grad school, I'm currently planning my next thru-hike, and trying to figure out which direction I should go in. Being in your mid-20s can be challenging, but it's also a time where you can experiment with a few different things you're interested in. Whoever says you have to have your life figured out by 25 is a liar!
Where can we find you on social media?
I'm on Instagram! You can find me at @kendraslagter. And feel free to check out the video I made about our hike on YouTube. It's titled "This is Living: A Bruce Trail Story." (see video above!)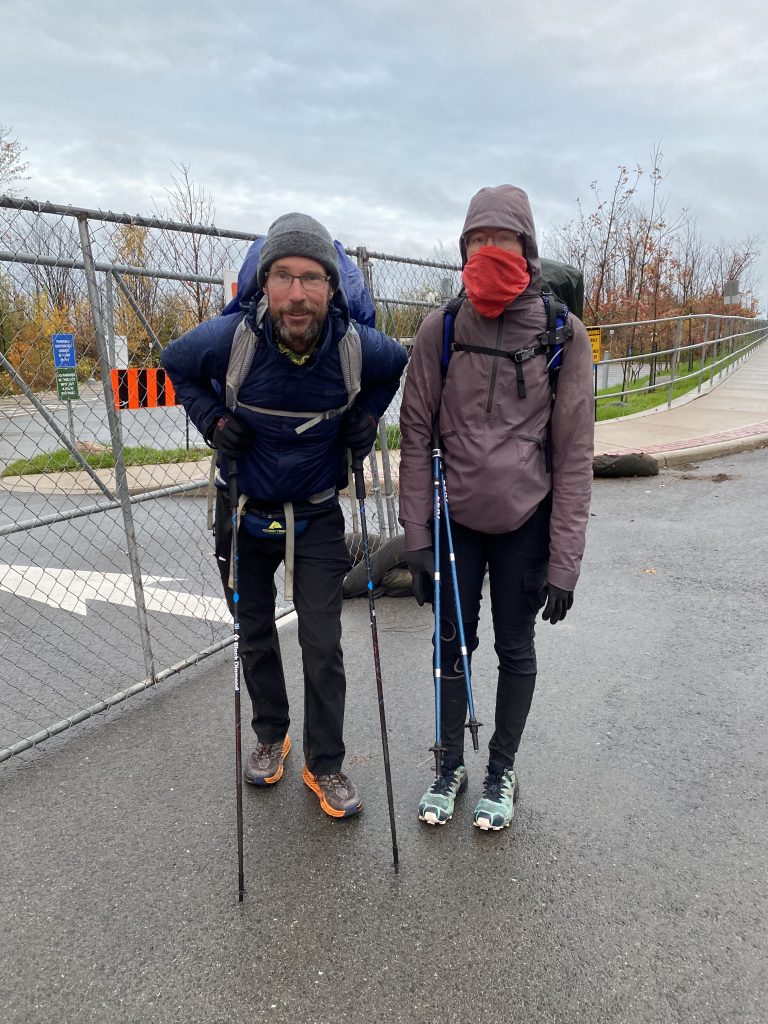 ---
WOW, so this is definitely doable. I'm looking forward to traveling the world but also potentially doing something like this! Now, in between my work, building my coaching, content creation and also just being a creature of habit (morning and night time routines, etc!), I don't think I'd do more than 5 days of an adventure, but I'm certainly open to trying it out! I'd definitely need Kendra as a guide…sort of like I need a Harriet Tubman for the Bruce Trail!
---
Have you taken up hiking? Would doing this adventure be something you'd be into?