**this post was updated and republished Oct 18th 2019**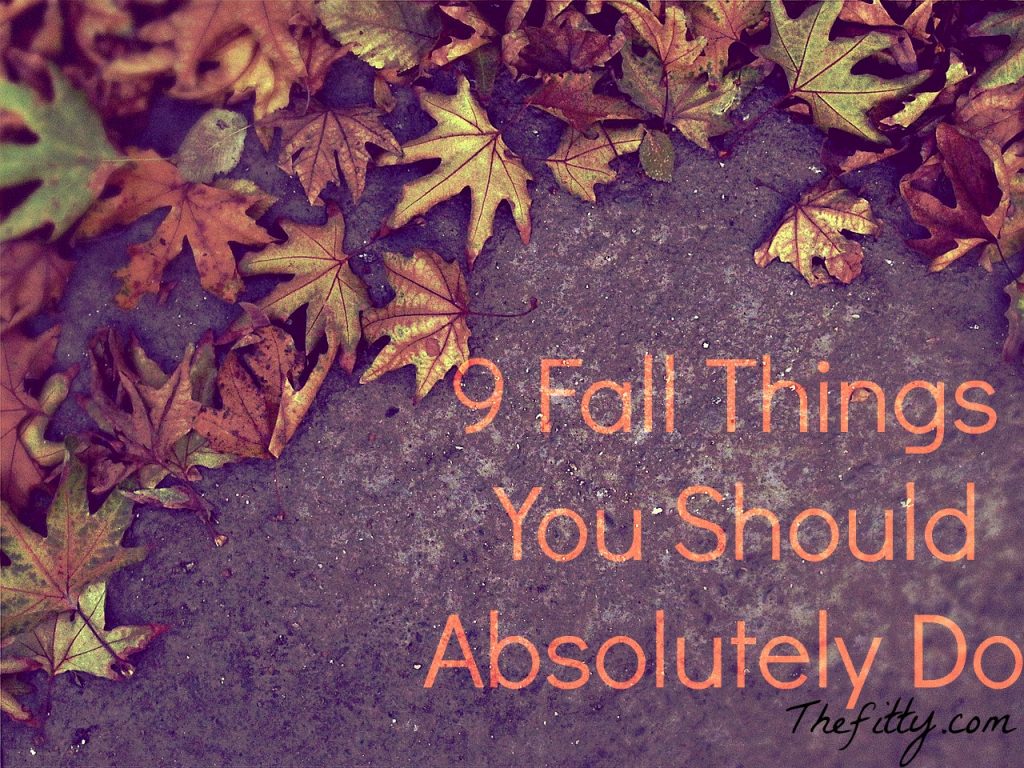 It's no secret that I love fall. Fall is my absolute favourite weather. You cuddle up in your scarves and boots, drink something spicy and warm, and walk through the chilly forest, listening to the sound of crunching leaves under your feet…
It's also the month of Halloween…
Here's my top "Must Do" things in fall!
1. RUN
YAUSSS BIATCHHHH 😀
#LIPlinkup
https://ws-na.amazon-adsystem.com/widgets/q?ServiceVersion=20070822&OneJS=1&Operation=GetAdHtml&MarketPlace=US&source=ss&ref=as_ss_li_til&ad_type=product_link&tracking_id=thefit06-20&language=en_US&marketplace=amazon&region=US&placement=B0BMM6FM32&asins=B0BMM6FM32&linkId=ca8ad13fffc7d124bb713174051b53bd&show_border=true&link_opens_in_new_window=true
Last Sunday I ran for 80 minutes. 80 MINUTES! I haven't done a run that long since May. I spent the summer in China(Part 1 and Part 2) and it was ha-ha-hot! Much too hot to do any exercise at all, really. So after a long hiatus, this wasn't my fastest run ever, but I did knock off two podcasts(because I multitask like a MOFO) and got to visit places I've never gone before around my university, so it was fun.
Fall is a wonderful time for running because the cool weather gets your adrenaline running. Have you ever tried to keep still while you were cold? Nearly impossible, right? Your body keeps you warm by fidgeting, and I use this to my advantage in the fall to keep myself running longer, harder, and faster. Not to mention when you warm up, you don't feel nearly so cold anymore, so fall is the perfect weather.
Why do you think I like cross country so much?
2. MAKE HOMEMADE THINGS
The other day I found enough time to make protein bread and hollandaise sauce!
A super duper great keto-paleo meal right here. I swear I can eat hollandaise sauce with anything.
While it's chilly outside, it's warm and hearty inside a house kitchen. I encourage you to make use of the oven and make some savoury meals, like my spaghetti squash pasta boat! Nothing says "I love you" more than going out on a warm stomach in the chilly weather. I don't know if that even makes sense.
I wrote the full recipe here.
3. CUDDLE UP WITH SOME GOOD MOVIES
I'm currently rewatching Howl's moving castle. *sniff* It's so…moving. It's a great time of year to settle down on the couch after a long walk/day/run and watch something heart-warming. Share the extra heat with a partner too!
4. SAVOUR THE EXTRA GOOD MOMENTS
Don't you love little positivity/zen books found at the bookstore? Usually they're overpriced but they sure bring a sense of happiness 🙂
5.

WEAR SCARVES
Because now's the time! Fall fashion is nothing without the scarves, I swear.
6. DECORATE YOUR ROOM
Keep the spiders in your room this month.
7. GET SOME FRESH FALL SCENTS
I LOVE THE SMELL OF CINNAMON AND CLOVES! This is the month to go to Bath and Body Works and buy some scented candles. I still have the ones I bought last year.
8. CARVE A PUMPKIN
Get ready for Halloween guys…how else are you supposed to justify pumpkin carving at any other time of the year?!
9. ATTEND FESTIVITIES IN YOUR CITY
I went to see a live theatre play in October as part of my theatre critique review called "We The Family". It was comedic and yet held heavy, sad truth in its words. I felt sad and laughed throughout; goes to show that serious plays can have bittersweet endings that sort of make you smile! So go out, and enjoy the festivities your city has to offer at this time of the year. We have Halloween Haunts, A dance going on on-campus, poutine contests, etc, etc… Go pick out some pumpkins!In addition, to see what's going on in your city, you can go to Eventbrite.com to check out local events 🙂 (I was not sponsored to mention them).
10. DID I MENTION RUN?! (Or at least workout)
What do you love most about Fall? Have you ever used Eventbrite? ARE YOU DOING ANYTHING FOR HALLOWEEN?!
---