I'm tagging: Christina, The Curious Creature, Kalyn Nicolson, Amanda, and Lauren.
What's your favourite type of yoga?
Vinyasa + hatha! I love the fluidity of the movement, and find solace in the meditative aspect of the repertoire.
How long have you been practicing?
Since grade 9 high school–about 9-10 years!
Ideal favourite yoga environment? Describe it in detail:
Candle light. In a room where the walls are glass windows. Lavender essential oil diffuses from the corner of the room. A luxurious, a b-yoga mat. 
What brand of yoga mat do you have?
I love Manduka and B yoga mats since they're super nonstick and durable! There's no other yoga mat brand that I trust as deeply.
Describe your entire yoga swag collection (blocks, mat, bag, towel, etc)
3 blocks. 1 strap. 1 bag. And about…8 mats!
How did you originally get into yoga?
It was offered to athletes on sport teams at my high school as part of their "training', however, anyone can join. I was lonely, and looking for a hobby at the time, so I decided to try it out despite not being on any sport teams. I remember it like it was yesterday–on a Friday morning, I took out one of the blue mats offered by my school and did an hour flow. I was sweating, shaking, and felt like a brand new human being at the end of it! I was hooked and kept going ever since.
What time of the day do you practice?
Usually in the evening, about an hour before bed.
On a scale of 1-10, how intense physically is your practice?
Anywhere from 4-7! Those hard poses that used to be hard no longer are. So when I opt for yoga I look for more advanced flows.
Favourite yoga teachers?
I've definitely mentioned this is a previous post, but I'll recap here:
What are you working on in your practice right now? (Recuperating from an injury? Getting/keeping shape? Mental destress? For spiritual reasons? Mastering a certain pose? etc?)
I'm working on holding a handstand without the wall, and doing a back-walkover! That's when you kickup from handstand into wheel and then stand up again. The kicking up the feet part still scares me. Of course, I still love yoga for its spiritual practices and meditative aspect.
How do you practice yoga? Do you follow a video? Go to class? Just do your own thing randomly?
I currently do it on the daily and use a subscription website to follow along videos. I have a few videos myself if you're looking to follow a flow, I have the perfect one for you:
Do you prefer arm balances or back bends?
Back bends for sure! While arm balances are a great arm workout, I find that I love heart openers even more. I like how it counters the hunched-over kind of posture we tend to get in our day to day lives. 
Favourite inversion:
Handstand.
Your current mantra:
Everything I want, also wants me.
Savasana/meditation: How long is yours? Do you skip it or take it?
I always take it! Usually 2-5 minutes.
How often do you practice yoga?
Daily!
How long are your yoga practices?
60-90 minutes 🙂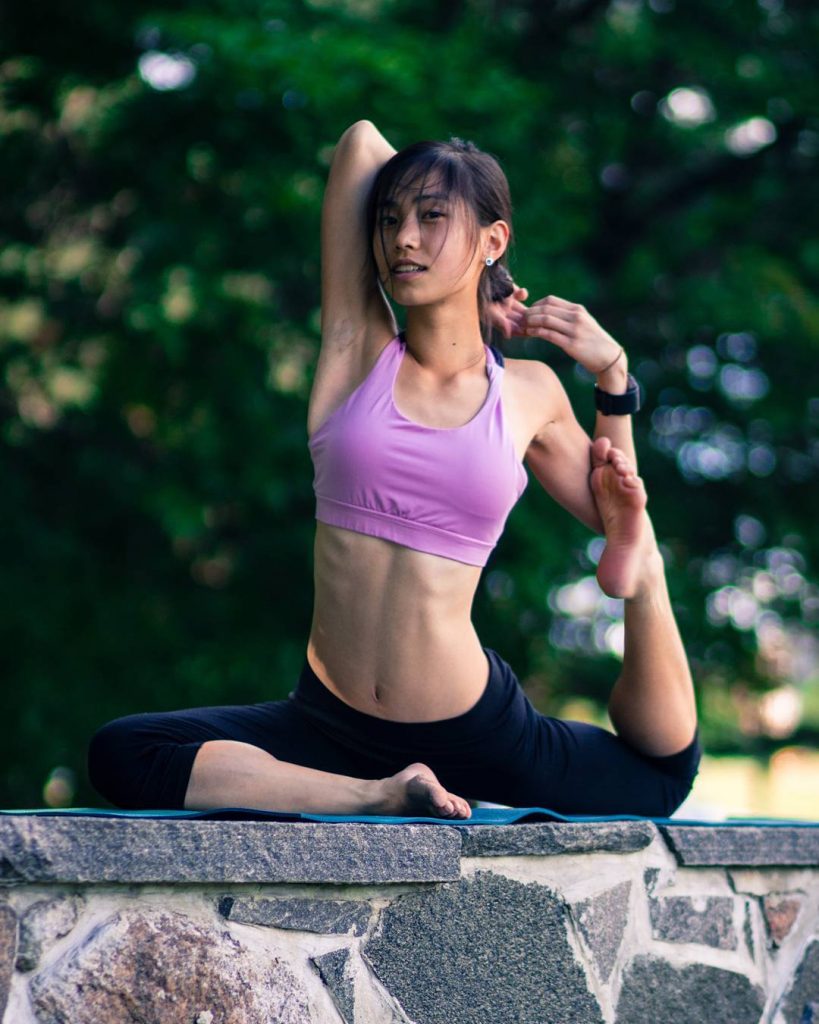 ---
Now go tag 3 others! 🙂