Every day, I set an intention. I speak with the universe through meditations and through journaling. I pray for high vibes, the confidence in my ability to manifest, and thank the universe for what I already have. Through my journey, I know it's important to have a regular conversation with the creator–not just in times of turmoil. So often, I used to pray only when things were going wrong, when things weren't going my way.
That's a one-way conversation.
That's like talking to a friend only when you want to ask them for something.
And I know I'm more than that, that I am better than that. 
I speak to my friends on a regular basis invite them to a coffee, a chat, and shower them with appreciation and gifts. And I love doing it. <3
Here, I share with you some conversations (through diary entries) I've had with my partner, my soul, my highest self; the universe. Perhaps these will enlighten your spiritual practice, too.
---
September 20th, 2018
I have it in my cards that you will provide me dance classes I've wanted ever since I was a child. You know this, so together we played, and prayed and giggled and dreamt.
I am walking into the studio, fully well rested and renewed having improved my dance skills. Bright, eyed and ready to listen. It's Wednesday at 2pm and I'm attending Kaleela's class. I'm energetic, warm, satiated and not too full nor hungry. I love what I'm doing. I sway my hips side to side and unleash my alter-ego: the sassy, sexy sensual, fury spontaneous, darling Linda. I take these classes and not worrying about any blockages/self consciousness– I know we'll work through them together. We co-create our future. Together, any barriers are taken down–financially, emotionally, mentally, spiritually the other day you sent me a sign of financial abundance.
I 'm so happy. I am love. I'm grateful. I am okay.
– Seeing Duris,
– Seeing Rae,
– Beautiful fall weather
– Faith in everything.
October, 9th, 2018
Words to live by:
I remind myself that my ego is still louder then my inner voice at times.

I don't have to do anything get to get what I want. I just have to feel corrected and aligned, and in that spirited alignment, anything is possible.
October 10th, 2018
Grateful for:
– Sami expressing thanks for my stretch sessions!

– Leisurely getting e-errands done since I'm done mid terms.

– Making a friend = Happy ! @ Call centre. He lives @ Pond as well

-This new equilibrium bracelet I got!

– the $1628 the stars has for me for dancing. It's already here.
October 11th, 2018
Today I'm grateful for:
– Girlfriend time BULLETJOURNALING a/Michelle

– The cold chilly weather outdoors

– Friendships that matter

– It is not that people don't want to hang out with me – they get busy with other practices and that's okay!

– Having all the resources I need = a life coach, techy friends, a BULLET JOURNALing friend, Spiritual friends, fit friends, & fitties

– Not having to count / worry as much as i did in the past

– Having the motivation and energy and joy to enjoy daily tasks and run and exercise!

– Jobs that will earn me for dance! M'fitties' support patreon

– Dance 6-7 days.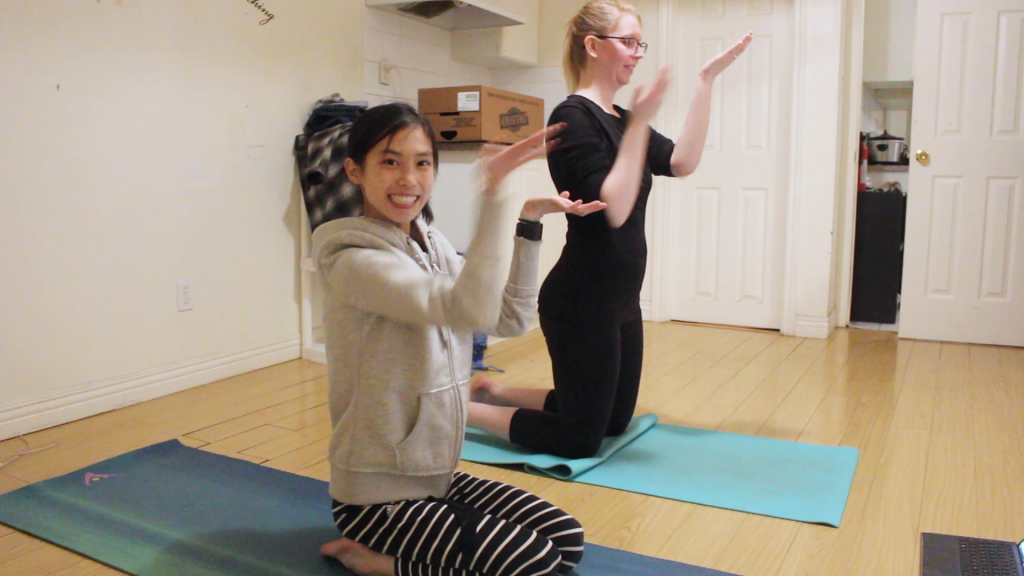 What would my ideal day look like?
Well, for starter, I wouldn't mind waking up in a luxury king sized bed that
soft, firm and silk. It is white like clouds. I'm in a 5 star cozy resort and I get room service and a maid. I'd get up without an alarm and meditate for five minutes, setting an intention for the day. Then I'd jump energetically out of bed to go for a run on a trail path not for from where I live. I lace up some comfy running shoes and body-hugging capris and tank top. It's breezy but not windy; it's around 14 degrees. Fall weather–a bright and cloudy day. I'd do some Hill Sprints that leaves me breathless and feeling incredibly alive, and then finish off with a long run, getting lost in nature, in positive thoughts, in high endorphins. I'd come back, stretch, yoga, shower, meditate again and journal for a little bit.
I'd drink roasted tea or a really nice, foam latte <3 made with almond milk and then play with my husky named Chestnut. I'd have my cameras set up to record from different angles in the house as I paint, ramble, play, and do random things in bed. I love being a child again!
Then I'd get on the computer to answer emails and social media, tell my
assistants what to do so I can focus on creating content instead of organizing, and then jump on a few client calls (2-3) Then I 'd head to dance class/singing/acting.
I'd eat some yummy food and have loads of fun; come back tired and happy and snuggle with Chestnut… do everything that makes me happy.
I'd read a fantastic fiction book, get a message, put an essential oils and have some soul – searching time with my true sisters and then pull some spiritual tarot cards.
Rinse. Repeat.
My life is fun of travel, art, spirituality, play, expression and
wonder! <3
If my most courageous self was running the day, I wouldn't be looking at the clock, being dictated by scheduled tasks at all. I'd spend time money not based on the price, but based on if things gave me joy. I'd feel liberated free, spontaneous and unbound, energetic, confident and able to trust myself and universe more.
I speak and act from my most authentic, unrushed, confident self.
---
Do you have a spiritual practice? What do you do? 🙂 What would you ideal day look like from the time you wake up to the time you go to bed?