Hello m'fitties, how are you?
I've probably read more books this summer than I have the entire year during the school year. With more time on my hands from no classes or rehearsals, I've taken on some new endeavors.
…I've also promised myself that I needed to finish 1 Harry Potter book this year and so far I'm 3 pages in the Philosopher's stone. I know, I know, I'm super behind. Are the books better than the movies? I've seen all the movies and they're pretty darn good! <3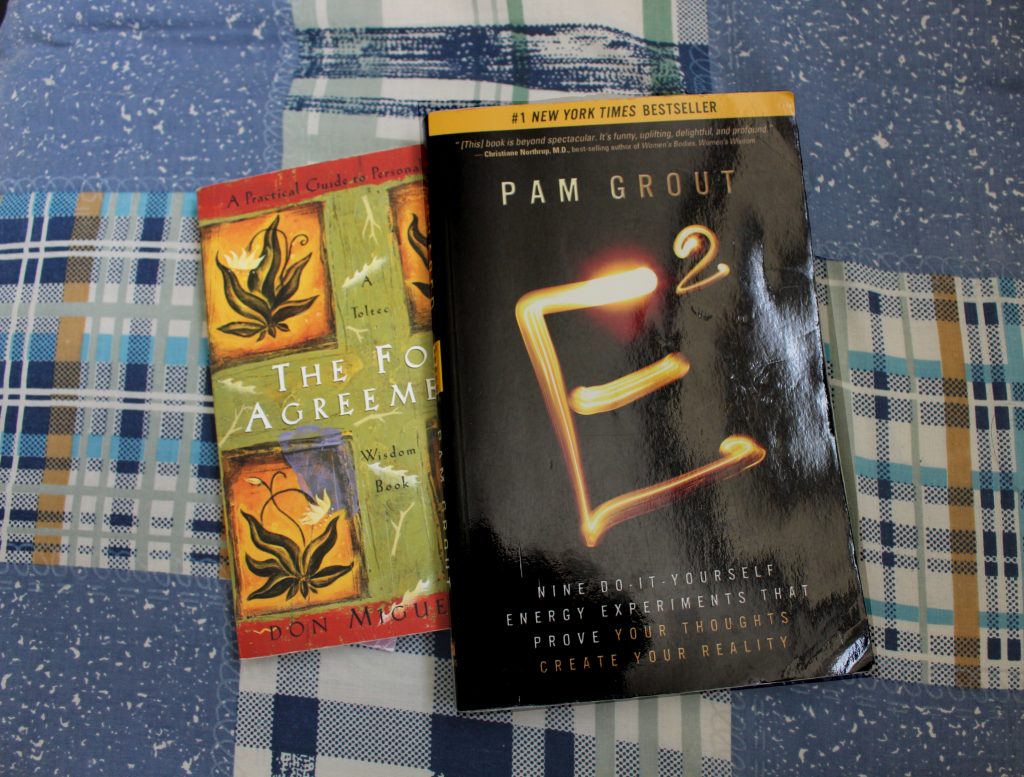 I've been on a book kick lately, and now I'm reading Expectation Hangover by my favourite life coach, Christine Hassler. I've dog-eared a few pages and wanted to share with you key takeaway points that've really been rockin' my life. I've finished reading these two books above, E squared, by Pam Grout and The 4 Agreements, by Don Miguel Ruiz. I've also listened to the audio version of The Universe Has Your Back by Gabrielle Bernstein. I'm a huge self-development junkie, and there are so many other books I've yet to read! In the past, I've shared some of my other favourite books.
Allow me to inspire you some key takeaway points that I highlighted throughout these books; I think they'll speak to you the way they've spoken to me! I know a lot of these quotes were like mike-drop moments for me where I had to take a step back and just gasp.
hasfjkadsfldjsalfkajsdfl.
"The only thing you need to do is devote your mind only to things you want. If you want peace, think of peace. If you want love, think of love. If you want Jimmy Choo pumps, think of Jimmy Choo pumps. Do not think about how peace looks impossible or how love is fleeting or that there's no money in your bank account for Jimmy Choo pumps. Keep your mind focused only on what you want."
—E squared, by Pam Grout
"During the process of domestication, we form an image of what perfection is in order to try to be good enough. We create an image of how we should be in order to be accepted by everybody. We especially try to please the ones who love us, like Mom and Dad, big brothers and sisters, priests and teachers. Trying to be good enough for them, we create an image of perfection, but we don't fit this image. We create this image, but this image is not real. We are never going to be perfect from this point of view. Never!"
"Our parents and siblings give their opinion about us without even thinking. Someone gives an opinion and says, "Look, this girl is ugly!" The girl listens, believes she is ugly and grows up with the idea that she is ugly. It doesn't matter how beautiful she is, as long as she has that agreement, she will believe she is ugly. That is the spell she is under."
"Whatever people do, feel, think, or say, don't take it personally. If they tell you how wonderful you are, they are not saying that because of you. You know you are wonderful. It is not necessary to believe other people who tell you that you are wonderful. Don't take anything personally."
You know you are wonderful.
"In any kind of relationship we can make the assumption that others know what we think, and we don't have to say what we want. They are going to do what we want because they know us so well. If they don't do what we want, what we assume they should do, we feel hurt and think, "How could you do that? You should know.""
"Find someone whom you don't have to change at all. It is much easier to find someone who is already the way you want him or her to be, instead of trying to change that person. Also, that person must love the way you are, so he or she doesn't have to change you at all. If others feel they have to change you, that means they really don't love you just the way you are. So why be with someone if you're not the way he or she wants you to be?
We have to be what we are so we don't have to present a false image. If you love me the way I am, "Okay, take me." If you don't love me the way I am, "Okay, bye, bye. Find someone else.""
"If you don't understand, ask. Have the courage to ask until you are as clear as you can be and even then do not assume you know all there is to know about a given situation.
Also, find your voice to ask for what you want. Everybody has the right to tell you no or yes, but you always have the right to ask."
"If you look at you life you will find many excuses to suffer, but a good reason to suffer you will not find. Happiness is a choice and so is suffering."
"In your life nobody has ever abused you more than you have abused yourself. And the limit of your self-abuse is exactly the limit that you will tolerate from someone else. If someone abuses you a little more than you abuse yourself, you will probably walk away from that person. But if someone abuses you a little less than you abuse yourself, you will probably stay in the relationship and tolerate it endlessly."
"Nothing other people do is because of you. It is because of themselves."
"The opinions you have about yourself are not necessarily true; therefore, you don't need to take whatever you hear in your own mind personally."
"If others change, it's because they want to change, not because you can change them."
"Real love is accepting other people the way they are without trying to change them. If we try to change them, this means we don't really like them. Of course, if you decide to live with someone, if you make that agreement, it is always better to make that agreement with someone who is exactly the way you want him or her to be. Find someone whom you don't have to change at all."
"Everything is alive and changing all the time, so your best will sometimes be high quality, and other times it will not be as good. Regardless of the quality, keep doing your best – no more and no less than your best. If you try too hard to do more than your best, you will spend more energy than is needed and in the end your best will not be good enough."
—The 4 Agreements, by Don Miguel Ruiz
"The presence of fear is a sign you are relying on your own strength"
— A Course In Miracles by Helen Schucman that I heard in a speech Gabrielle Bernstein gave.
From this last speech I heard, I learned that miracles are natural. when they don't occur there's something wrong going on; so make space for the magic to happen!
Last week I went downtown for a build-your-brand workshop at a co-working space. This place was SO. CUTE.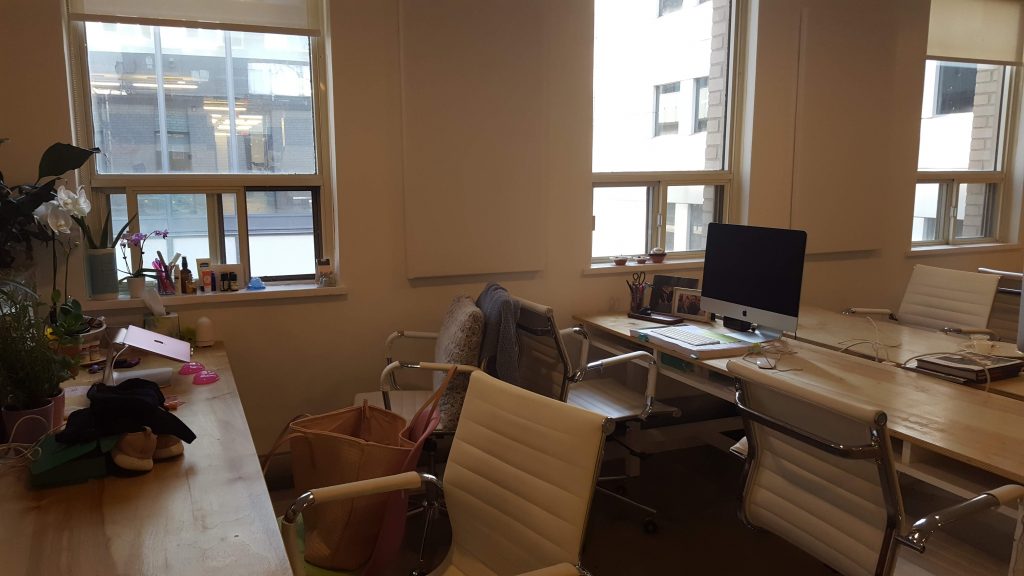 Can you see the gym across the street through the windows? Dude, you can totally watch hot guys working out there. What a great view.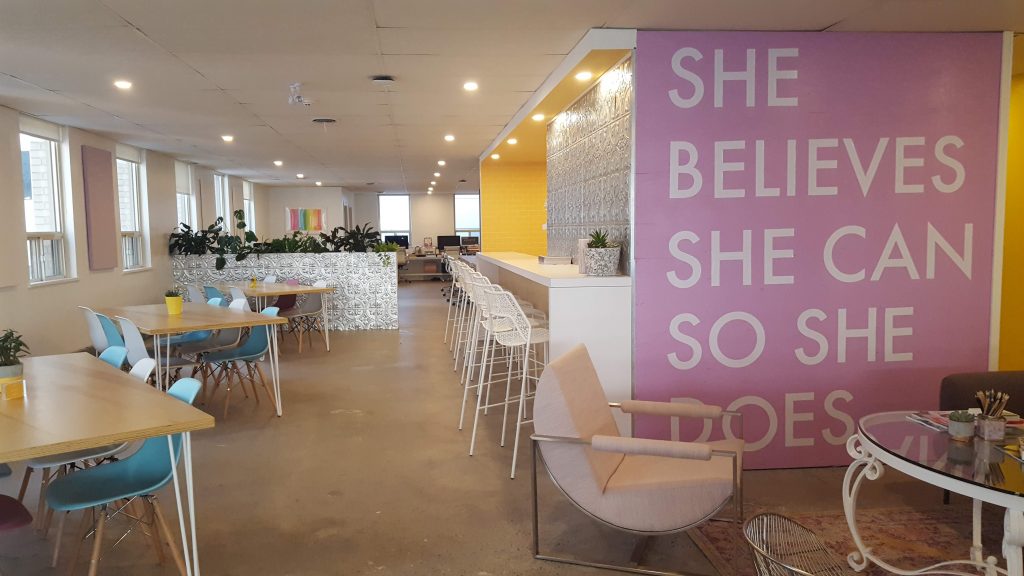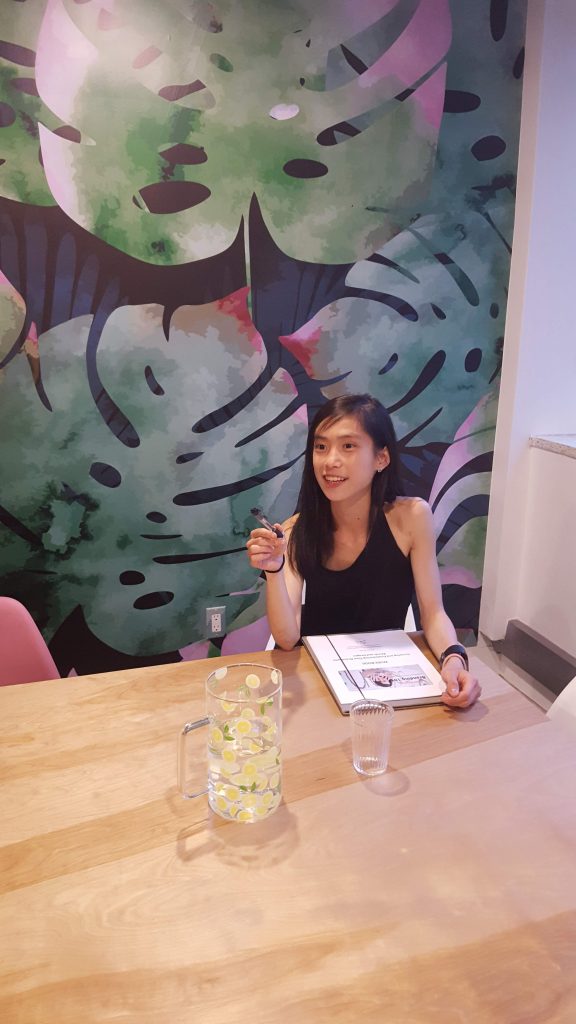 Taking notes and brainstorming.
---
What was your favourite quote out of these ones here? What's a mantra that you resonate with?