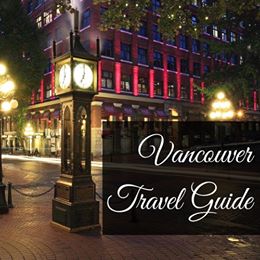 Back in May, I took a visit to Vancouver for the first time on my own. I learned so many things there, some simple things like just taking the time to breathe that I thought I was doing, but not the extent I thought I was doing until I saw how people were just being in Vancouver. I want to do a summary of my findings…hopefully m'fitties (you guys!) will find it helpful should you ever travel there.
An overview:

Weather
The weather is temperate in Vancouver! That's the beauty of it–it'll never get too hot nor too cold. At the same time, it's more humid than Toronto (my guess the humidity is around 60%-70% most days) and I hear that in the winter it rains a lot. And when it's not winter, I'm pretty sure it rains at least once a week; Vancouver is cloudy. I would always travel like I'm going to the Bahamas, but then throw in a light sweater/jacket in case it gets cold. It was generally 17 degrees Celsius each day when I went.
Transportation
If you live near the Skytrain Rail (which is the metro system), you are GUCCI. Skip living downtown where it's pricey to live somewhere a little farther that's near the rail and you could be saving lots of money and get anywhere in Vancouver in a jiffy. You can conveniently use your credit card to tap when you enter and exit the train station and it costs approximately $3 CAN per trip; you have an allotted 90 minutes from your first tap to go where you need to go and not get charged again. This goes for the buses too if you're transferring.
Food
GET. THE SEAFOOD.
Why the hell else are you in Vancouver?! They live close to the sea so the food is relatively fresh. The people there care about sustainable, healthy living and many of the meats are grassfed, the fish fresh and the produce vibrant.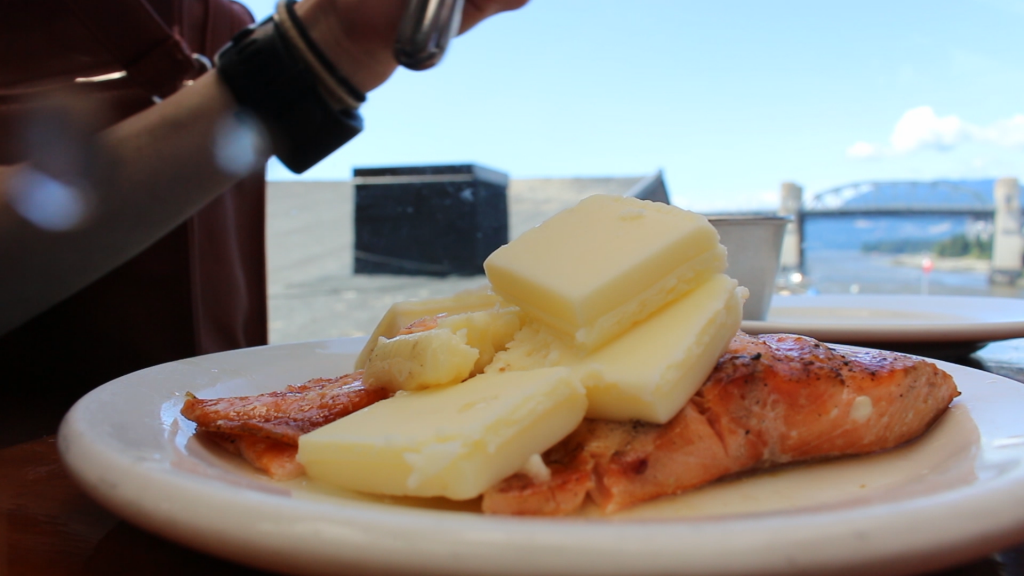 I mean, look at me, I got salmon and SO. MUCH.  BUTTER.
YAS.
And I also tried my very first raw oyster! It was so fresh and yummy that I never want to eat a cooked one again!
It's also a whole lot more expensive than Toronto, so…of course I brought my own food with me:
PI DAN (century eggs).
If you know me, you know my love for eggs. Balut eggs, salted duck eggs, and century eggs. Why? They're a great source of protein, convenient for travel, and adhere to my diet of being keto and paleo. You can find century eggs in Chinese-asian grocers or online, and what's so great about them is that they don't need to be reintegrated. They expire in 1-2 years, making it a great travel snack!
I mentioned this before, but these really saved me on my travels Thank goodness I was sparing with these and saved them in my freezer for months; I took them all with me on my trip! You can see me nom on one here. They're made of cage-free eggs, ghee, coconut oil and ground up nuts. They have MCT oil which curbs appetite and provides loads of energy and brain clarity–I personally go out of my way to purchase this online and have it on supply with me at home because they're that beneficial.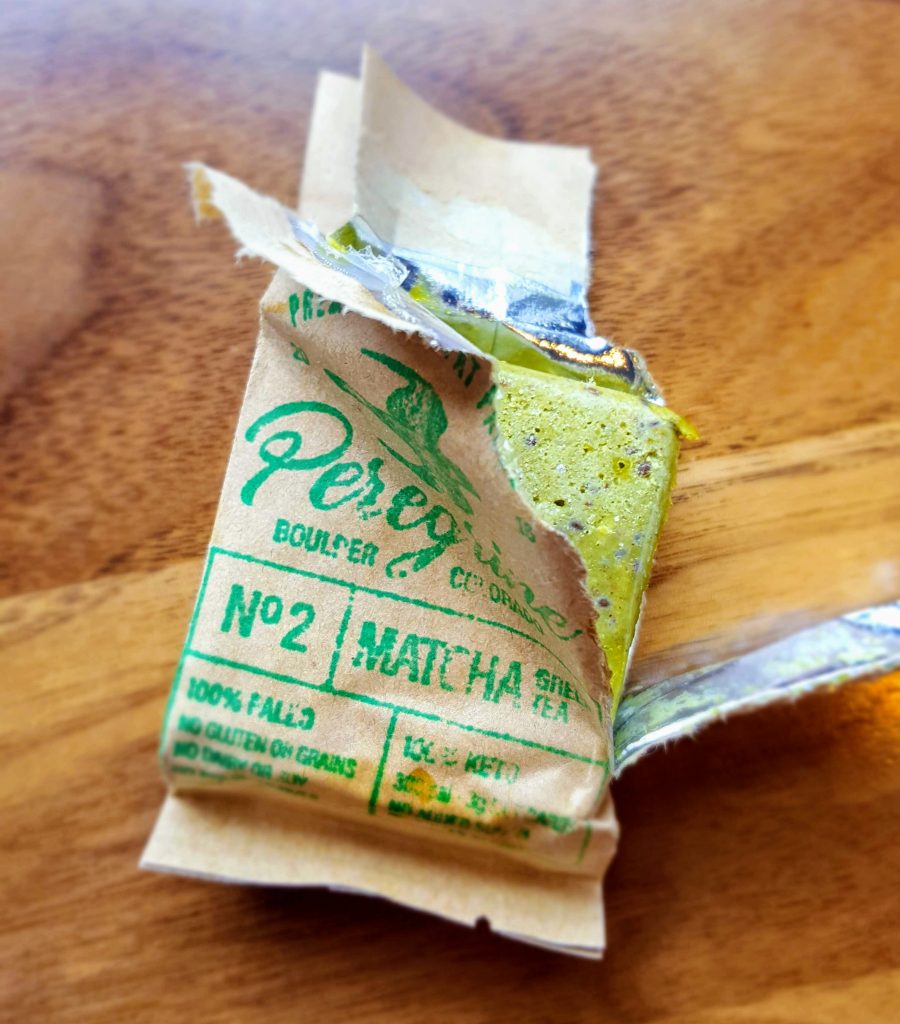 And these bars are really good–they come in both dark chocolate and matcha.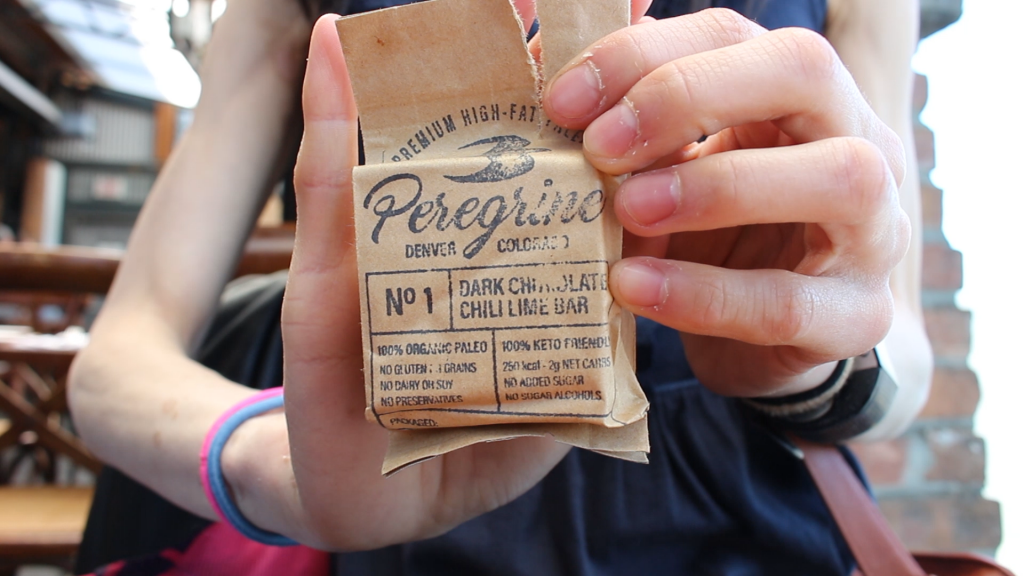 If you click here and enter THEFITTY20 on checkout, you get 20% off! And of course, you support me 🙂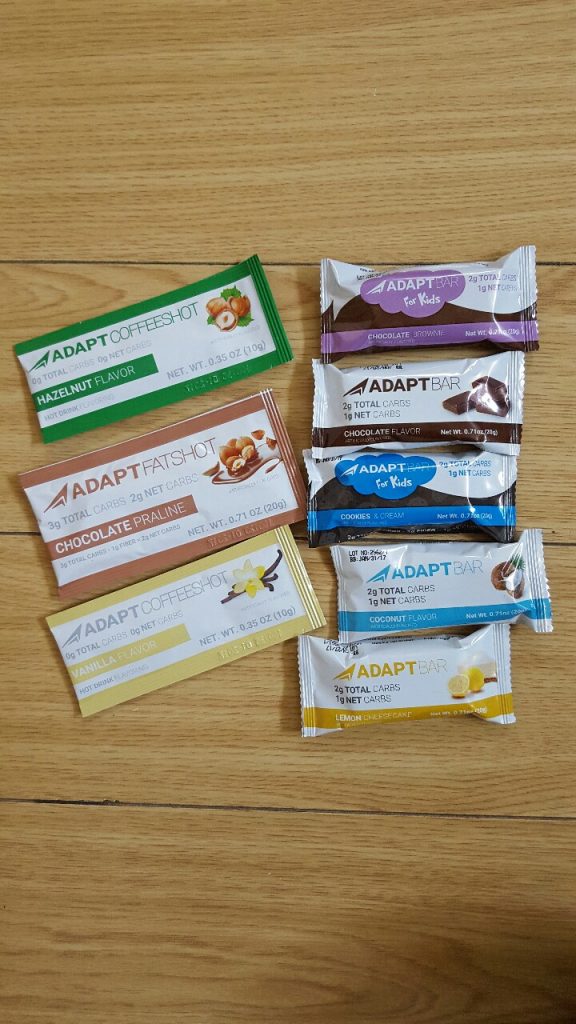 If I had the stash of Adapt bars to take with me I would've, but I ate them all prior to the trip so…
They are small and so deliciously portable. They do have whey in them so careful if you're dairy sensitive, but otherwise they also have the MCT oil in them, they're incredibly tasty, keto-friendly, and best eaten cool. Don't sit on them or leave them next to the heater. You have been warned xD.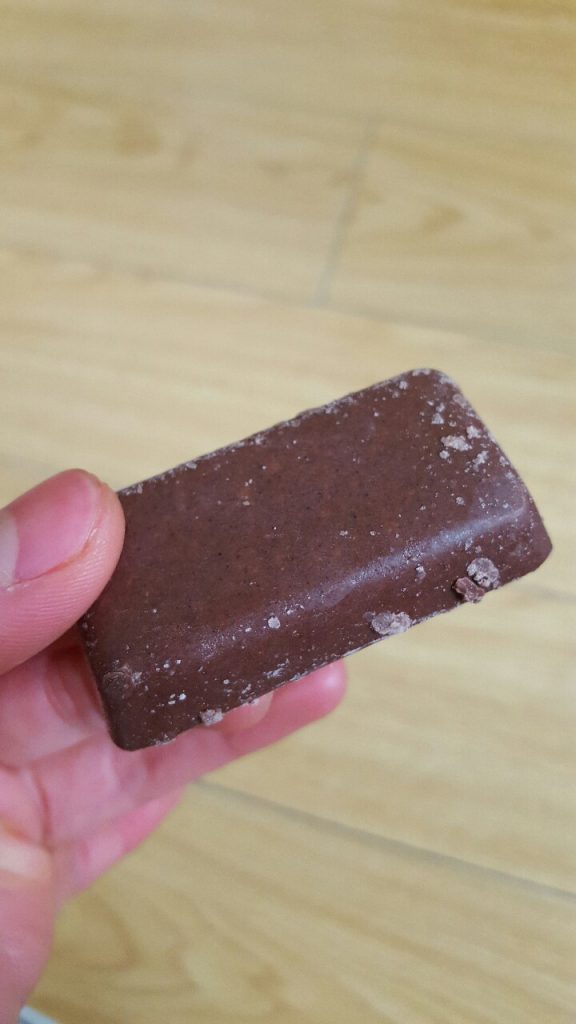 The main ingredients are coconut oil, whey, and a few nuts here and there.
Lifestyle
Most shops close early! Around 6PM–the only exceptions are restaurants. I was surprised how early everything closed compared to here in Toronto, where most stores close around 9PM. I guess in the west end, everyone wants their evening routine for self care and work life is less intense. It seems that work is interwoven around lifestyle, and not the other way around.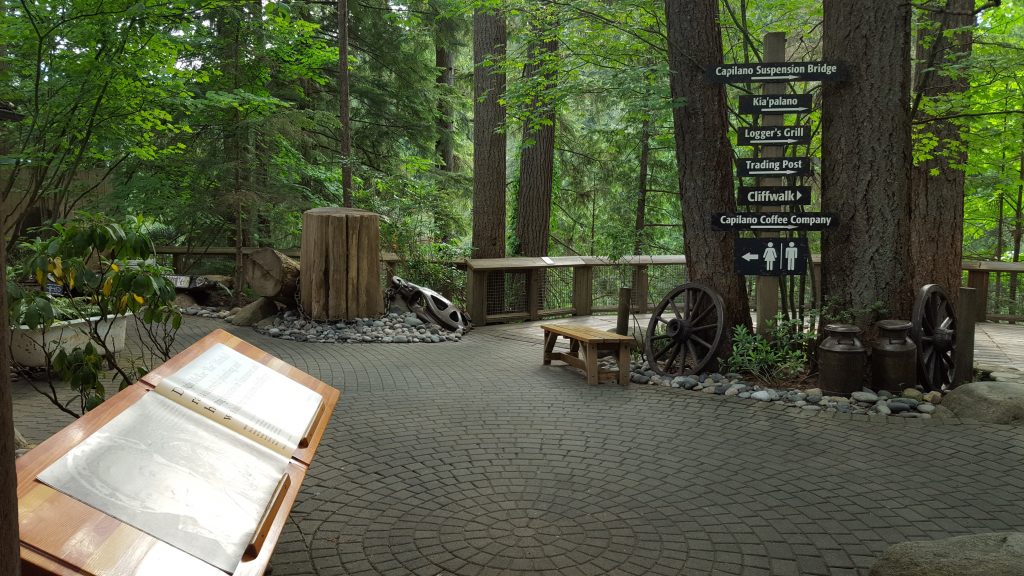 Price
I'm not going to lie, living in Vancouver is definitely on the more expensive side. It's more expensive than Toronto, for sure! House wise, food wise, item wise, etc. etc. The attractions I went to were around $30-50 dollars for a regular priced adult.
Places to Visit:
Stanley Park
This park was so huge that I wish I had more time to carefully go through each hidden trail–I visited on my last day so I didn't get to,  but I did go on the horse tour that took you around the perimeters of the park. If I had more time, I would rent a bike for the day and bike around. Stanley has a lot of history and if you go on the horse tour, you'd hear all about it. There are sculptures, totem poles, and trees, trees, trees! Vancouver is lively with native art.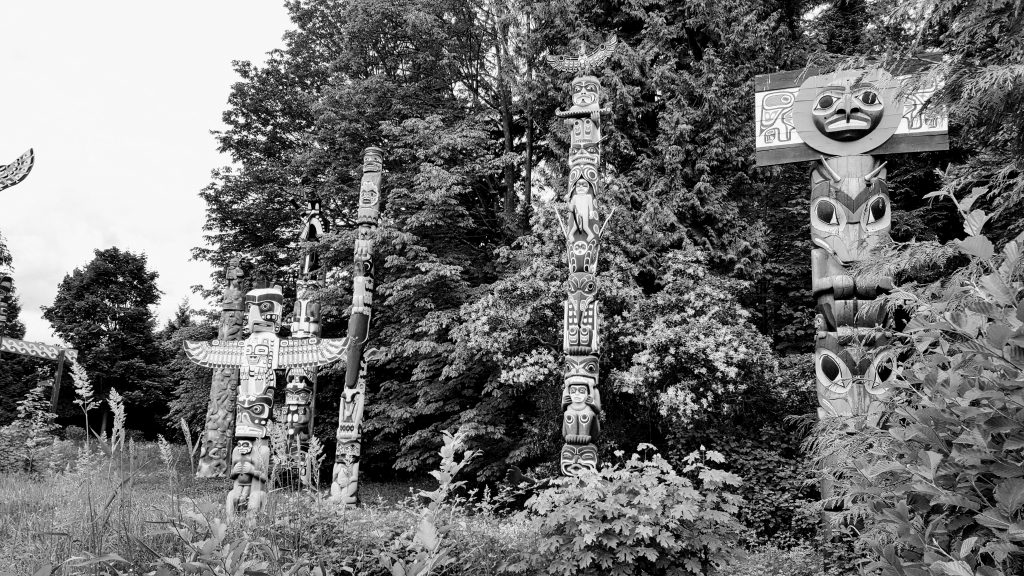 More photos to come; I promise. I haven't gotten around to sorting out all my media yet from the trip!
Vancouver Aquarium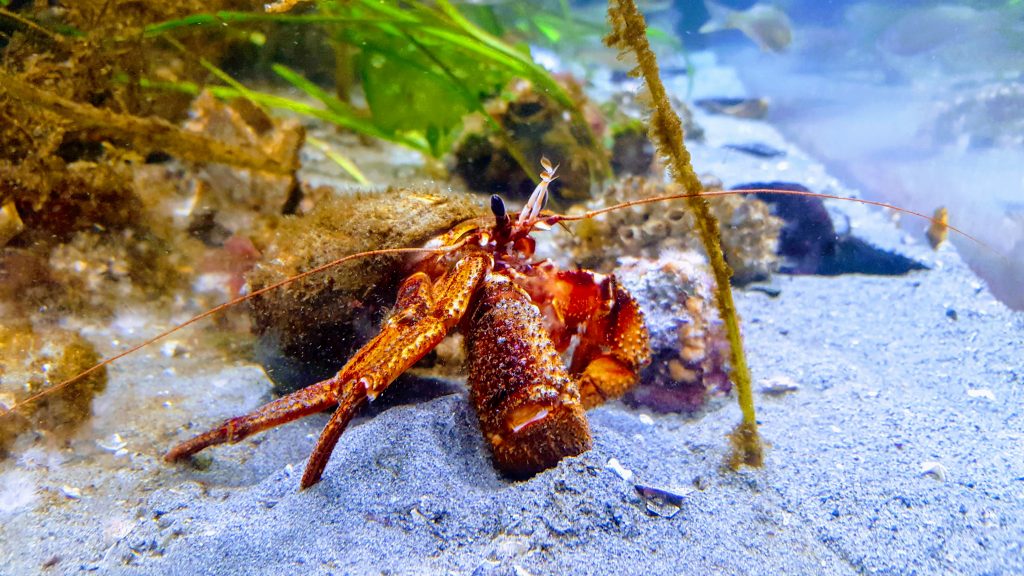 Situated inside of Stanley Park, this is a really kid-friendly place full of attractions and activities to do. There are regular animal showings/trainings that were entertaining. Something is happening every 2 hours, weather that be a tour, a show or a workshop. I was really impressed by the effort they take into educating what "ocean-wise" is (basically practicing sustainable, green ethical practices for the animals and the environment).
Capilano Suspension Bridge
My favourite attraction ever. This was like, a forest. Okay? So many trails, so much nature, such beautiful views and the bridge itself was very pretty. It was shaky so if you're deathly afraid of heights I wouldn't suggest going, but honestly, it's very secure and you don't have anything to worry about.
Granville Island
Granville is a huge shopping district directly across from downtown Vancouver; you can get there by a ferry or cross the Granville Street Bridge. If you enjoy little markets then this is the place for you! There are restaurants everywhere, little merchants that sell hats, jewelry, art, knickknacks, keychains, souvenirs–you name it! I ran into a book store and oogled over the pretty stationery. There was so much I could do do decorate my pen pal packages.
Get seafood here. Seriously. I dined over at The Sand Bar which is apparently a 4.3 star fine dining restaurant with a newmade friend that day (totally impromptu!) named Ryan, who traveled from the UK! I had a good time trying to do a British accent impression. which you can cringe at by watching the video.
Ryan, if you're reading this, you're totally awesome and I'm so down to visit you in Whistler next time–you better get me a 5 star suite in that hotel you're working at.
Gastown
Gastown is a little like Granville island in that it has many little shops, just with a little more metropolitan feel and more of the same TYPE of shops–most of them were souvenir ones and I found myself comparing the prices of many items from shop to shop to see if I can could the cheapest price.
I think it's called Gastown because one of the main attractions is the clock that runs on gas?! How cool is that?
Yaletown
A high-end area with loads and loads of restaurants, cafes and lounges. They have decor boutiques and pubs–honestly, I've never seen so many fancy restaurants jumbled next to each other all in one place.
It's next to the Seawall where you'll see runners, cyclists and people walking. You can also rent a paddle board and go paddle boarding! The day I went I had a heavy expensive camera with me and it was cold, so I didn't do this but if you travel light (or have someone hold onto your belongings for you) and it's a sunny warm day, then do it!
And that, m'fitties, is a WRAP!
Keep on the lookout for more vlog videos from the trip on my youtube.
---
WHERE DO YOU LIVE? And where was the last place you traveled to, and was the lifestyle cheaper, the same, or richer than your current place?