Hello m'fitties!
I started a new full time job that has me working Monday through Friday from 8:30am-4:30pm most days, with the occasional shift here and there that I get let off early. During my lunch breaks I go for a stroll with a friend. I told myself that I don't like the corporate 9-5 job, but there are some huge benefits to this:
It's a good start; you gain experience
You meet amazing people!
Gets you to wake up earlier (which is great for your circadian rhythm)
You finish midday, and have just enough time to make evening plans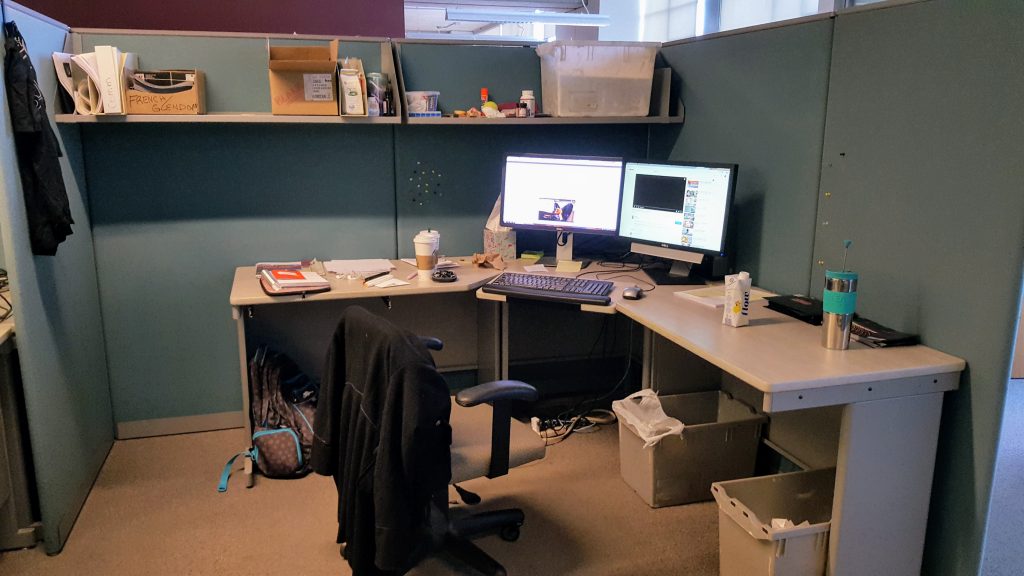 Yeah, I'm still making it "mine". You can see I have a bit of clutter here and there, especially on top of my shelves. Anyone want a "what I keep at my workplace" blog post?
Yes, I feel important with my own name tag and cup and coffee.
*sips coffee notoriously*
I feel really stiff throughout the day, and the itch to get up takes me. So, I stretch every now and then.
I also use the bathroom like crazy and stay hydrated —-> to make sure you stay hydrated and get your steps in, drink lots of water! It also helps to have a fitbit that keeps track of my steps.
I do some letter folding in the splits. Sorta like yogi tasking?
I stand up and read articles if I can. You know, it'd be ideal to have a treadmill desk!
Similar to my "HOW TO STUDY AND GET YOUR WORKOUT IN" video:
I hit the gym right after my shift most days; it's perfect because there's a class that usually starts at 5pm and I finish at 4:30pm. All the more incentive to go?
At the end of the day, I don't beat myself up if I'm not as active as I want to be–I'm still adjusting to this new job, new lifestyle, these new 40 hours a week and it's an entire process. I'll end up doing what works for me; maybe I get a stability ball as a chair for work, or bring my yoga mat to stretch out on my breaks. It's all about giving myself some self love and mental refresher between appointments throughout periods of sitting to continue to be the  best employee I can be.
My coworkers are really great! I get the friendly vibe from most of them and they're easy to get along with.
I can't lie; I like an office setting and I work well in it. I can see myself in pencil heels and pencil skirts, haha!
---
 Have you ever had an office job? On a scale of 1-10, how active are you at your job?