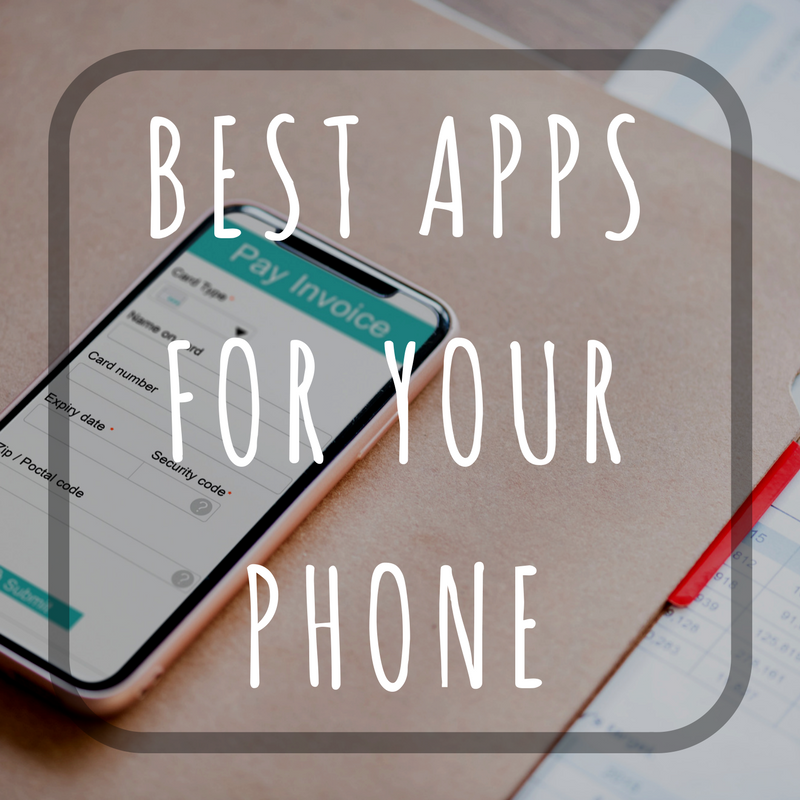 I was not paid nor asked to write about any of these apps; I did so on my own terms.
Take a look at what my phone looks like: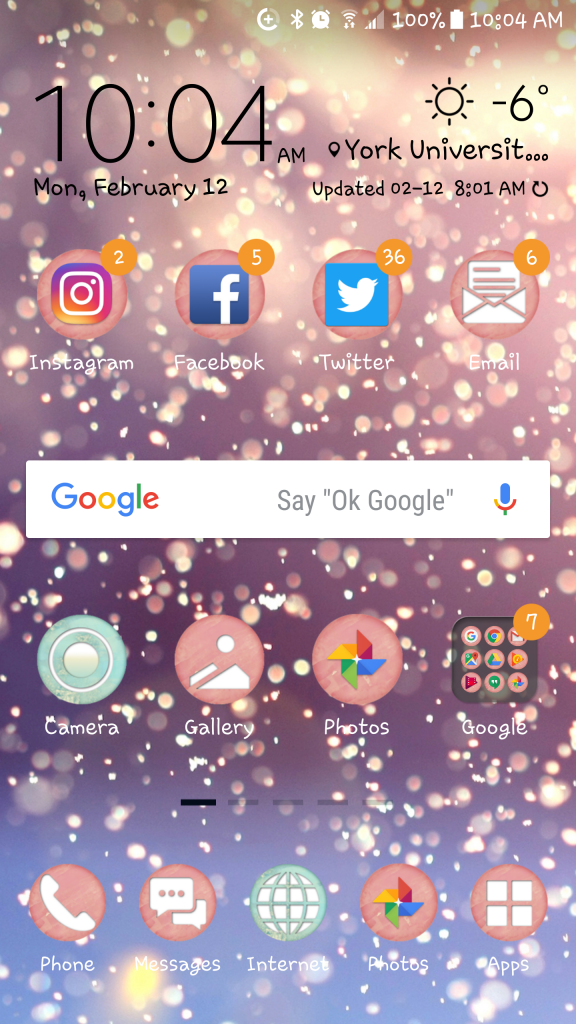 DO YOU LOVE MY WALLPAPER OR WHAT?!
I use the Samsung Galaxy S6. The S6 Edge costed $100 more at the time, and I was like
uh.
no.
way.
As you can see on my homepage, I have weather, google search (voice activation too!), time, and my most frequently used apps; facebook, instagram, phone, YouTube, samsung internet, google photos, emails and text messages.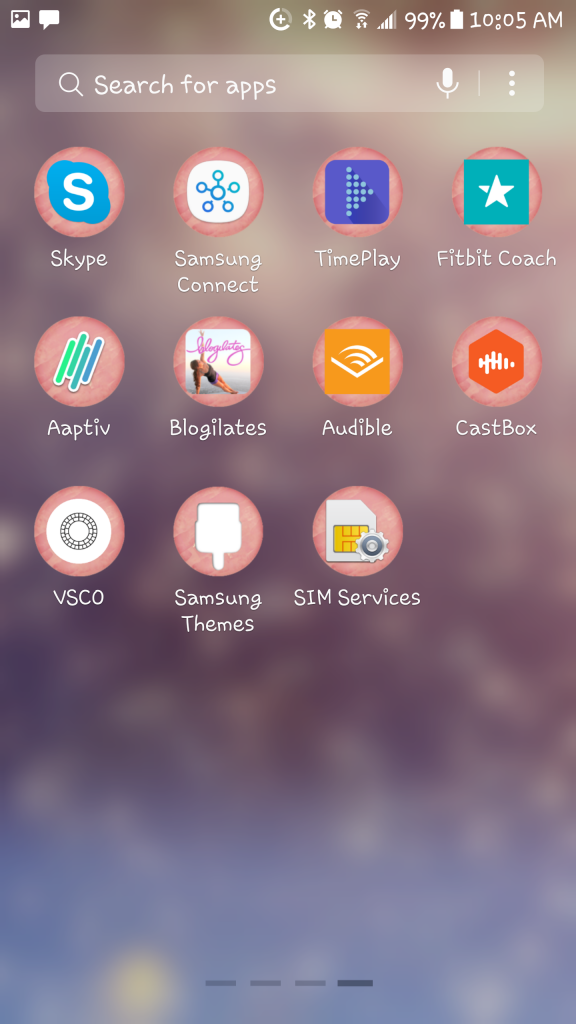 From top left: I use skype for client calls,
Samsung connect came along with the phone (I have no idea what to do with it; I've never used it),
TimePlay for collecting scene points to redeem free movies (that's the system here in Canada where our theatres are Cinneplex!),
Fitbit Coach to connect with my Fitbit surge which tracks my steps taken, sleep, calories burned, exercise, and heart rate. Mines has GPS and I mainly use it to track running. It also helps keep me accountable to keeping active throughout the day so that I'm not entirely sitting on my butt all day.
Aaptiv is another fitness app that I've yet to use but browsed. I have a 30 day free promo code that I'm saving for a chunk of time I can really delve back into fitness being a priority in my life. I've mentioned in the past that it's impossible to be the fittest 24/7, 365 days of the year because life has its ebbs and flows, and this month for February, I'm focusing more so on spiritual and relationship growth.
Next we have Blogilates. I've been following Cassey Ho ever since I was in grade 7 when I discovered her channel upon getting lost on youtube. I must've been incredibly bored, because I actually attempted to workout. I fell in love with the post-workout euphoria.
Audible is a great app for ebooks. So often my eyes get strained looking at a screen all day long; my goal this year is to allow myself to view more things off screen while still being productive and learning a thing or two; so this is where audiobooks come in handy. If you can find your favourite book here, you're golden.
Castbox: the best podcast app I've ever had! My iPod isn't working so I don't use iPodcast anymore, so I subscribe to a few of them on CastBox. If m'fitties are interested, I can do a separate post on the podcasts I subscribe to! Everything from productivity to entrepreneurship to self empowerment to health and fitness. I listen to them meal prepping, falling asleep, upon wakening, during my runs, and when I clean my room. I think you can even connect this to Echo!
VSCO: I've been playing around with Instagram filters so I downloaded this popular app. I've heard good things about it thus far. Still yet to play around with it.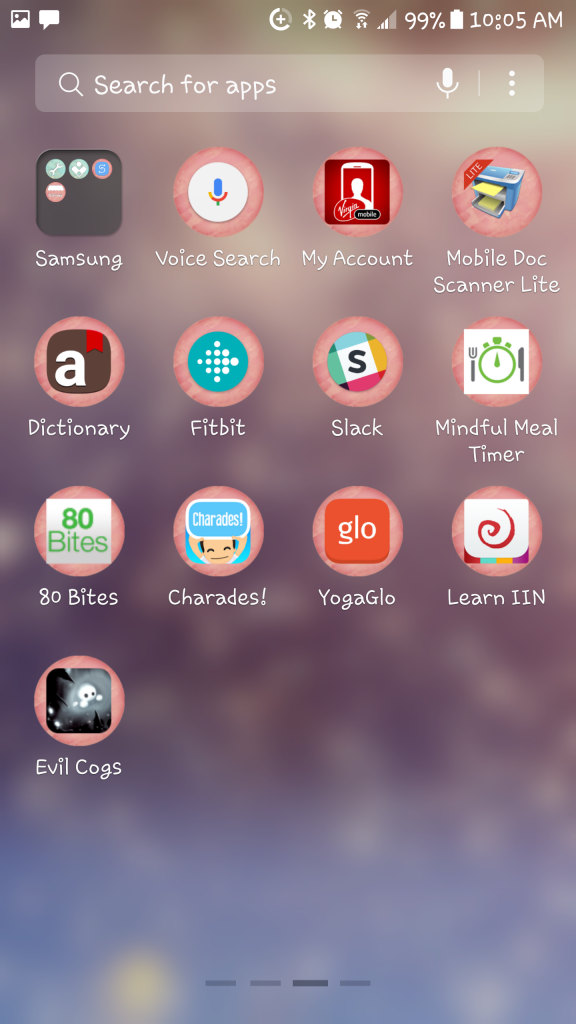 A bunch of Samsung apps I never use, voice search is pretty self-explanatory, my account through Virgin Mobile to track expenses, data usages, etc, etc,
Mobile Doc Scanner: I've still yet to use this app but I downloaded it one day when I needed to scan a text image and get it to transform into text version. I ended up getting the task done through other means, so I can't tell you if this is effective yet, but if it is, it sure saves a lot of time from manually writing out everything!
Dictionary: Install this app and whenever there's a word you don't know weather that be online, through a text message or whatever, you can search it up. It's really handy.
I've already talked about Fitbit.
Slack is an interactive app for projects/online classes. It was used in my first year as a primary way to communicate between classmates and professor–there's a forum to share thoughts and ask questions (you can search by hashtag too) and you can directly message each other privately. It's phone and computer integratable. Mindful Meal Timer times the length of time it takes for you to finish a meal and logs your meal lengths. I don't think I've ever used it before, but I plan to set a timer for 20 minutes! 80 Bites is a similar mindfulness eating app to mindful meal timer. I downloaded the two on the same day. Charades! Is THE. BEST. PARTY. GAME. EVER. It's literally playing/acting.
Yogaglo I never use anymore since my membership to their site expired, but essentially you get unlimited access to their site for real-time yoga flows downloaded onto your phone for easy access. It crashes a lot, I'm not going to lie.
Learn IIN is an app for Institute for Integrative Nutrition, where I got my health coaching certification. It was one of the best investments I've ever made in an education and I'm proud to say that I paid every single dime by myself; no help from parents who unfortunately didn't see its value. If you're thinking about enrolling, I'm able to answer any questions you have an offer a discount for your enrollment! 🙂 Just HIT ME UP.
Evil Cogs: I was really bored and looking for a game to play. Downloaded it, felt guilty for browsing on the phone too long and got back to work. Needless to say, I've never played it but it had some pretty good ratings in the play store.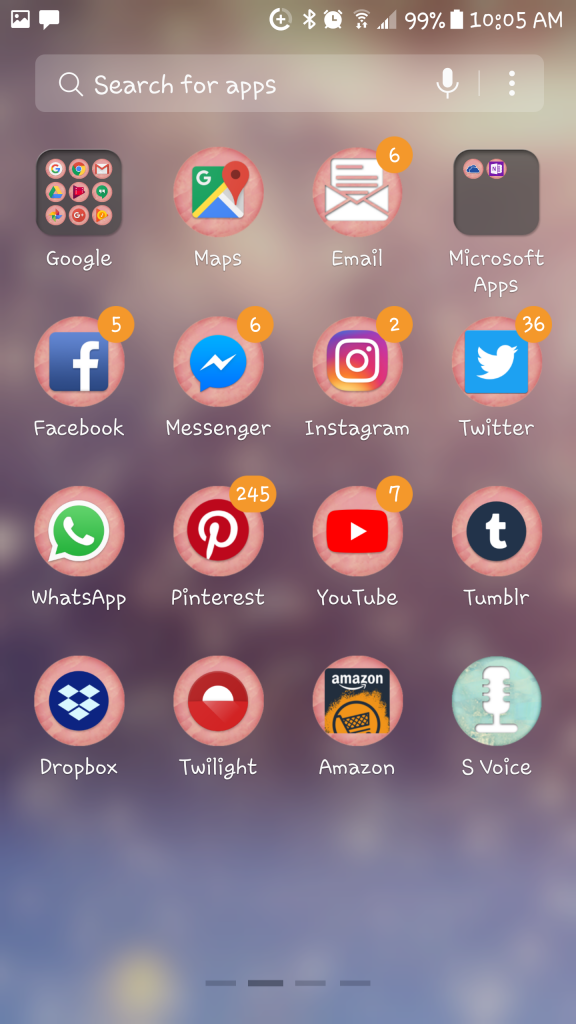 Social Media: No duh. Instagram, YouTube, Facebook Tumblr, Pinterest.
Google folder: Everything from google chrome to gmail to google docs to google hangouts and etc. Comes in handy-dandy for everything and anything!
Google Maps: easy shortcut to access where to get anywhere from anywhere. Email: connects all my email accounts from business to personal.
Microsoft Apps are OneDrive and Notes. Both I've still yet to use on a consistent basis because I'm still dabbling it them. They both came with the phone and I'm indifferent to weather or not I delete them.
Facebook and Facebook Messenger are self-explanatory, same with Instagram, Twitter, WhatsApp(it's a text-messaging app that uses Wifi and allows easy voice messaging, text messaging and photo/document sharing), pinterest, YouTube, Tumblr. Dropbox is great for sharing documents, but I also find that Google drive triumphs it because more people have gmail than hotmail, not to mention google docs give you a lot more space.
Twilight is an app I've mentioned before in my nighttime routine–I use it to block out blue light and replace it with red as as soon as the son goes down. This helps with the production of melatonin, which helps you sleep. Blue light reduces the production of melatonin whereas redlight is a better alternative (I want to say that ultimately, no screentime 1 hour prior to bed is optimal for best sleep). Next I have the amazon app, and next to it is S Voice, which is like Siri except android version.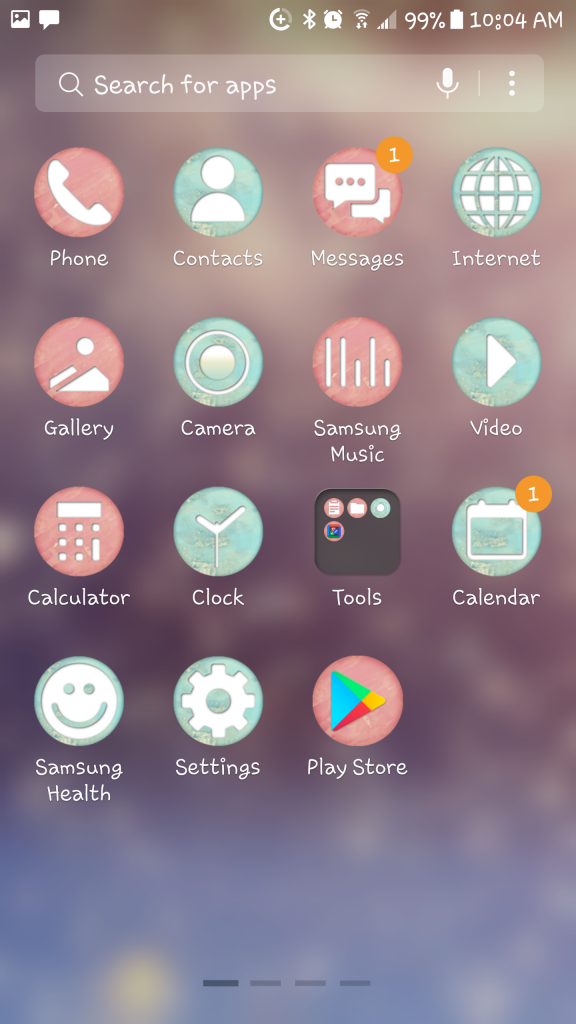 Everything on this page is pretty straight-forward; if you have any questions just ask me!
I've never used the Samsung Health App.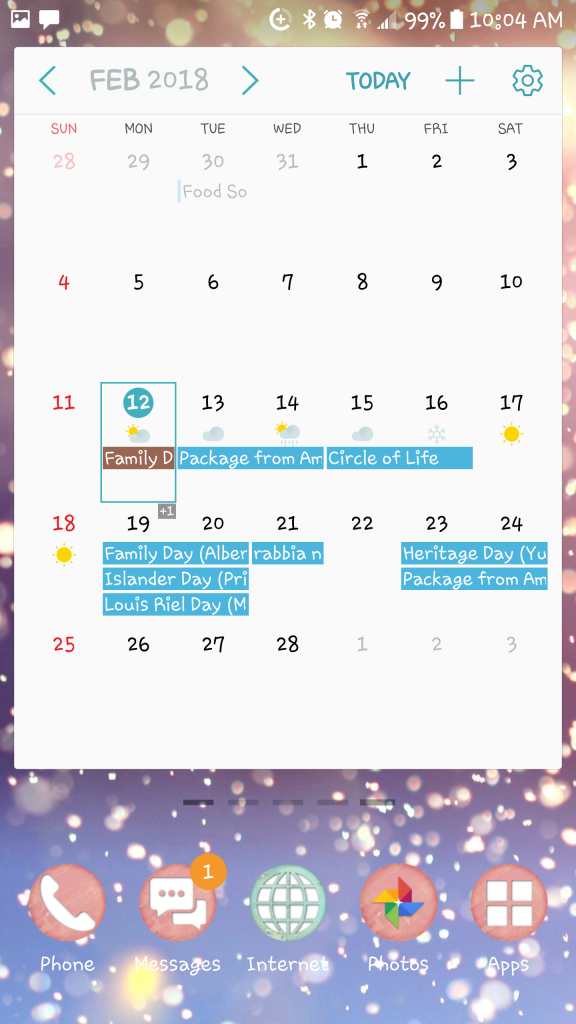 I have a whole page dedicated to my calendar. I generally use a beautiful, extensive Life Planner(CLICK TO GET $10 OFF!) (Here's a post I mentioned on it!) and other productivity planners and journals because there's nothing like good old pen-to-paper; it's more authentic and the act of writing it down instead of typing it down is that your brain is more likely to remember it, but since I always have my phone with me, sometimes I need a reminder 1 day, 7 week, or 10 minutes prior to an important event, so it's just convenient.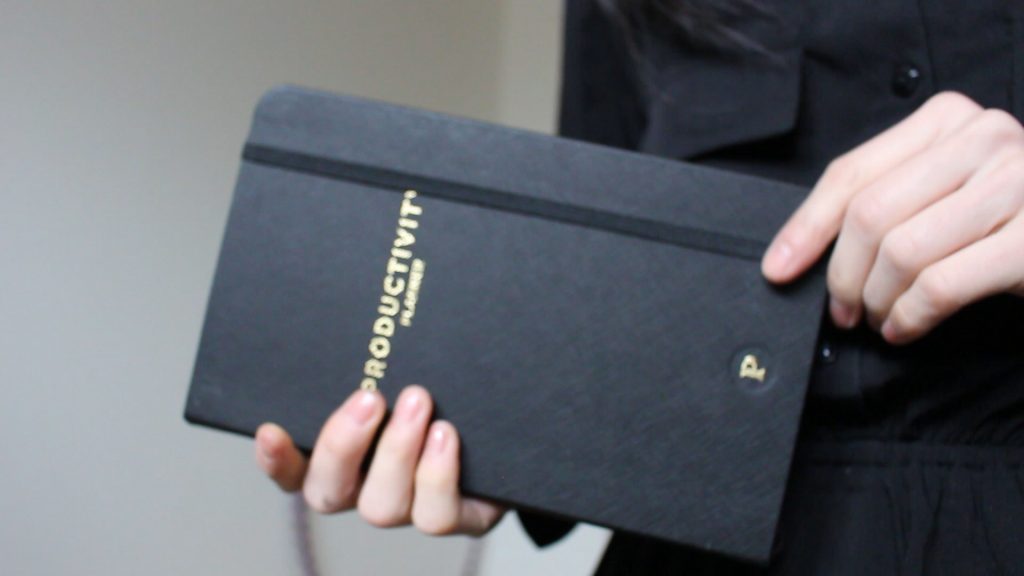 My productivity planner, and 8 productivity hacks.
And a sample of what it looks like inside the life planner I have (not mine).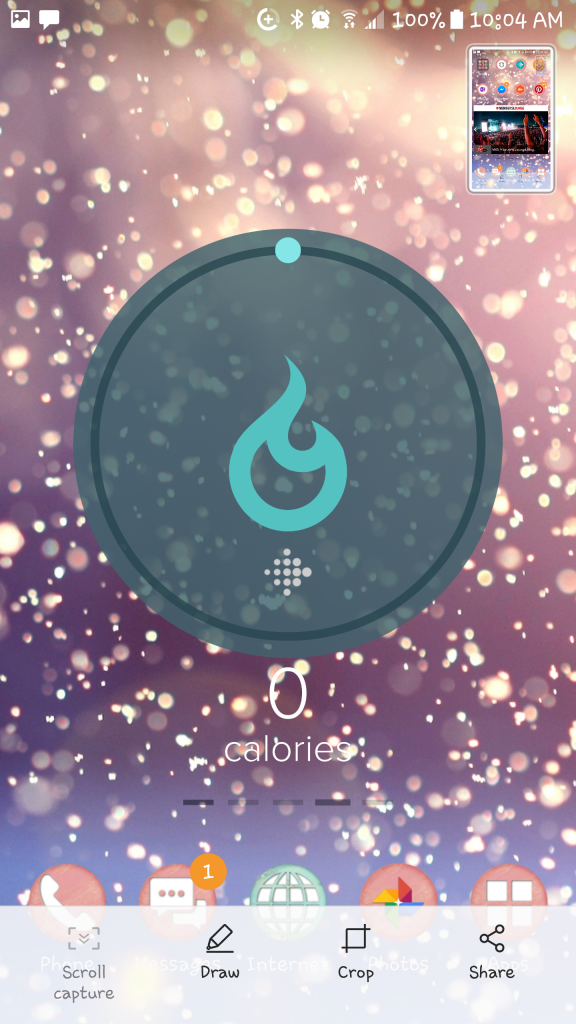 Fitbit app. Tracking total calories burned.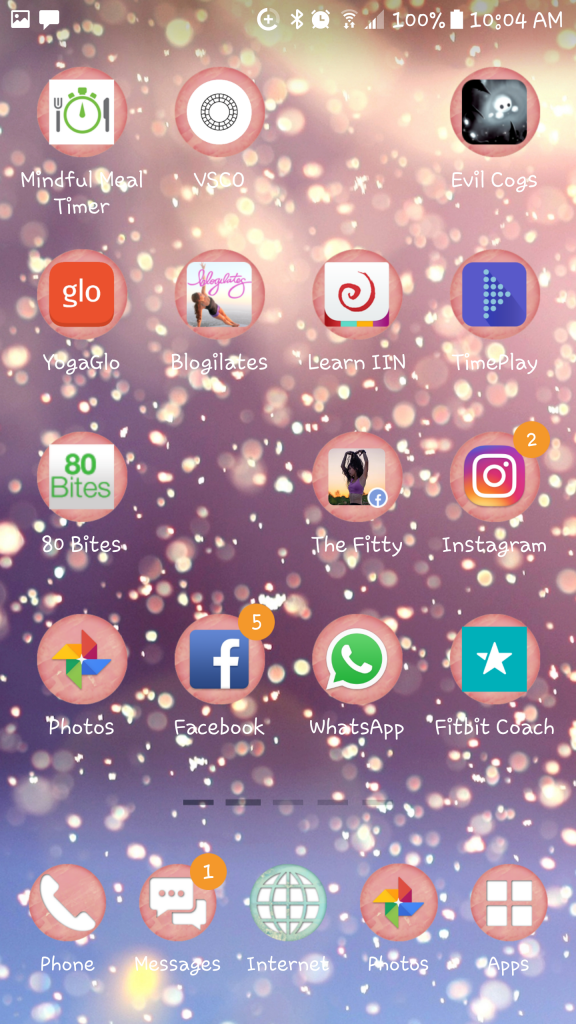 …and another page with repeat apps that I already mentioned.
---
What type of phone do you have? Are you Samsung or Apple? (Or neither?) Do we have any apps in common? Have you ever paid for an app?