Oh gosh, this is going to be a hard post. I've never opened up to people about this before.
I have this irrational fear that people will leave me. That I like them too much and they won't reciprocate the same intensity that I feel for them–and then I fear them leaving me.
They're not smiling back.

They're not looking at me.

The didn't choose me to be their partner for the xyz project.

They're having so much fun with their other partner! I knew it; I'm not fun and I'm not worthy.

They don't like me.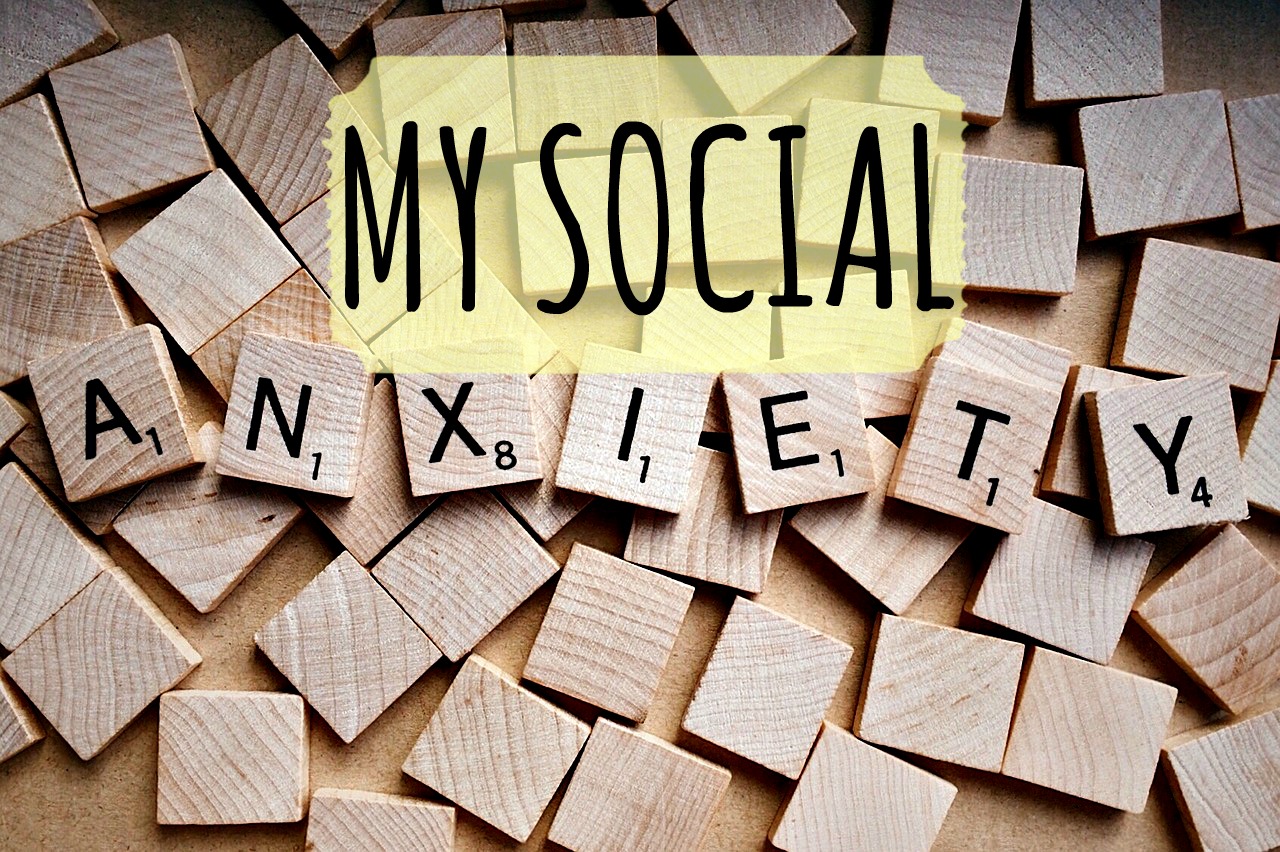 I don't want to get clingy and pester people for their company, and so I push them away or I never let myself get too close to begin with; I shut myself out before I can get rejected. I've felt this feeling of loneliness ever since I moved to new schools in grade 4.
Rejection hurts, and yet, attachment is what I crave more than anything. It's so, incredibly scary.
So I reached out to 2 classmates–even when I didn't want to. Even when my fears held me back because at that moment, I thought it was a good idea and that moment was a good time to act–I did, so that I would hold my future self accountable to following through with those actions. I knew that if I waited past this time of optimism, I wouldn't have the nerve to do it anymore. I had to act now or else if I sit on the idea and think too much, I'd get stressed out with decision paralysis and end up not doing it altogether. So I acted right then and there and sent this message: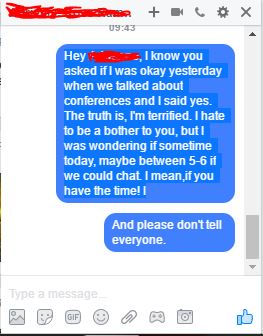 Hey, I know you asked if I was okay yesterday when we talked about conferences and I said yes. The truth is, I'm terrified. I hate to be a bother to you, but I was wondering if sometime today, maybe between 5-6 if we could chat. I mean,if you have the time! 
And twiddled my thumbs as I waited for a reply. Will she get it before class starts? If not, should I mention it at all to her during class? I decided I wouldn't. Luckily, she did get the message and responded:
Hey! Yeah I have time
I just need to grab food during the break and then we can find somewhere more private to talk. Don't worry, it's not a bother at all! And I won't tell anyone. 🙂
That day around 5:15pm, we sat at a semi-private lounge, she ate her kind bar and drank her tea as I opened up my can of worms sugar free soda.
*conferences are semi-private interviews in which you sit in an intimate setting with your 3 teachers on one side and you on the other as they tell you what you're doing well and what you're not doing well in class. This is generally common in theatre-educational systems. Think of it like having 3 bosses sit across the table from you. Honestly, it's intimidating.
We had a nice chat. It was shorter than I expected last lasted about 15 minutes when I thought it would've lasted over an hour and we talked about conferences and my social anxiety. I told her how I longed to have a normal time with all the others in our class of 16; after all, we were going to all be together the next 3 years until we graduate. I told her everything I mentioned above about fearing losing somebody and being hurt, being rejected. She encouraged me to come out to some of the social events despite being hesitant, and staying for even just 30 minutes. I decided I would give it a try because more than anything this year, I want to create a social bond with people instead of pushing them away and living in my own world.
So I'm going to document the next few weeks, I'm going to document my journey and approach this in a very experimental type of way because in an experiment, nothing is a failure, right?
Stay tuned, and cross your fingers for me!
Do you struggle with social/separation anxiety? No? Maybe with mac and cheese or pizza(haha! Not that you should be eating those…)
What do you do when you feel rejected?
What's something you know you should try or do but keep putting off?
---