Have you watched How to Get Away with Murder? I honestly love it. The very essence of the show is:
BUT HOW COULD YOU I TRUSTED YOU–
No spoilers or anything but a word of caution? You can't trust anyone. Swear to god.
And I can't wait for the 3rd season to come out on Netflix.
A little bit late–or early–depending on how you see this, but this is what I did back in December 2016 for playing tricks on my little siblings.
I wanted to keep the spirit of Santa alive, and my friend Wardah was over at the time so we planned out very carefully how we were to execute our Santa traps.
Here are the 4 tips:
Audio recording
This one was genius, I think. Wardah and I audio recorded jingles and munching mimicked stomping around the living room, and then told little J and M (my two siblings, 7 years old and 11) that we hid an audio device in the family room the whole night of Christmas eve to catch Santa. In the morning we played them the recording! I think little J bought it. M seemed a little more skeptical.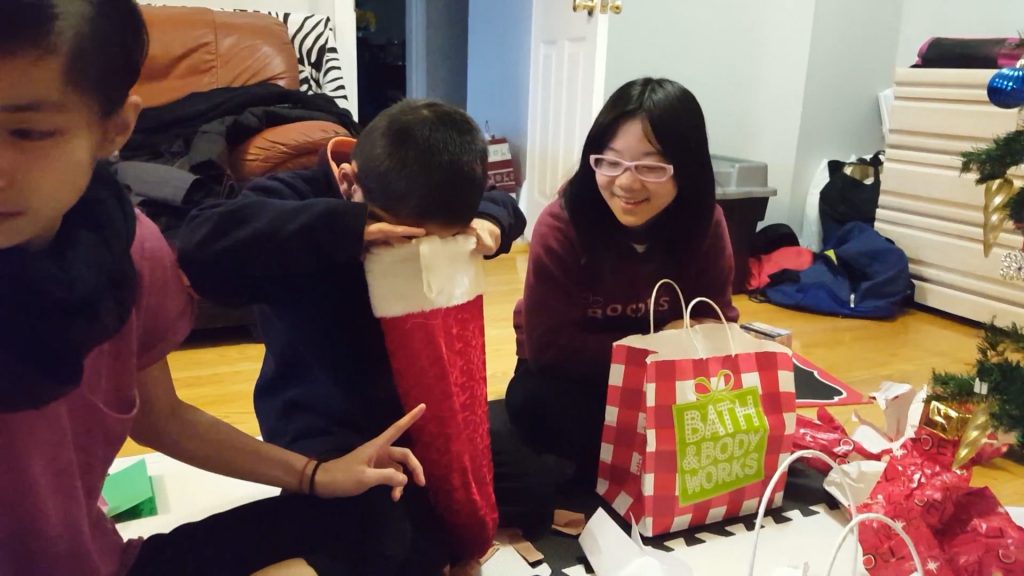 Little J's looking in the stocking, M is to his right.
Wrap gifts USING A DIFFERENT WRAPPER THEY DON'T RECOGNIZE
Don't be lazy–kids are smart and they'll recognize if you use the same wrapping paper!
Write secret notes left by Santa
This is usually a kid's favourite–hearing back from Santa.
Leave milk and Cookies and carrots for Rudolph
Ah, the classic. Make sure they're half-eaten or completely gone by Christmas morning!
MWUAHAHAHAHHA. Ahem, I meant, Ho ho ho!
Honestly, check the video out!
How did you find out the truth about Santa? What was the best thing you got for Christmas? What was your favourite part in the video?
---