Bring on the banjo, incense and obnoxious sunglasses.
I am loving more woo-woo holistic ways of living every day now. I got an aromatherapy diffuser and essential oils to use. I have bergamot, rosemary, citronella, grapefruit, and clary sage. I use them at different times of the day for different effects, and maybe I'll do another post another day on it. I also started keeping a gratitude journal and have been finding myself stopping at different points while traveling to places to breathe and appreciate. I distinctly remember closing my eyes at one point and listening to the cars zipping by and the wind blowing my hair and naturally my lips curled up into and smile.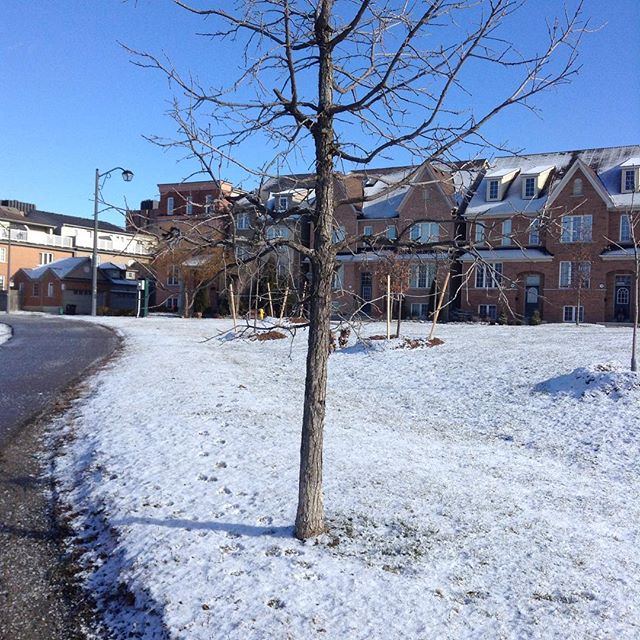 My gosh, what a beautiful day outside to get some fresh air and sunshine. I sure hope winter is here to stay.
Before I forget, I should mention this:
Even if you're not paleo, this package contains a cheat sheet on how to get the best out of your health. It contains FREE eBooks on:
Sleep
Weight Loss
Recipes
Skin Care
Hormones
Stress
Gut Health
Fitness & so much more
You don't have anything to lose–just click and go– download all the free content so you can read them later.
Feel free to share this with all your buddies; this information really does cost a lot if you were to purchase the books on their own but it's all free here.
I never thought much about gratitude and living a holistic instead of analytic way, if you will. I never though I would be into intuition and the benefits of joy because I and ways took them for granted as a child.
I use Lavender at night to help sleep and Bergamot during the day. You can get your own here.
Speaking of sleep, do you take pharmaceutical drugs or supplements, by the way? I take a few supplements on the daily, like my Magnesium to help me relax and sleep in conjunction with Lavender(maybe I'll make a full post on some of the hardcore *drugs* I take–#ActuallyJustSupplements)I was recently spoken to about this site called Canadian Pharmacy that allows Americans to buy cheaper prescription drugs. I probably won't benefit from this myself since I live in Canada, but it's worth checking out if you live in the US.
In addition to my woo-wooness, I'm also drinking a lot more tea these days.
And coffee too. I never used to drink coffee but one day my friend brought me Hazulnut Vanilla from second cup and ever since I've never gone back. I do plan on reducing my intake of caffeine for the sake of my adrenals though.
#sharethewarmth!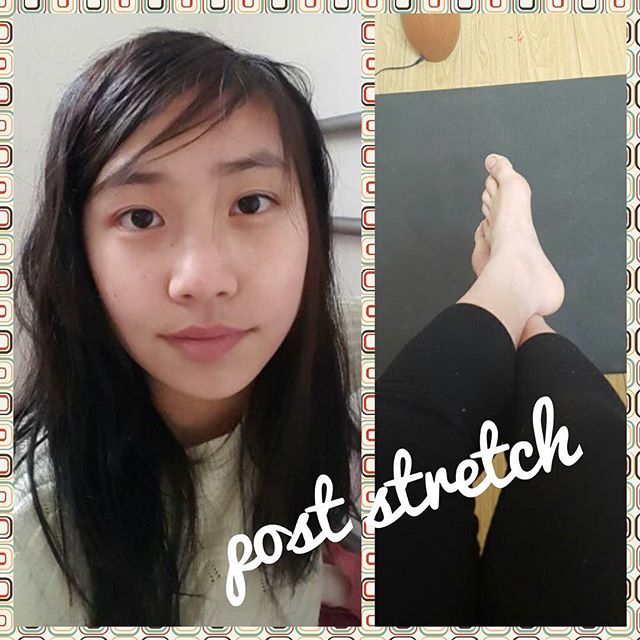 And other days I have rest and relax days–maybe more accurate if I called it Stretch and Study Days, because heck, I like being productive and if I can knock out two activities at once, I will. What I do is lie in a stretch on my yoga mat with my textbook out in front of me. Usually this is done in pigeon poses because it's easy to balance with my weight on the floor. Just be careful of doing any groin stretches–if you stay in the position for very long, getting out of it will be granny-like and painful!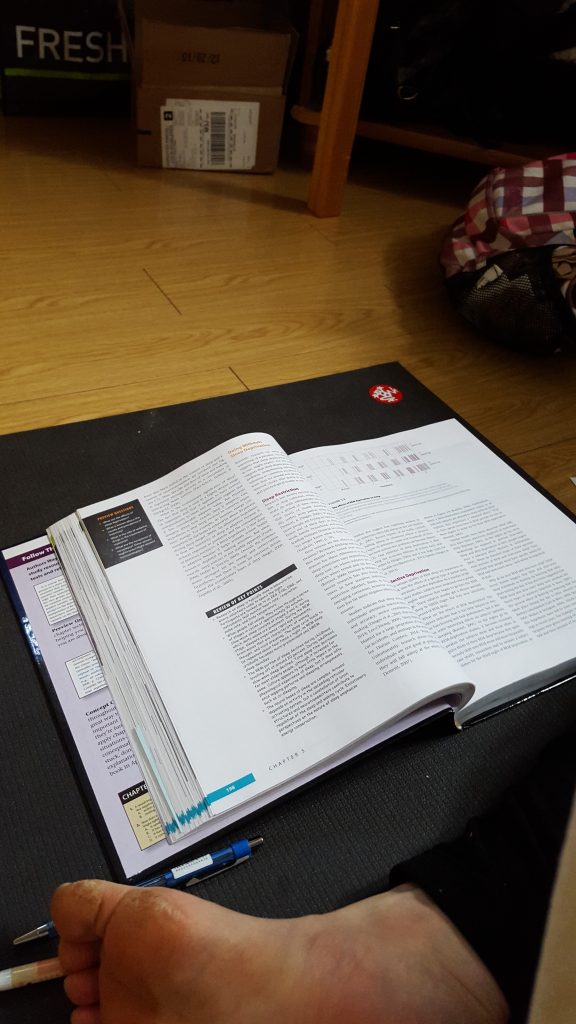 And in being productive, I also learned this: All activities can be productive, just because you didn't do homework or didn't exercise or run all the errands you wanted to run doesn't mean you wasted time.
Remember, no time spent enjoying yourself is wasted time. That's the ultimate goal in life; to enjoy yourself.
And one more thing: I've been getting into keeping a Gratitude journal as well!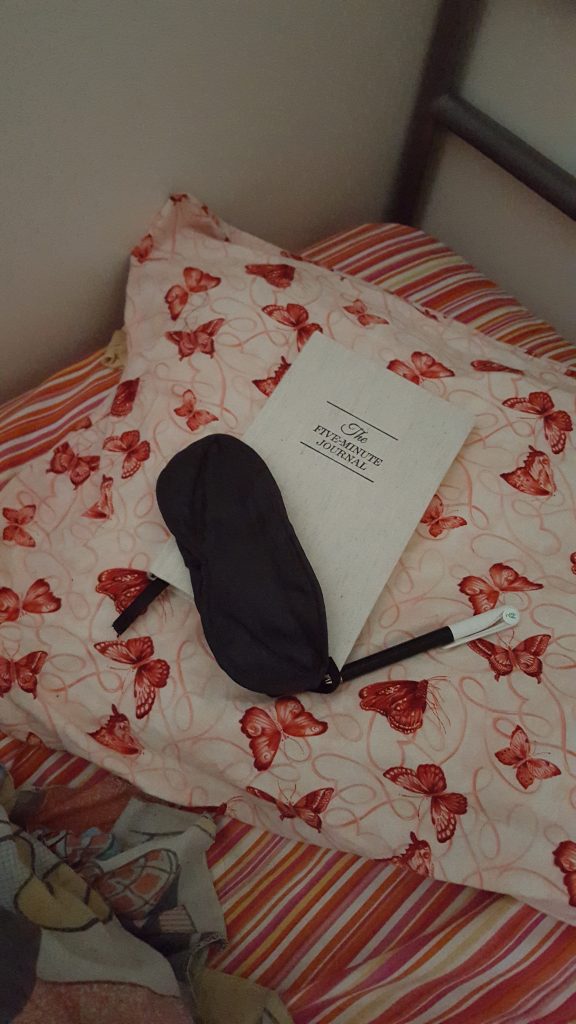 Every day after waking I write my mantra, 3 things to be grateful for in the moment, and 3 awesome things that could happen today, and every night before sleeping I write 3 awesome things that DID happen, and 3 awesome things that could happen. What I love also is that there are prompts and quotes for each day. It makes me smile every time I wake up and read them. And you can get your own 5 Minute Journal version here, I bought mine online too!
So far I'm on day…9 I think, and it's going pretty good. I did realize that I am having more gratitude these days…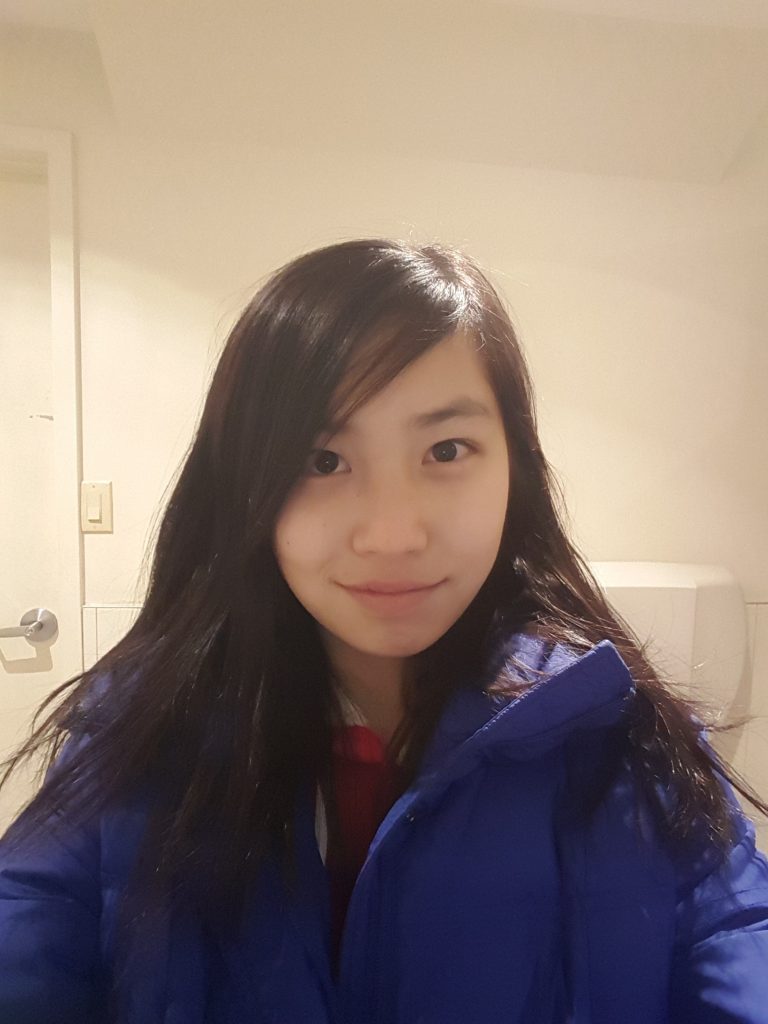 I'm really happy how today turned out.
I initially didn't want to go to work today because I felt unmotivated to get out of the house and do something other than study these days. I used to have exercise anxiety and now I think it's turning into studying anxiety. Either way, it's not good and I'm glad I broke free of my pen and paper and went outside for a 15 minute walk to work.
And I had the best time. This night was so full of excitement and laughter on the phone (that's what I do–I call alumni to make donations to fund the school!), I felt confident with my words, I spoke to such an upbeat and sociable male nurse (hello, nick), and even though I didn't make any money for the team tonight, I literally said to myself after Nick phone call, "I think I'm in love." And I wanted to announce it to the whole office; to share my secret with the whole world.
I am in love with life tonight. And things just got better when I arrived home tonight to find THE most hilarious text message from a friend and I can't stop laughing, even now!
I truly don't know how God had made this world turn around, from feeling stuck and stressed to laughing and being in love, however he does it, it's wondrous.
Or maybe, it's because I started a gratitude journal and now I'm attracting positive energy into my life…
😉
Stay fit, stay active and stay healthy,
Yours truly.
*this post contains affiliate links to help support the blog!
a linkup with Amanda, Heather, and Megan
Do you use aromatherapy or essential oils? Which ones do you use and why? Do you keep a gratitude journal? What's your favourite coffee?
---