You may have remembered my last post talking briefly what I'm proud of accomplishing in 2015 and my goals for 2016. Well, I have broken down my goals into 12; one for each month. I haven't figured out what each month's goals are as of yet because life tends to throw curveballs and I want to be able to accommodate to them by giving myself a realistic goal while still hitting the ball outta the court–If that analogy makes any sense at all.
For example, I don't want to give myself the goal of running 21k again this winter because–oh yeah, I got 3 part-time jobs and an accelerated psychology course. How on earth did that happen?!
How did I go from being unemployed at the beginning of the year (which was only a few days ago) to having to balance all of this in my life? God works in funny ways–you want something, he just might give you an excess as if to say, "becareful what you wish for!" The accelerated course is basically a year-long course shrunk down into the timeframe of 1 semester. I have 6 hour lectures a week on psychology, and I have to read 2 chapters a week. So far, I'm struggling to keep up! I literally spent an ENTIRE 3 DAYS sitting on my chair, reading, eating, reading and eating. That's it.
Fitness? Gone out the window.
Well, sort of. My workouts that used to be 90 minute to 2+ hours long that I did in high school (sometimes) are now roughly 30 minutes, if I am lucky.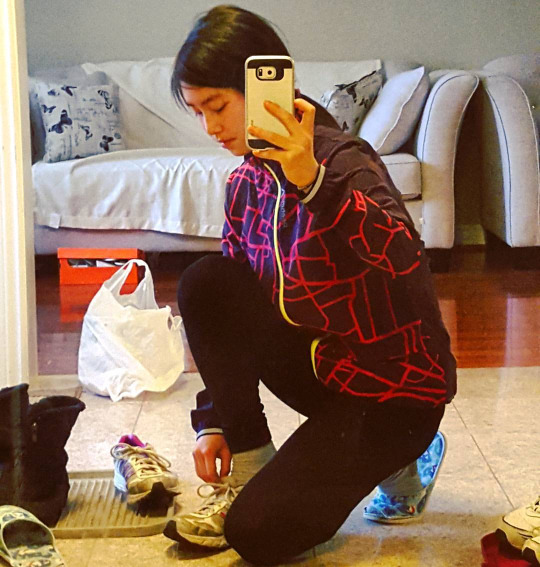 It's okay. I'm learning that there will be phases in my life that I will have other priorities, and right now, that's school and jobs. Later in my life, I'll be preoccupied with traveling. And another time, I'll be so in love that I'm spending all my time with the person of my dreams. And another time I'll be chasing after my own dreams and far too busy living my Hollywood career than running 4500 miles a month.
(Me at my fittest, thinnest, and rip-est. I had the most amazing body. This was back in June of 2014! I am so proud of how hard I worked.)
And that's okay. Because life is life. I will also have a phase where I will be in the tip top shape of my life, and competing in bikini competitions and running marathons. It's just not right now. And not right now doesn't mean never.
(Did I mention there was a tea-loving phase as well? I'm totally obsessed all over again! I don't have any pictures of "weight gain" body because I don't take photos of myself when I don't feel my best, but if you've been following myself on Instagram, you'll notice some weight gain in my face)
Phew. It feels good to get that off my chest. I had a greatest nostalgia of me running at the track and field today at work, and it almost made me feel so guilty that I could've retreated from the world and become quiet for the rest of the day, but this thought definitely reaffirmed that I am on the right path–I'm not straying away.
With that being said, I want to inform ya'll that there will be just 2-3 more posts being coughed up before I officially take a hiatus. How long? I don't know. I have 2 reviews coming up and maybe 1 other personal life post(updates in my life!)
Some things I want to update m'fitties(you!) on:
I just got into Aromatherapy
Gratitude
January #Whole30Challenge and Why I'm doing It / How I'm doing
A Day in the Life of Me this Semester
My crazy new Jobs
How I'm using my planner this month to obtain my goals
a linkup with Amanda and Heather
I hope your year is going great so far! Stay tuned for some short and sweet posts before the hiatus in February!
---