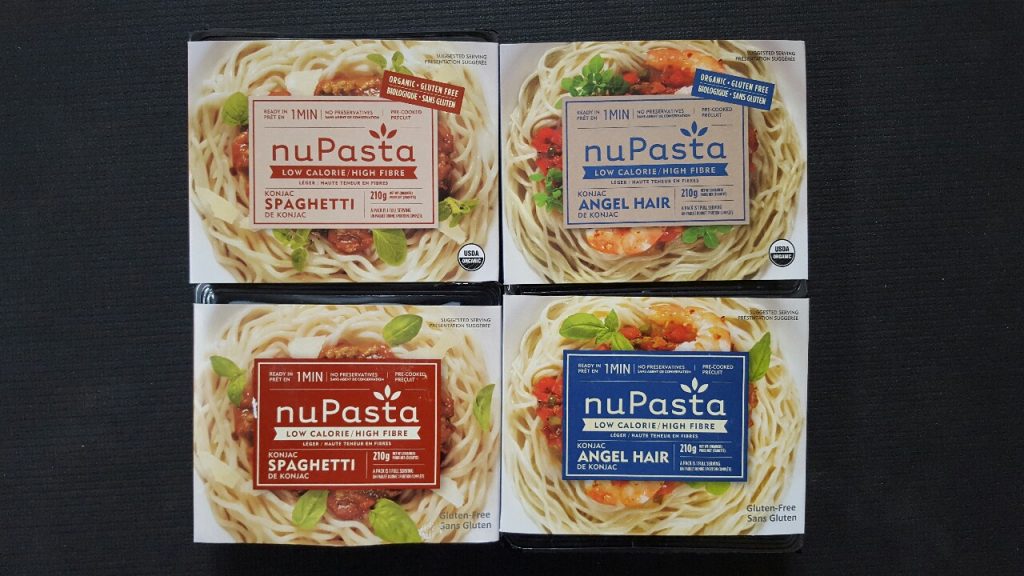 NuPasta is a Canadian owned(eh?) pasta company that makes noodles out of konjac and soy flour to produce low calorie, and low(er) carb pasta. They have two lines: one organic and one non organic. Obviously, I like the one organic because it's more nutritious, but they both taste the same. All the noodles taste the same: bland, just made in different shapes.
They have about 1/10th the calories of regular pasta; the typical package is 25 calories and 6 grams of fiber. There are no preservatives. You can use these noodles to recreate your favourite recipes by cutting the carbs and calories!
I really like that these noodles have no smell unlike some of the other noodles that I've reviewed before. They are packaged in water, however, the minute I took it out of the package, it didn't stink like fish water. This, I liked very much because it didn't require me to boil the  noodles to remove the smell. Also, these noodles, compared to the other ones made purely of yam flour/glucommanan, had more texture and tasted more like regular pasta. Now, I'm not saying they're exactly like regular pasta made of flour, but they're a lot more dense compared to the past 0-calorie noodles I've used, which I totally like!
For some reason, the angel hair pasta seemed to have a lot more noodles packaged in compared to the fettuccine? I think this was just in my experience.
One thing I disliked was that they used soy flour. Now, I'm not a fan of soy because it is estrogenic. I avoid using plastics, drinking soy milk, and using flaxseed when I can because soy can cause weight gain and deposits toxins in your body. I also opt for lower carb options, preferably 0 carbs and 0 calories, but it only makes sense that Nupasta comes at 25 calories and 6 grams of carbs because of the soy flour. It's still pretty low carb, don't get me wrong. The past noodles I've used don't contain any carbs or calories. It's the price of the better texture, I suppose!
I made coconut curry pasta, and a single serving of this was just 150-200 calories, almost all of which comes from fats, my keto fitties! Maybe I'll share the recipe with you someday. 🙂
What I love most about these noodles is that they are so versatile, healthy, and you can do anything with them to recreate your favourite carb-laden pasta dishes. These noodles adapt to any flavour. If normal Shiritaki noodles or tofu noodles have never worked for you in terms of texture, give NuPasta a try and I'm sure you'll notice a difference–they don't have a super bouncy texture that many don't find appealing, but rather they taste more pasta-like. I love them and don't mind having them in my pantry.
You can purchase it online here on amazon! 🙂
What pasta dish would you make with NuPasta?
---