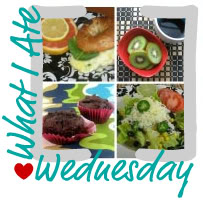 I've never even shown you some of the things I got on campus, haven't I? What kind of a foodie am I? (One that's more obsessed with fitness, obviously)
I hear first year is when you spend the big dollas $$ on everything. From clubs to food. Especially food. In no particular order, here's what I've had for lunch and/or dinner. Or Linner. Or Dunch.
Lunch:
After my vocal class I had 1 hour to spare before my next dance class. We never really danced in that class, just moved around aimlessly. I found myself wandering the halls the school's mall and tried out a salad bar that is popular among my friends called Berries and Bloom. It was a self-serve vegetarian-friendly salad bar that charges you by weight.
I got a small amount of imitation crab meat, some spinach dip and feta cheese. Hey, if you're going to get more bang for your buck you might as well choose the cheese instead of paying the same amount and getting watermelon slices you can get for much cheaper at the grocer.  
Linner/Dunch:
Poutine and a Salad from the "fanciest" restaurant we have on campus. Which, isn't even that fancy. It's just a casual dining restaurant. The poutine had chicken pieces in it, veggies, lots of gravy and the smallest amount of cheese curds. The salad had beets, carrots, arugula, spinach, and goat cheese. I still don't like goat cheese that much… The salad was $12 and the poutine was $7.  
There's only 1 indian cuisine on campus and they serve everything with rice or with naan bread. I never get it and instead asked to sub in the coleslaw, with is more keto-friendly. This was $11.
Poutine again from another restaurant! Again, I subbed the veggies and this was about $9. The cheese are a blend of shredded mozzarella and cheddar and there was about 5 tiny cheese curds. I asked for 2 extra sides of cheese, slightly melted and the waiter just looked at me because he never heard of that order before.      
Dinner:  
How I spent Friday two weeks ago:
A middle school friend from a different university came to visit me and we spent the day eating some great food at the best restaurant on campus, playing lifesize jenga, and lifesize connect four. I won both games! We (read: I)ordered pesto fettuccine, Mac and cheese soup topped with provolone, ribs and an onion dip. He also went to the trouble of purchasing cheese for my grocery!
We played Jenga afterwards and I won.
Like egg boy, he's one of the bestest boy/guy friend I've ever had. Mohammed is so kind, so accepting, and he even paid for our evening dinner. He is honestly honestly one of the greatest people I've ever met in my life; he's the type to believe in 5th and 6th chances. I told him this as we caught up and he admitted that he still read my blog when I told him not to in the past for privacy reasons. I'm still not sure how I feel about that, but if i had to chose one person to reveal my blog to and not feel scared, it'd be him(hello Mo, I know you're reading this). We later discovered when he got back, that he accidentally took the menu with him because it was clipped in his binder. And then he pointed out we were missing 2 things from our night: a dessert, and "Sex on the Beach". 😉 I had a wonderful time! It has SO NICE reuniting with old friends!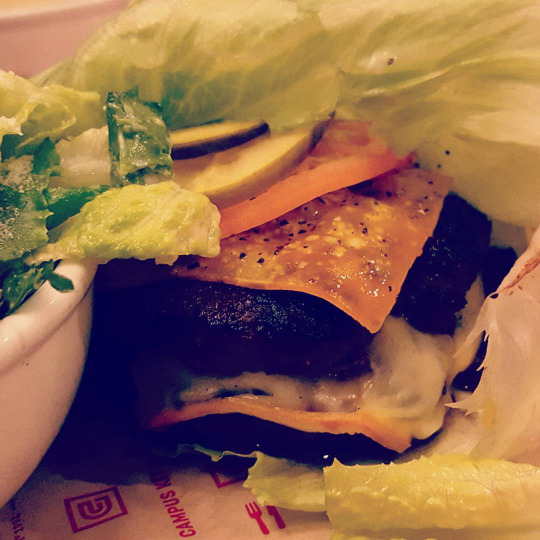 Yummy bunless burger.
When dining out, ask them to hold the bread and replace it with lettuce instead. After all, the best part of the burger is the stuff in it, not the bread! This came along with a side of caeser salad and was $17. Two patties with two slices of cheese, lettuce, tomatoes, and pickels. I love the patties. They taste smokey, just the way I like them.
Did you make it through without drooling?
So campus food isn't the healthiest nor the most budget-friendly, but you gotta live sometimes, right? 😉
a linkup with Amanda, Heather, Becky, and Jenn.
What was the most money in a week you've ever spent on food? What's the favourite thing to eat on campus? How often a week do you eat out?
---