I recently got an opportunity to interview Dionne Warwick's son, Damon Elliott!
"Grammy-Award winning producer Damon Elliott has lost a total of sixty-two pounds by actively changing his lifestyle and diet, and taking part in SoulCycle indoor cycling classes. The son of legendary singer Dionne Warwick was inspired by consistent family health issues, including the deteriorating health of his late-cousin, Bobbi Kristina, and began  to make changes for himself."
As with any wellness sensation, I love to ask questions about their lifestyle. Here we go!
F: Tell us about yourself and what you do!
D: Hi I'm Damon Elliott, I'm a music producer turned fitness fanatic. Now I have transformed into "Soul Dame" who, by the way, is now 70 lbs lighter.
F: Were you active as a teenager?
D: Very. I played hockey, tennis, and taught martial arts.
F: Favourite food ever?
D: FAT Dame liked double king burger from FAT burger. FIT Dame (a.k.a. Soul Dame") loves lean turkey meatloaf with kale salad from Café Primo!
F: Why did you want to make a change and lose weight?
D: For health reasons. I suffered from sleep apnea and high blood pressure and one day woke up weighing 310lbs. When I could no longer bend down to tie my shoes, I had that moment when you say to yourself: enough is enough.  I started doing cardio and walking an hour on the treadmill thinking that I was actually doing something… but in fact I kept gaining; because exercise without diet is like driving a Ferrari on empty. That's when I discovered SoulCycle and my life changed.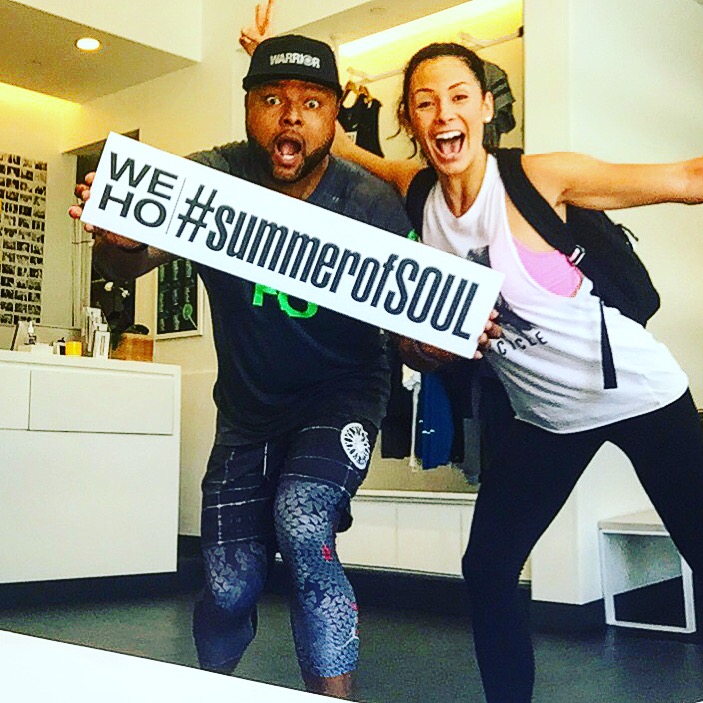 F: How did you find the motivation to keep going when you hit a bump in the road?
D: I find motivation from the bumps in the road. It's actually the bumps in the road that wake you up. When you get comfortable and something becomes too easy I quit or lose interest. That's why I love SoulCycle – because every time I clip in, I know I will be challenged to the maximum of my potential.
F: Who did you look to as inspiration?
D: My mom. She is the ultimate superhero personality and she's the coolest mom.
F: What's your motto?
D: If you can think you can do it, step into the yes.
F: How often do you eat and what kind of diet do you eat(vegan, high protein, low fat, etc)?
D: I try to eat every 2 hours but that's virtually impossible at times so instead of watching a clock, I watch what I eat. I stay focused because I don't want to waste the energy and calories I leave behind on that bike, daily.
F: What's your exercise regime like currently?
D: 6am: SOULCYCLE (Victoria's class)
9:30am : SOULCYCLE (Victortia's class)
12:30pm: SOULCYCLE (Victoria's class)
EVERYDAY.
F: Ever had a "fat" day where you ate way too much and exercised too little and just felt really down about yourself? What did you do to pull yourself out of that rut?
D: Of course. As soon as I feel that way I book myself on bike #7 and I spin my worries and fat away
F: Least favourite exercise move?
D: Downward facing dog.
F: What are your goals for the future?
D: Currently my goal is to lose 100 lbs and never find it.
F: Where can we find you?
D:  You can always find me at cafe primo (the office) or at SoulCycle (Victoria's class) 😉
---
 Who are you fitness aspirations and inspirations? Have you ever tuned into Dionne's Show? Have you ever heard of SoulCycle before?