…and onto part 2 of the prom madness! Have you seen part 1 -THE SECRET REVEAL yet, and also the promposal?
I think it was incredibly awesome to go to prom in a limo. It was so much fun! I never, ever thought I'd ever go in a limo except the day of my wedding, or the day I become famous. There was the 8 of us, 3 pairs of couples: Eggboy and I, Lucas and Kayla, Katie and Adam, and Michael and Jessie(the last two guys are not a couple!). It felt kind of uncomfortable being swung side to side because there was no seat belt, but all the more reason to engage your abs, right?
I am so fitness.
PROM PART 2 – THE PARTY
The reception desk. I saw so many teachers and friends in beautiful dresses. I hugged every one of them and smiled–even the ones that I didn't like that were two-faced to me in school.
The minute we got inside we checked in and went to get our pictures taken before the line got really long. We took lots of group photos and couple photos, and I rekindled with a lot of friends I haven't seen or talked to since first semester. Everyone looked so beautiful in their dresses!
Little do they know I got my dress from a thrift shop for $9…
I THINK I LOOK SO FAB. #VogueMoment
GAHHH SO BEAUTIFUL! CLICK ON THE PICTURE TO ENLARGE THE PANANORMA!
Our table was set at table 10. We sat by the window of a lake.
Tables were squishy, but set neatly.
As we waited for food, we voted for Prom King and Queen. There was also the best "Womance" award given to a lesbian couple(and they kissed right infront of us! OMG! I was estatic!), the best "Bromance" award given to two of my guy classmates who weren't dating, the best dressed girl and guy. A guy in a wheelchair named Ivan won best dressed, and I was so dang proud of him. The entire room filled with applause when Ivan was crowned best dressed.
I dare you to tell me these aren't the cutest butterballs you've ever seen. I took so, so many because it was one of the things that was even remotely close to keto-paleo approved foods.
Prom was beautiful. We sat at table ten.
I still wish the entire dining experience could've been restaurant-styled, but instead it was buffet-styled. Options ranged from grilled veggies to bread to chicken and pasta. We also had some nice pastry desserts that I couldn't help but indulge myself in. I ate three plates and then some desserts and struggled to dance the rest of the night because my stomach was so uncomfortably full. I struggled to dance on the dance floor and I felt that the only downside to the entire prom experience was the overload of food I ate that made me miss out on really enjoying my time. I am such the bargainer–when something is free, I want it in excess and try to get as much of it as possible while I can(an opportunity hogger, I call it. I blame it on my Asian culture…) I also developed some acne a few days later from not eating keto-paleo(there was literally nothing keto-paleo friendly about this day!) but I think it was worth the fun in the end. 🙂
I still remember asking the waiter if I could have a bowl of pure pasta sauce. It was Alfredo and resembled the taste of cream of mushroom soup. I am fully aware that nothing I ate was appropriate to my diet but at the time I just blocked the guilt out of my mind and shut it up with food.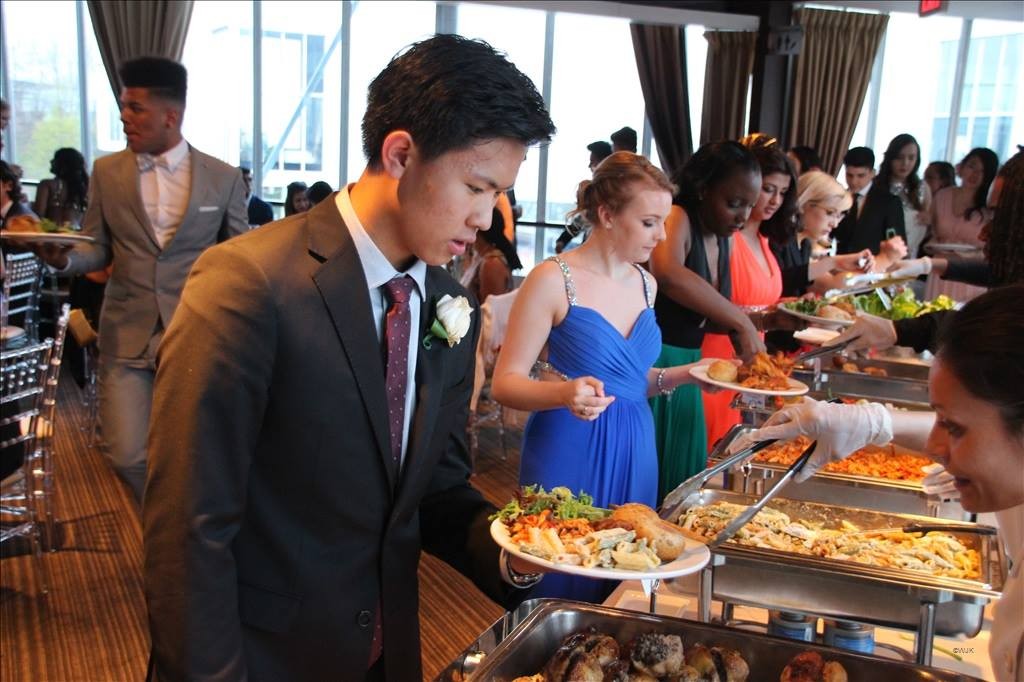 Pasta, pasta, dessert, chicken with wild rice, bread and butter, salad, cheese, and a few grilled veggies.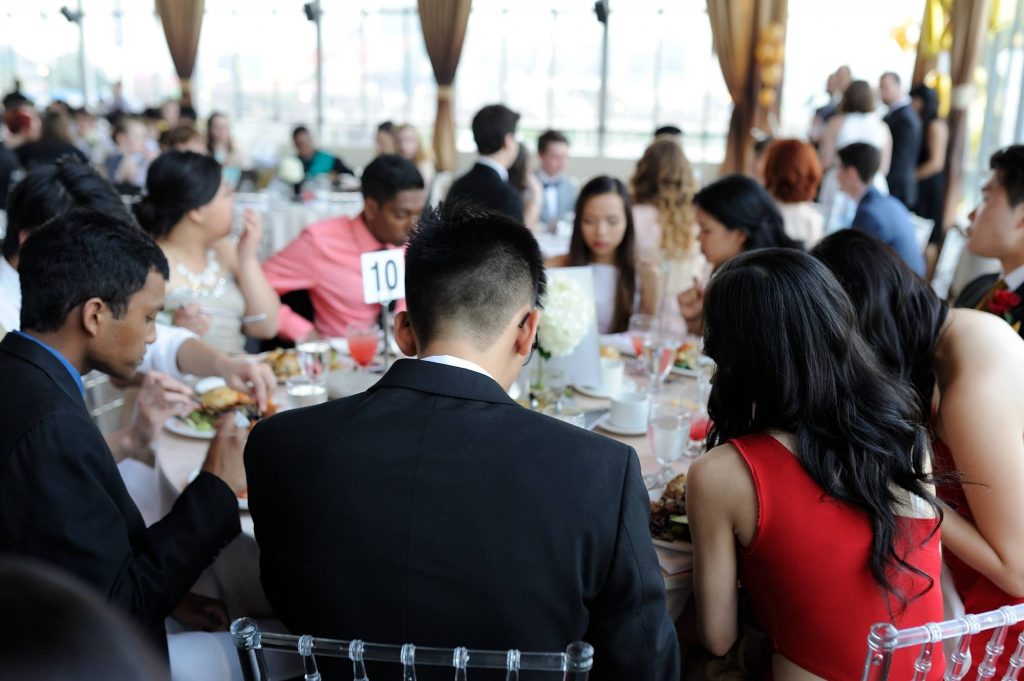 Look, look, that's me from behind!
My friends won prom king and queen, and other prizes were given out. Daniel (egg boy) won $15 to Cinneplex! It was funny, because I said right before they called out his prom ticket number that he has a knack for winning things, like that $100 dairy queen gift card he won 3 weeks ago. OMG! When he won he just jumped and jumped and we hugged.
Near the end of the night, I requested "1000 years" by Christina Pteri for my friend-couple, Kayla and Lucas (because that was their song), to the DJ and as he played it, I danced with Daniel while multitasking recording K and L dance and kiss with K's phone. After, we left in the limo to Jesse's house.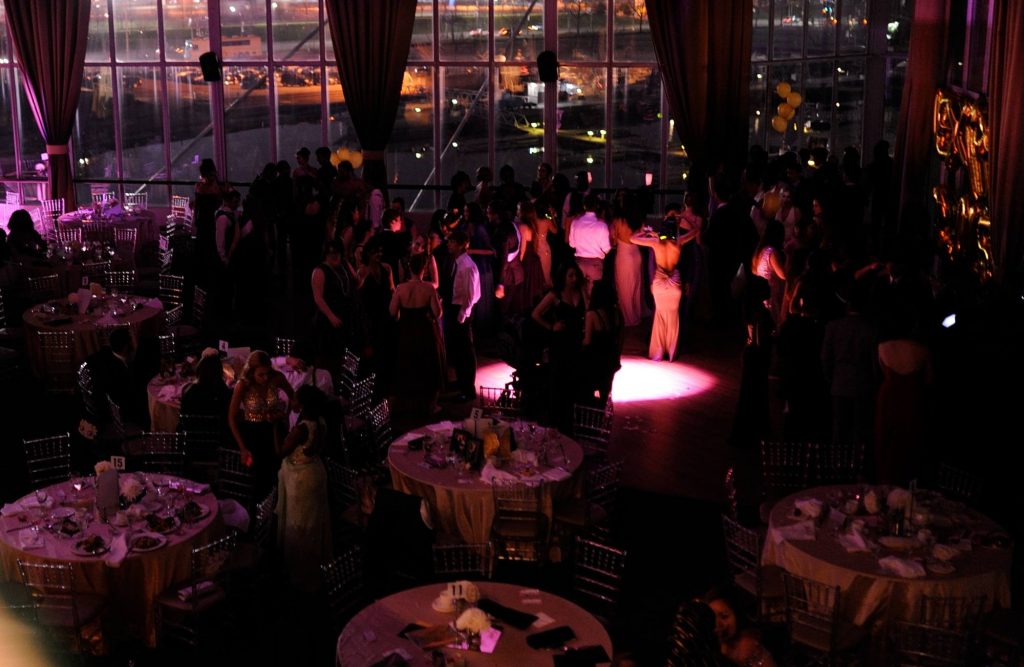 I didn't stay long at Jessie's house. Everyone else stayed overnight but I had to leave for home. Near the end of the night at his house, Kayla pecked me on the lips for fun and it kinda caught me off guard, and by the look on Daniel's face, him too! (no, Daniel and I aren't dating).
I crashed at home.
And that was the end of prom.
a linkup with amanda, erika, and heather.
Do you drink? How much would you spend on your wedding? Have you ever been kissed by the same gender(and if so, please do tell the story!)
---