Oh snap, this can't be real.
But it is!
On April 11th 2015, at approximately 10:30am ish, I ran a half-freaking marathon.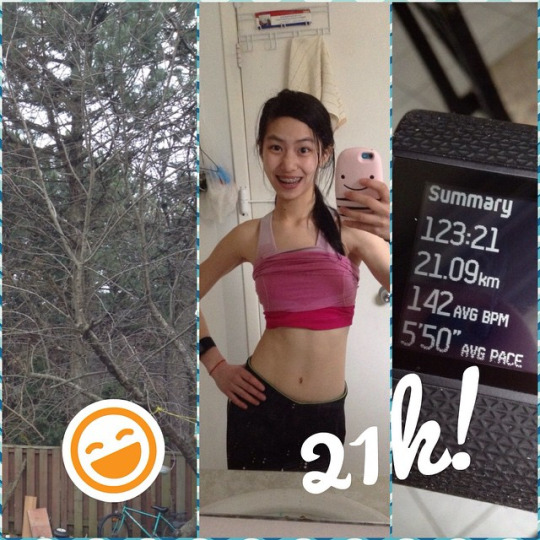 I RAN A HALF MARATHON.





OH MY GOD I AM FREAKING OUT.





I went out today with the intention of just running 14k, which was 2k less than what I did last week. Little did I know my body was capable of pushing so far, of doing so well. The longer I spent on my feet the faster I felt myself become, and when I saw 18k approach on my

Fitbit

, I said, why not push 3k more for a half marathon?





And bam. I did it. 2 hours, 3 minutes of amazingness. And I could've went on but my shoes were causing some discomfort(I have wide feet) and it was time to head back before my parents find out I was running(they frown upon it). I have never ran so far and long in my entire life. I am so, so, so proud of myself.
What a milestone! What a milestone!
I did this first thing in the morning in a fasted state, too.
I wasn't planning at all on running so long, and since then I've been injured(more on that later; it was from another run later on that was much shorter) and because of the time off I've taken from running, I'm getting that runner's doubt that makes you doubt your abilities to run at all anymore. Maybe my next Saturday run won't be as long. Maybe it'll even only be 12k, but it'll be okay because I have to accept that it's a blessing to even be able to move my legs the way I do.  There are people out there who are sick, who don't have legs that would trade anything to be in  my position, and here I am, sulking about my minor ankle injury because I missed three weeks straight of running. Granted it is a lot, and I'd probably be slower but to also even make it up to this point is itself such an accomplishment.
I know that with proper healing I'll be jumping back into the groove in no time!
But let's just relish in the fact that I f*cking ran 21k in my life!
How many half marathons have you ran?
How long are your typical long runs and what do you do the day before and after your long run?
---
a link up with amanda, heather.