Remember when I mentioned I gave up exercise for a week? Yep, me, of all people! All with good purpose though. I intentionally planned a rest week after reading an article about the benefits of taking an entire week off of exercise and coming back stronger. Besides, if fitness is a journey, why not experiment? I should have started with this post to really introduce it all, but I've already gone on ahead and told you what I did on a sample day of rest week , oh well.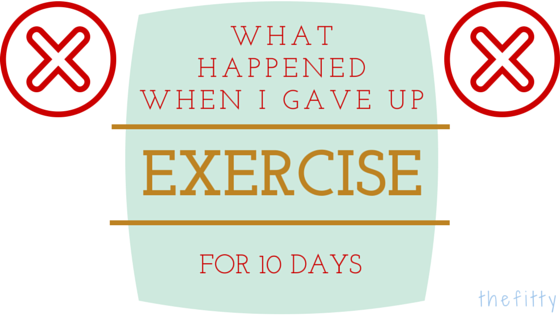 I usually workout 45-60 minutes early in the morning to kickoff my day. Sometimes, I'd do another 10 minutes in the evening if I find the time. I decided I wanted to incorporate a rest week to switch up my routine and renew my love for exercise and increase my strength and stamina as an athlete. Three weeks prior to march break, I planned it all out strategically–and it didn't go according to plan, but it did still work out.(I'm pretending I didn't panic at the bad times)
The week before March break, I took an entire week off of exercise. Actually, it started earlier than that, probably on Wednesday, 2 days before my Sheridan Audition Binge Day and 5 days before my official rest week start date. I guess you could say a lot was happening and I just thought, "oh screw it!" and started early. I had my fun and that was that, I don't regret the fact that I took more days off than I planned because I enjoyed myself nonetheless. Instead of 7 days of rest, I got a full unplanned 10.
https://instagram.com/p/0g6qGoTcKm/
(myself feeling run-crazed from not running in so long)
My goals for rest week were:
To renew motivation
To get other things done during the week I otherwise wouldn't find time for
Try out meditation more
Sleep more
Increase metabolism
I did all of these things except for meditate more. I spent nearly 12 hours at school 3 days of the week for the show rehearsals and the rest of the days I was emotionally and mentally just spent from the show and also dealing with parents(let's just say, shit went down and if you're interested I'll talk about it in another post). On the plus side, I have been wanting to invest a little more time on social media to grow my following so I spent more time on instagram whilst waiting backstage to be called on for my numbers, so could we consider that productive?
As for the other ones…
To renew motivation:
https://instagram.com/p/0VNUcITcK-/
(I am not always as motivated as I appear to be like above!)

Motivation didn't kick in the first 2 days but after day 2 I was suffering a little bit of withdrawl. At some point throughout the journey I felt really tired and lethargic despite not exterting myself with any exercise. Crazy? Maybe. I was too busy dealing with other things to be dwelling on that. After day 2, my heart missed the rush it got from jumping and running and well, I also started to miss Shaun T(I do insanity). Besides the little tug at my heart and the sigh I did every time I saw a runner pass by my window, I thoroughly enjoyed more flexibility with my schedule now that it was a little freed up.
To get other things done during the week I otherwise wouldn't find time for:
Yup! Like the instagram thing we just talked about. I finished my English essay, watched an episode of American horror story, hung out with my pastor and got Rawlicious, went for a walk, and chilled out a little more when I could because I was so tired from rehearsals.
Sleep more:
I got approximately 1 more hour of sleep, depending on when the show ended. On the two show nights I got the same amount of sleep, if not, less than the usual 7-ish hours. On the other days I woke at 7:15 instead of the regular 5:45. It was glorious. There was one morning I distinctly remember doing a 45 minute yoga awakening routine sans yoga mat but using fuzzy socks and the movement was flowy and dancy because the instructor in the video was a former dancer.
Originally, I planned to hammer out the week before rest week, making sure I even border on over training so I can overcompensate(by seriously reducing training) the following week; I read a study on this that your athletic performance shoots up more than if you were to just train regularly and then take a rest week, so I wanted to test this. I planned to do at least 2 training sessions a day, one in the morning and one in the afternoon. It didn't end up happening, the intensity and the 2 sessions but…as for the overcompensation…
It worked!
For the first 2-3 days my workouts fared slightly better than if I just attempted to do it on a regular day I workout(oh but the exercises felt a lot harder but better at the same time), and I felt better. My resting heart rate was 3-4 beats higher than normal during rest week, probably from the indulging and stress going on at home. After 3 days, my fitness and energy tapered off to the same levels as before, but I increased my metabolic rate and reached a higher level of fitness. I might've even PR-ed for that Insanity video I did.
https://instagram.com/p/0P-5FuzcCq
The important take home message…
Did I gain weight? Yes, for sure. But only like, 3-4 pounds and most of it was weight from food and water and slowly the scale crept back down. I still look good; I didn't backtrack my physique or fitness progress. You have to realize that giving your body the longer rest periods it needs will help you spring forward in the process and also keep the results you get sustainable. It sucks to get super ripped only to fall off the wagon and backtrack permanently–having something for a short period of time doesn't mean a thing as working slower and being more restful and keeping the results you get. If you want to go hard and have the energy to do so, make sure you give yourself the rest it needs so IT CAN DO SO! And you won't feel like crap all the time before your workouts and maybe even actually look forward to exercise like you look forward to sex. hmm? 😉
https://instagram.com/p/0aNrJZTcN2/
The only thing I did wrong was cheat on my diet, which you should not do on a rest week. When you're taking a rest week, make sure you plan out your food so you're not eating badly on top of not expending calories. Having an agenda will also make the time fly faster and make the most out of your rest week. It gives you a chance to do things you otherwise don't have time for and also prevents you from getting bored and going to the fridge…
Two tips for a successful rest period: Clean eating and an agenda.
And that's a wrap up for my rest week. Have you got any questions?
a linkup with Amanda(for my thoughts out loud), Becky(for how I treated myself with rest), Heather and Tab&Erika(For Friday wrapups).
Have you ever taken an entire week off of exercise purposely? What did you do with your extra time? How did you feel getting back into the groove?
---