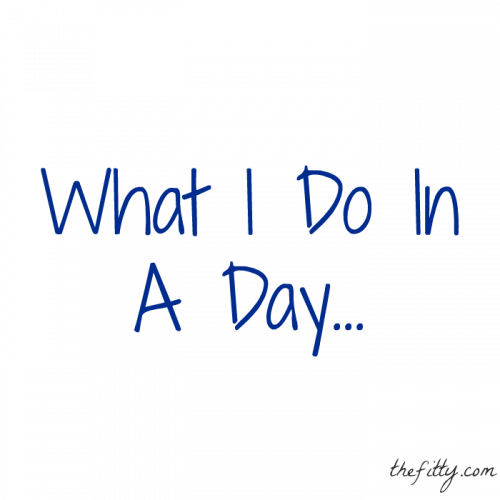 Hello dear Fitties! I've seen this "What I Do In A Day" post roaming around other blogs so I thought I might as well try it too because it's fun, and I'm more than happy to talk about my schedule and see others's' are like. This is what I do on most weekdays. Weekends are a whole other story I can sum up in 5 bullet points:
Kill time on YouTube
Chores
Eat
Eat even more
Think about important stuff I should be doing
Wait, please let me reiterate: I don't eat; I eat on weekends. I have a lack of things to do plus food is sitting around looking all lonely and before I know it I'm opening the fridge door.
6:15am
Wake up. Groan. It's cold outside. Check email, social media, and read new posts on bloglovin.
6:50am
The supposed time I start exercise, whether it be a morning run or Pilates. I'm usually 15 minutes late so I might do a short song challenege or skip it altogether.
7:15am
Take a shower, pack lunch and get dressed. Usually I have something special cooking in my beloved slowcooker from last night for todays meal.
7:35am
Leave for school, get there by 8:45am. My first period alternates between dance and female fitness. Did y'all know about my school schedule yet?
3:05pm
School ends. Time for: a) rehearsals b) run practice or c) heading home! Preferably heading home or run practice.
4:30/5:45pm
If I don't have cross country/track practice after school, I'll get home by 4:30. If I do, I get home by 5:30. The very moment I get home I eat a yummy keto/paleo dinner while checking social media and bloglovin and all that good stuff online again. I'm addicted–it's bad. At this time I also make sure I play a level of Plants VS Zombies on my iPod so I can get a lot of coins and win some gems.
If you do it five times in a row you get to hit the pinata. Don't judge me! I know you secretly play Sims but I'm not judging you. >:)
Pork Belly cooked in a slow cooker garnished with dill.
Directions: Simply throw your seasoned meat in the slow cooker, skin down, for 5 hours on low. Don't add water! When its done, take it out and let ut cool before slicing it into pieces.
7:45pm
Usually I do a little bit of exercise around this time. I either do HIIT, yoga, or Pilates but my workouts are getting tasteless like pizza without the tomato sauce. I need a new workout environment that will stimulate and motivate me. It's also why I enjoy atmospheres like fancy restaurants, a meditation room, or fall weather(I swear I just want to run, run, run!)But I can't change the weather and I can't change my situation. My wishes aren't realistic.
I don't know guys. Maybe I need a workout break.
Wow, I can't believe I said that. A workout break?! That's not like me at all…but there's no denying that my low dopamine levels(thats the hormone stimulated by senses and acts similar to endorphins in that it makes you feel happy) are causing low stimulation are making me dread exercise rather than be excited about it. Actually, I don't have anything to feel absolutely thrilled about anymore. I can't tell you how frusterated I am with my brain chemicals and hormones! Everything seems to be working against me! I just need to be somewhere new, maybe? Maybe it's time I look into a fitness retreat. Anyone going to Blend 2015?
If you happen to know a magic pill I can pop into my mouth to suddenly make life super freaking exciting and everything "living on edge" let me know ASAP, I'll take twenty boxes, thank you very much.
9:00pm
Wrapping up my workouts, which are constantly sprinkled with myself checking emails and reading other health articles. At this time I check out YouTube and watch some Kim Hoeltje and Tim Thebodeau to see what they're up to. I like fitness channels! It's bad to look at electronics before bed, but I haven't actively made it a goal to rid myself of the habit completely yet. I'm procrastinating the goal because a part of me doesn't want to do it.
10:00pm
Supposedly in bed. It'll take 30-60 minutes to fall asleep.
Today I am linking up with Jenn, Becky,Heather and Amanda.
What YouTube channels do you subscribe to? What does your schedule look like, and do you enjoy an abundant or lack or free time? Is there any part of your day you could make more productive, and if so, usually what do you do instead?
---