Low carb | Paleo | Low Calorie
Happy WIAW! (Thanks, Jenn. Also hooking up with Amanda) Instead of showing a lot of this week's past eats, I'll be showing one thing in particular that Tiffany and I made–a flourless, low calorie, guilt-free glorious deep dish pizza! I love foods that I can eat abundantly and still not break the calorie budget. I've done a lot of research and experimented in my own kitchen–this is the lowest of the lowest calorie pizza crust you can possibly make. Not to mention it's also paleo and low carb! The secret to our pizza crust is that we don't use wheat flour–we use cauliflower! You won't believe how much calories and carbs we slashed–it's astounding.
After delivering newspapers, I headed over to her place to chill out and watch a movie. Right away, Tiffany and started making the pizza. The chicken breast was defrosted and so was the beef. Manually, I grounded the white meat and sliced the beef to saute and layer on as topping. After cooking, we watched the first Pirates of the Carribbean movie. Something about the Black pearl, which is a famous pirate ship. A third of the way into the movie, I felt like snoring. Sorry, but I didn't like it! I had such high expectations of it but it turned out boring. The reason why I wanted to give the series a try in the first place was because I saw a short mermaid clip of Syrena and Phillip from a later sequel movie that was so romantic and touched my heart! Another friend said, unfortunately, to understand what was happening at that point, I had to watch them in chronological order. Wow, that was a bummer and a mistake on my part–I'm just going to skip to the goods next time!
At least it was nice to curl up on the bed for 30 minutes.
Back to the pizza. Now, we didn't use cheese or tomato sauce, but that's no reason why you can't. If you're paleo, just omit the the cheese and if you're not, knock yourself out. Tiffany and I attempted to make the pizza deep dish by using a square cake pan to add depth. It turned out good, despite us winging the recipe from scratch and NOT using traditional pizza ingredients, but boy, I gotta try traditional deep dish pizza some day. I'm drooling just thinking about how deep the cheese can go in that deep dish. All that ooey, gooey goodness I can twirl around my fork and chew on…
Ingredients
3/4 large cauliflower head
2 Eggs
Salt and spices to taste(dried herbs, seasoning, etc)
5oz. Ground chicken(optional)
Any toppings your heart desires!
Instructions
Preheat oven to 375F.
In a food processor, grind up the cauliflower florets until they are in tiny little specks.
Pour it into a bowl and add your eggs and spices. Mix together thoroughly. Add in your ground chicken, if using.
In a pan, grease the surface and add the mixture in. It should be in the consistency of cookie batter.
Bake for 20 minutes.
Take out of the oven, add your toppings then place back in the oven for another 15 minutes or so.
https://www.thefitty.com/2014/08/19/cauliflower-crust-pizza/
©thefitty.com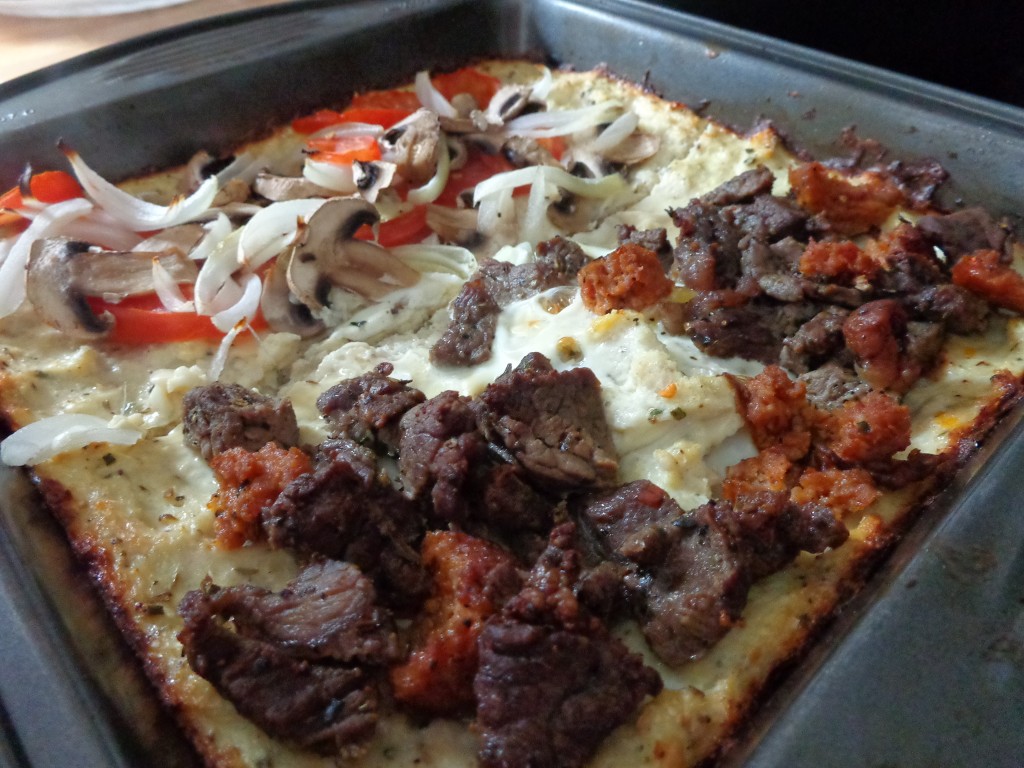 Tiffany and I actually used 3 eggs and it turned out to be a little more "quiche styled" than what we intended, so I modified the recipe accordingly so ypu don't make the same mistake! She added tomatoes, onions, and mushrooms on her side and I added 1 whole egg, Italian sausage, and sauteed beef on mine. She says there's something refreshing about a vegetarian pizza and I agree. It looks, tastes, and smells different than any other pizza. When we took our first bite we both agreed it was yum, yum, yummy. All too soon the taste became too repetitive for me–but hey, that's what happens when you eat HALF THE ENTIRE PIZZA! Did I mention it was deep dish? Man, I was so full I didn't feel the need to eat breakfast the next day. Oh who am I kidding, skipping breakfast is part of the usual.
Do you like deep dish pizza? Are you more of a pizza, or hamburger girl?
---