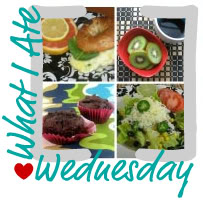 After being in denial that I'll ever hop on the #WIAW bandwagon, I've accepted the fact that it's not going to be a regular thing. Why? It's an awesome time to showcase what I've captured on instagram many times! Also, don't you guys love it anyway? Jenn and Amanda might.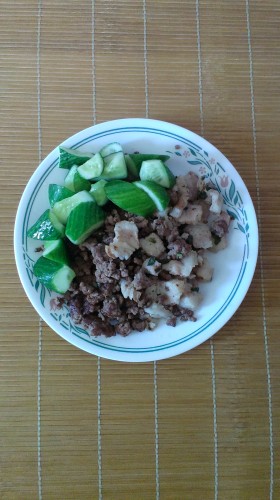 So this was cooked ground beef, some cucumbers and cubed pork belly meat. The ground beef was cooked in its own oil in a nonstick pan, and the pork belly was steamed because being cubed. This was one large dinner, and I think I might've overdone the portions a bit. Going on keto means your meals are really small most of the time because fat is just so dense you don't need a lot to fulfil your caloric requirement. Because I struggle with portion sizing so much, I took out my kitchen scale and will start measuring macros and calories tomorrow. It's a fantastic way to keep myself accountable and successful on the keto-paleo journey. What's the best app for that? MyFitnessPal? FatSecret? Hm?? A little help here, guys.
Red fish fillets are my new thing after eating this one. There's something about it kinda starchy(I hope it's not actually secretly starchy) and munchable about it. I marinated mine with salt and then sauteed with coconut oil with a hint of lemon and dijon. Oh my god it was good.
What can get more classic that eggs and bacon for breakfast?
Pork. Don't ask what cut because I don't know. All I know was that I saw it in the fridge and the nice fatty cut on the side lured me in and bam, like that we were married. The end. I seasoned it with lots of salt, coriander, thyme, and black pepper. Herbs are a big deal now that I need to replenish the potassium I'm losing through fluids. Oh, see that sad salad on the side? I'm actually really missing my veggies. The only ones I'm eating are green cabbage, cucumbers, and iceberg lettuce. Later, I could phase in tomatoes and cauliflower, but I'm aiming for the rest of this month to keep carb count to less than 10g a day, preferably 8.
This might've been the most tragic meal I ate the entire week. Going out to Pickel barrel with my friends for a reunion, I packaged my own dinner and anticipated to eat just that– my healthy, keto and paleo friendly iceberg lettuce and sauteed cabbage noodles. Something about the atmosphere quickly seduced me to change my mind and open the menu, where I ordered teh P.E.I. mussels with fire roasted tomato sauce! Oh, evil, evil, evil restaurants! The mussels I got weren't the most fresh, but they were alright. They were small and I had about 25 of them before I realized I probably shouldnt' have ate sweet sauce that came with it..ACK!! And then I proceeded to lick my friend's sour cream dip with my tongue and had some of her blue cheese dressing on her salad(she got the one I got last time…I suggested it to her!). What? What happened to sticking gluten free, soy free, and DAIRY FREE?? Needlessly to say, I came back with indigestion and after vomiting a little bit I felt slightly better.
Moral of the story: avoid going to restaurants. For the time being, at least. I've got 1 month to prove to my family and myself that this ketogenic, paleolithic diet works to heal my body. I've got to get my menstrual cycle back at least by early August. Time is ticking, Linda! No time for more stalling!
And but of course, bulletproof coffee. Err, I mean, almond milk. I don't drink coffee due to the caffeine and the fact that it stains teeth. I couldn't make bulletproof anything before without a blender! Now I have the Vitamix, I decided to give it a try and man oh man am I glad I did. It's so foamy and good. 3 tbsp. coconut oil and 1 tbsp. almond butter(I would've used a nut butter higher in omega 3's but I don't have one), 450ml of almond milk and WHRRRRRRRRRRRRRRR DING DING DING! Jackpot. Eat it while it's hot and foamy. Not wanting the oil to separate, I drank it right away even though I wanted to bring it along with me to acting class.
Ever went out to eat and regretted it?
---
[inlinkz_linkup id=428777 mode=1]