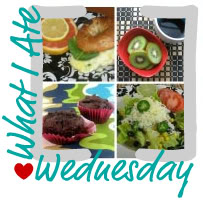 Hello and welcome to my first What I Ate Wednesday post! I am linkin up with Jenn, Kelly and Amanda, today. 🙂
Last night I slept terribly. I only slept about 5 good hours before waking up at 4am never to fall back asleep again. Let's just dive straight into my eats, yes? I know you're hungry. Also, this is a bonus post because I usually don't post on Wednesdays, only Tuesdays and Fridays!
I don't have three set meals named "Breakfast", "Lunch, and "Dinner". To me, food is just food. Eat it however you like whenever you like throughout the day. If I were to chose, I'd probably have my last meal at 4:30pm! Is that the meal they call "Tea", in England? I ought to visit one day.
What better way to start the day than with a fat bomb? This will last me a long long time, and it's so delicious too. I would always keep a container of this fat bomb in my purse for emergencies, like if I can't make it home to dinner or if there is a last minute scheduled cross country practice, I just slurp, eat, and go.
For the afternoon I've got something lighter in calories. I don't need a whole lot right now, more like a giant snack. Using Wow, I've only eaten sweets throughout the day. That's about to change…
Meal 3:  Grilled Curry Pork Belly
I just realized that all throughout the day I haven't had much vegetables. That's super rare! I am always the salad queen, however just not today. Have you ever had pork belly? I used to shun it when I was a low fat dieter but now… IT IS AN ESSENTIAL. Pork belly is so delicious and versatile and soft and ugh! Every low carb dieter's dream. I don't even know how many calories are in this one serving but my guess is over 1000. Delicious, fat and protein calories…
*drools*.
If you come visit me make sure you bring some pork belly, preferably grassfed but not nessesary.
Oh what, did you want the recipe? It's so easy, I'm not even going to put it in a formal ziplist recipe template:
1/3 tbsp curry powder
Salt
Steam or Grill
Serve to Linda
If you enjoy reading my eats and finding out the little things I go through throughout the day, follow me on Tumblr and Instagram, where you'll find I adapt many of my posts from.
Have you ever had pork belly?
---