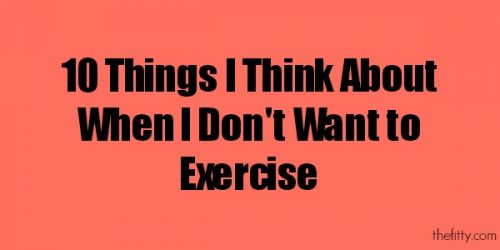 1. I don't want to do it. Please don't make me do it.
2. *Somehow wanders into kitchen* Hey that muffin looks good.

3. Stop it! You're! Not! Even! Hungry!

4. Your mouth is just bored. You can have that muffin when you're done, promise.
5. Okay, I can DO THIS! Workout clothes on and…
6. YAY SOMEONE FOLLOWED ME ON TUMBLR!

7. Okay that's it, no more procrastinating, you"re starting in 3…2…1…
8. First exercise…
…Tuck Jumps.

9. GRRR OKAY JUST DO IT! *WHEEZE* GAHHHHH BEAST MODDEEEE!!!

10. Oh my god I feel invincible!

P.S. Today I am linking up with lovely Amanda over at Running With Spoons and also Angie over at Many Little Blessings!
Do your thoughts differ?
---