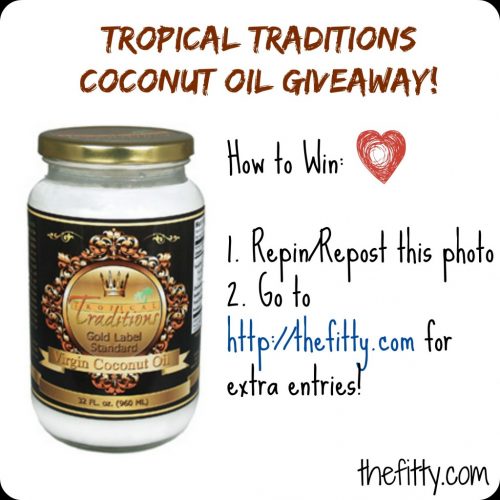 I'm coco for coconuts!
I mean, if people can say they are bananas for bananas…
…then that basic logic applies for all fruits, right?
I partnered with Tropical Traditions for a chance to win coconut oil who offers a large range of Coconut Oil products.
Wait…you don't know what coconut oil is?
Here's what Tropical Tradition says on their "What is Coconut Oil?" page. It's pretty self-explanatory: coconut oil is…well..coconut…oil. Oil from coconut.
I don't know how to simplify that more. It's just like how olive oil comes from olives and avocado oil is made from Jesus himself avocados.
Coconut oil is one of, if not, my favourite fat source. It's high in medium-chain triglyceride which helps induce ketosis. It's solid at room temperature but heat it up and it will liquefy. It's not as delicate as other polyunsaturated oils such as you olive oil, which requires storage away from light(ever notice those bottles are dark and not transparent?). Saturated fatty acids have a high smoke point and doesn't go rancid when exposed to air, making them versatile fats for any type of food preparation and storage. Coconut oil can be used in anything. I take mine and mix it with all my nut butters, (try my Homemade Cookie Butter!) to add in extra fats and reduce the carbs even further. When it comes to coconut oil, the only question you should be asking is, what can't I put it in? I used to wait until my almond butter separated from the oil and pour all the grease out. Now here for am thinking there isn't enough! Yup, I used to be a huge low-fat dieter. Looking at coconut oil's fat content would have made me cringe back then.
How do you use Coconut oil?
Don't worry! Tropical Traditions has got you all covered with their page:
Here are some others things you can do:
Saute vegetables
Replace butter in baking
Replace olive oil in salad dressings
Make spreads
Are you ready to win your own jar? Enter through the Rafflecopter giveaway below for a chance to win!
Or, in case you don't win, you can buy your own jar click here or click on the Virgin Coconut Oil picture above or on my sidebar to buy a jar and receive a free book with your purchase.
 (If you order by clicking on that link and have never ordered from Tropical Traditions in the past, you will receive a free book on Virgin Coconut Oil, and I will receive a discount coupon referring you)
Stay tuned, I have many recipes using Tropical Traditions Coconut Oil coming up soon! Until then, feel free to increase chances through:
~Instagram: http://bit.ly/1iIipY2
~Pinterest: bit.ly/1qz6A0h
~Tumblr: bit.ly/1jCASu6
~Twitter: bit.ly/1mRwQkJ
What do you use coconut oil in? How often do you eat it, and do you use it in your skin care products?
---
Disclaimer: Tropical Traditions provided me with a free sample of this product to review, and I was under no obligation to review it if I so chose. Nor was I under any obligation to write a positive review or sponsor a product giveaway in return for the free product. This giveaway is open to US and Canadian residents.